5 Best Acupressure Mats for Back Pain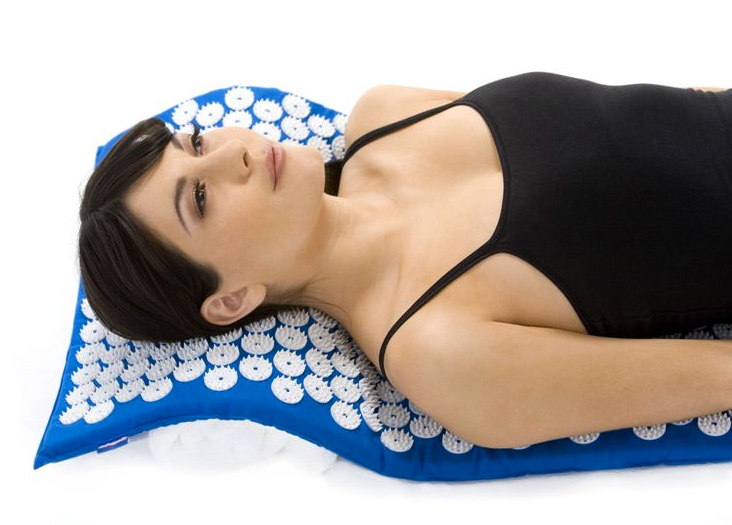 Acupressure is an alternative medicine technique where pressure is applied to acupuncture points on the body to clear blockages to allow for the flow of life energy through the body. This can be achieved by applying pressure with the hand, elbow, or acupressure tools. Acupressure mats (sometimes called acupuncture mats) are a great tool to relieve back pain and help with sleep issues.
Acupressure mats have special acupressure points that give the same benefits of acupuncture without actually piercing the skin. The way it works is similar to laying on a bed of nails, where thousands of pinpoints are sharing the weight of your body. The sensation can feel a bit weird at first, but it soon brings relief to aches, pain, and stress.
While most acupressure mats are the same in construction, there are differences in shape and quality. Below we've rounded up some of the top choices so you can find the best acupressure mat for your needs.
Best Acupressure Mats for Back Pain Spoonk Hemp Acupressure Massage Mat
Spoonk makes gorgeous and effective acupressure mats. These basic mats are made from plant-based eco foam, with a hemp cover. The Spoonk brand is very popular across the USA and has been recommended by Dr. Oz. Use this mat to help improve circulation and also relieve pain in the back, neck, and joint pain. It's perfectly sized to address back pain in the lower back, middle back, and shoulders at the same time.
The acupressure mat comes with an attractive carry bag so you can easily take it with you when you travel or to your yoga classes.
Includes a 5-year warranty.
Size: 27″ x 16″, 6200 stimulation points
Colors: magenta, navy, pagoda blue
---
Nayoya Acupressure Mat and Pillow Set
If you often suffer from neck pain in addition to back pain, consider this acupressure mat and pillow set from Nayoya. When used together, this set can bring pain relief to your neck and back at the same time. When used separately, the pillow helps with neck pain and relieving stiff necks and it feels really nice after a long day of work.
After using it for five minutes, your body will release endorphins which help relieve stress, brighten your mood, and just make your body feel better. Use it before bedtime for improved sleep and extra relaxation.
This is the perfect set for office workers who sit at a desk all day and often come home with aches in their back and shoulders. It comes with a vinyl carry bag so you can take it with you when you travel or even use it at work.
Size: Mat: 6,210 acupressure points. Pillow: 1782 acupressure points
Colors: green
---
ProsourceFit Acupressure Mat and Pillow Set
You can get full back and neck relaxation with this affordable accupressure set from ProsourceFit. Perfect for the end of a long day, the cushioned mat is large enough to cover your whole back, while the pillow cradles your neck and provides the relaxing relief of accupressure.
While most people will use this set lying down, it can also be used sitting in a chair or on the couch. The pillow is perfectly shaped for use on the neck, or place it on the floor while sitting to get the benefits of acupressure on your feet. This eco-friendly set features soft plant-based eco foam and a 100% cotton cover that comes in seven bold colors.
Size: Mat: 25″ x 15.75″ with 6,210 acupressure points. Pillow: 14.25″ with 1782 accupressure points
Colors: Blue, Green, Gray, Orange, Pink, Purple, Black
---
Heavenly Acupuncture Mat and Pillow Set
This acupressure mat set from Heavenly features a pillow with a unique and ergonomic design meant to fit comfortably under your neck. Lying on this acupressure set will help relieve back and neck pain, and relieve muscle tension in your body.
Made from 100% natural cotton and toxin free ABS plastic for the spikes.
Size: Mat: 8,820 acupressure points. Pillow: 1,716 acupressure points.
Colors: black, blue, green
---
Spoonk Travel Size Acupressure Massage Mat
If you're looking for a compact mat with all the benefits of a full-size acupressure mat, consider this travel mat from Spoonk. It features the same quality and design of their normal mat, but at a smaller, travel-friendly size. Take this mat on vacation or to the office to get pain relief no matter where you are. To make it even more compact–this mat folds in half and has velcro straps to securely hold it in place.
The mat is made from plant-based Eco-Foam and a 100% organic hemp/cotton blend cover.
5-year warranty.
Size: 17″ x 14.5″
Colors: Saffron Red
---
You can easily meditate while using an acupressure mat. The endorphins relased by acupressure will help your body and mind relax. This is also a good time to use a guided meditation, especially for stress relief.
Save on Pinterest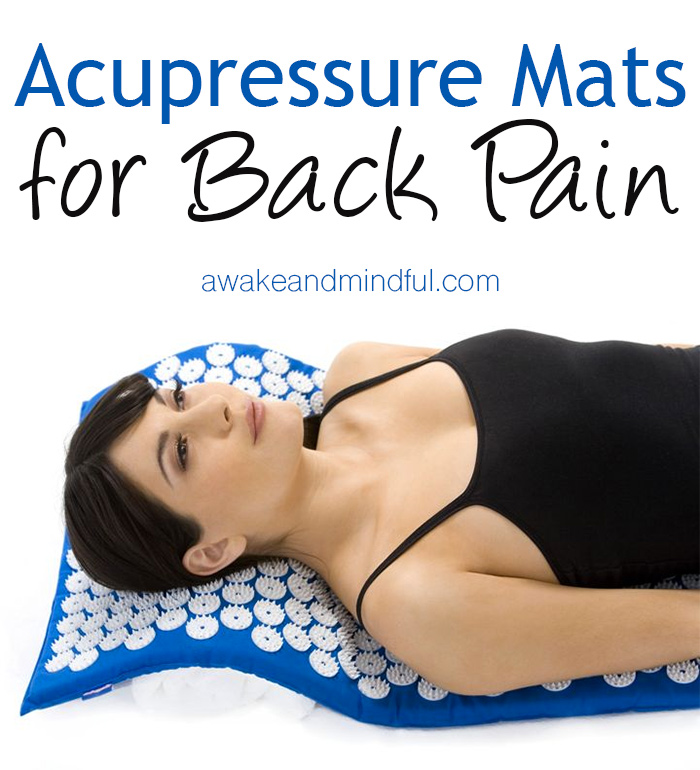 This website does not offer medical advice and we are not doctors. Make sure to consult with your doctor about any medical issues you are experiencing and discuss any treatments or therapies you are using, including acupressure.