9 Best Travel Meditation Cushions & Pillows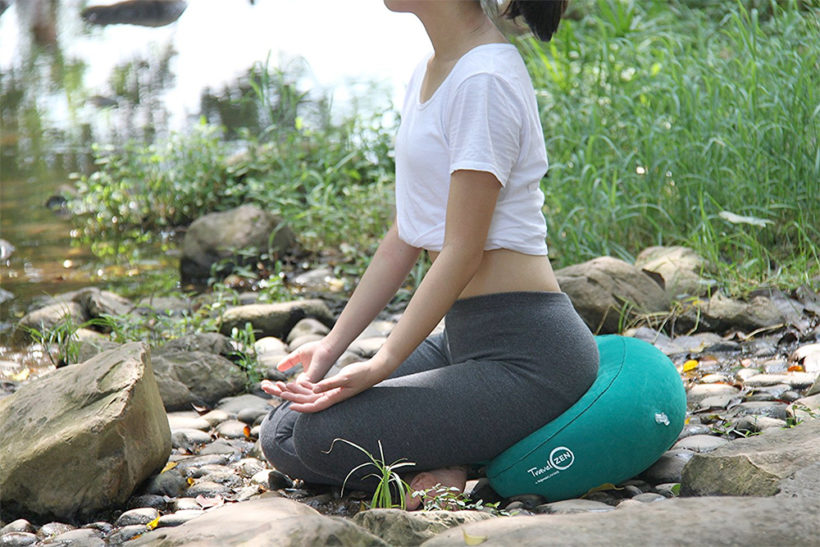 Once you've built a daily meditation habit, you can feel "off" if you don't have a chance to meditate. many meditators try their best not to take a day off from their practice, not even if they're traveling. Keeping the habit up can be difficult with long flights, changing time zones, and changing locals. But sometimes meditation is even more essential while you're traveling, helping to keep your stress levels down and keep you in touch with your breath. Many people struggle to meditate without props or cushions to keep them comfortable. Luckily there are travel meditation cushions and mats available that are compact, easy to pack in a suitcase, and still designed to add comfort to your practice. This article looks at travel cushions and pillows, as well as a few travel meditation mats and zabutons available.
Travel Meditation Cushions
Mobile Meditator Inflatable Meditation Cushion
If you're someone who likes to travel light or weight and space are at a premium in your suitcase, the Mobile Meditator may be exactly what you're looking for. This is a crescent-shaped inflatable meditation cushion perfect for a sitting meditation. Inflatable cushions are great because you can easily adjust the height and firmness by how much you inflate them. What sets the Mobile Meditator apart from other inflatable meditation cushions is it had three separate inflatable air chambers. This allows you to more easily customize the firmness and height for different parts of your body: the center chamber changes spine support and pelvic tilt, the side chambers control hip and thigh support.
This travel cushion has a lot of great reviews on Amazon, and some users say the customizability of the cushion makes it their favorite to use at home as well. In addition to using it for meditating, some travelers have also inflated it to use as a pillow on their flight.
Dimensions: Maximum inflated size: 18″ wide x 6″ tallest height & 2″ lowest height (46 x 15 x 5cm). Weighs 13 oz. Compact travel size: 9″ x 9″ x 2″
Available Colors: black, purple, blue, hunter green, red
---
Air Meditator Inflatable Travel Meditation Cushion
Vertical Vitality has introduced another inflatable meditation cushion perfect for your practice on the go. Another crescent shape option, this cushion is easily inflated by mouth or with a pump. You can adjust the the level of support with more or less air. it features three different chambers that you can adjust indepenedently. Once you have it inflated, the designed shape provides correct pelvic tilt for proper posture and comfortable meditation in lotus or burmese positions.
This cushion also comes with a carry case for easy storage in your bag or suitcase.
Maximum Size: 18″ wide, 7″ tall (rear), 2.5″ tall (front)
Available Colors: Gray, Black, Red, Purple
---
Zafuko Foldable Kapok Meditation Cushion
This option is less compact than the inflatable pillows, but it's so versatile that it's worth it if you have the space to take it with you. Zafuko designed this unique kapok-filled cushion to be foldable. That means you have two options to utilize it: either unfold it for a low to the ground cushion or leave it compact for a higher cushion or yoga bolster.
The kapok filling is firmer than cotton, which means it will fully support your body without sinking or molding. When you're done practicing, fold it up and tie the ribbon to hold it closed. Then grab the handles and head on your way. The compact size when folded is perfect for taking to yoga class or even stowing in your suitcase for a meditation retreat.
Size: Open: 14.7″ x 16″ x 3″, Closed: 14.7″ x 8″ x 6″
Available Colors: blue horizon, blue/purple, cherry/peach, double green, green/violet, pink/ruby red, purple/fuscia, purple/red, red/yellow, teal/turquoise
---
Prajna Travel Meditation Cushion
If inflatable cusions aren't your thing, but you want a compact zafu option, Prajna has the perfect pillow for you. This cushion is designed to be compact and light weight. The pillow has a wedge shape to support proper alignment while sitting for meditation. The removable cover is made from certified organic cotton and it's filled with 100% natural buckwheat hulls which allows for firm support and air circulation to keep the pillow cool. You can even adjust the firmness of the cushion by removing some of the filling.
This Prajna comes with a carrying handle to make it easy to bring with you to yoga class or meditation retreats. It's also compact enough to tuck into a suitcase or carry on bag when you travel.
Size: 15.75″ wide, 11.5″ deep, 2.35″ at the tallest
Available Colors: teal, black, gray, purple
---
Outdoor Self-Inflating Seat Cushion
So this cushion is not designed for meditation, but it's a great multiuse option for hikers and campers. This self-inflating outdoor cushion is advertised for using on hard stadium seats, but it's great for on concrete or rocks. It's also insulated, so the cold surface won't chill you. It's also a great option for meditating if you're looking for a pillow or cushion in a rectangular shape, rather than the crescent shape offered by other brands. This inflatable pillows is super affordable and also self-inflates so you don't have to worry about blowing it up.
This cushion has a valve to adjust the firmness and it easily deflates and rolls up to store in a compact carry pouch. They are the perfect size for carry-on bags or backpackers. If you're looking for a cushion that will work well for a kneeling meditation, this one is a good size to consider. It is smaller in width than the crescent inflatable cushions.
Comes in a set of two with a storage bag.
Dimensions: 16″ x 12″ x 1″ inflated
Available Colors: blue and green or blue and yellow
---
Memory Foam Meditation Cushion
This may not be what you had in mind when you started researching travel meditation cushions, but you should consider it. If you're looking for a portable cushion option that is also ergonomic, the Zen Comfort is perfect for you. Made from cushioning memory foam, the Zen Comfort is meant for more uses than just meditation, but it's absolutely fantastic for chair or floor meditations.The ergonomic design helps support your bottom and legs for a perfectly aligned lotus or Burmese position, or even just sitting with comfortably crossed legs.
While not the most compact cushion option, it easy to travel with you. You can carry it on a plane and then sit on it during the flight. It instantly turns an uncomfortable economy seat into a specialized ergonomic seat for a more comfortable flight.
---
Travel Meditation Mats
Even with a portable meditation cushion to aid your practice, you may still find many floors and other surfaces too hard to sit on comfortably. Zabutons are usually too bulky and tricky to pack, especially for flying or backpacking. Some people find travel yoga mats work well as a substitute, especially when folded up or rolled and placed strategically under the knees or feet. There are a few products on the market meant to address the challenge of a portable meditation mat. Some pair well with travel meditation cushions and one of our recommendations is its own set.
Mobile Meditator Travel Meditation Mat
This may just look like a yoga mat to you, but it was designed with a meditator in mind. It's shorter in length than a standard yoga mat, meaning it saves on space and weight while providing a size that a meditator will appreciate. This is a dual surface mat, with a microfiber top and a non-slip cushioned bottom. While it has a good amount of cushion, it's not going to be as comfortable as a fluffy zabuton. One of the big benefits of this mat is it keeps you off the ground or floor, especially if you're meditating in public spaces.
Comes with a carry strap for extra portability. You can roll it or fold it to store easily in your luggage or bag. It's also machine washable. This pairs well with the Mobile Meditator inflatable cushion, creating a secure, non-slip combination. Watch out if you have a cat though, apparently they love to use it as a scratch pad, so keep it out of reach of your kitty.
Dimensions: 26″ x 36″ x 3.5 mm thick, weighs 13 oz.
Available Colors: turquoise, purple
---
ZENGO Inflatable Zafu & Zabuton Set
This is the most compact travel option for a meditation who wants a full zafu and zabuton set to use on the go. ZenGo sells a set of inflatable meditation cushions that recreats the experience of using a cushion set. It comes with two pieces: one for sitting and the other to support the feet and ankles. These cushions can also be used as yoga bolsters. Because you inflate each piece separately you can easily customize each cushion for firmness and height.
The design is perfect for use for a variety of sitting meditation postures, including cross-legged, Burmese, quarter lotus, and half lotus.
When deflated both cushions fit inside of a 4.5″ x 8.5″ drawstring bag. It also comes with an inflater and charging cord so you can easily inflate your cushions when you're ready to practice. The inflator is battery powered so you can meditate anywhere.
Dimensions: Low Seat Size: Zafu is 30″ wide by 7″ high by 13″ deep. Zabuton is 30″ wide by 3.5″ high, by 13″ deep
High Seat Size: Zafu is 30″ wide by 9″ high by 13″ deep. Zabuton is 30″ wide by 3.5″ high, by 13″ deep
Available Colors: blue/gray
---
Agsnilove Travel Zafu & Zabuton Mat Set
If space isn't at a premium for you when you travel, or you're just looking for a zafu and zabuton set that's portable enough to take with you to class or group meditations, then this is the set for you. (This is also a great option if you don't have a lot of storage space at home). This full-size meditation cushion set includes a folding zabuton cushion and a rectangular zafu cushion. The zafu has a wedge shape to encourage proper spine alignment while sitting. Featuring a washable linen cover, the cushions are stuffed with natural coconut fiber which keeps the cushions breathable and cool even when sitting for long meditations.
This set also comes with a carrying bag to make it easy to carry and store. While this is not a great option for people who are flying, if you're taking a road trip this set will easily fit in your trunk with your luggage. This set can also work as yoga bolsters, making it perfect for yogis who meditate.
Dimensions: zabuton open: 23.62″ wide by 23.62 inches deep by 1.77″ high, zafu: 17.22″ wide by 9.06″ deep by 1.97″ to 3.15″ tall
Available Colors: gray, coffee, brown
---
Looking for more portable meditation supplies for travelers? Check out these folding and travel meditation benches and travel yoga mats.