Colored Pencils, Pens, & Markers for Adult Coloring Books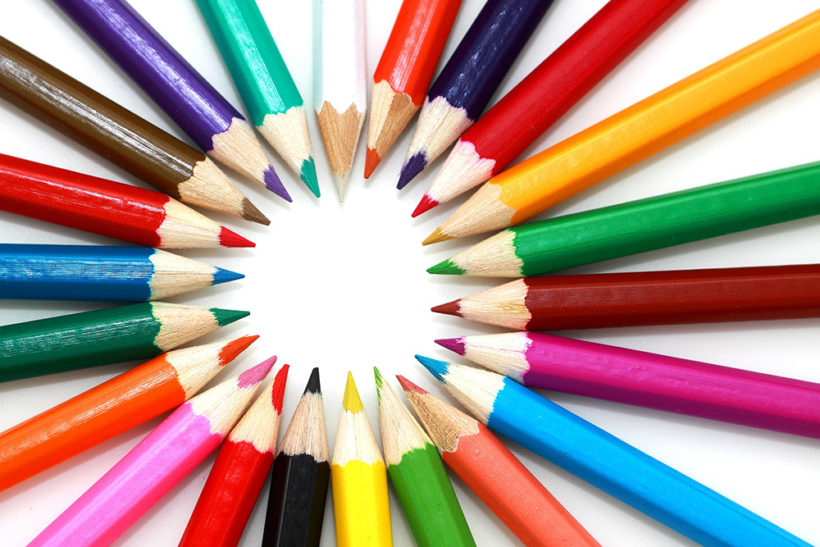 Coloring is a great way to de-stress and relieve anxiety. A lot of people use it to unwind after work and also to help clear their mind of worries. Once you've picked out the perfect stress relieving meditation coloring book, then the only thing you need to get started is the perfect set of art supplies.
There are no rules when it comes to coloring, so you can use whatever tools work best to express yourself creatively. Crayons, colored pencils, markers, and even gel pens can be used alone or together to color your designs. Here we've gathered some of the best and most popular art supplies for adult coloring books.
Adult Coloring Supplies
Sargent Art Colored Pencils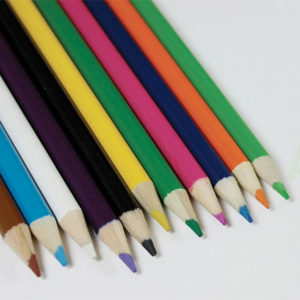 If you're looking for a cheap and affordable option, consider these colored pencils from Sargent Art. These gorgeous colored pencils are 7″ long and come presharpened. Their vibrant colors transfer well to paper with their 3.3 mm lead.
These pencils are great for drawing, coloring, and blending. They're perfect for new colorists, and the 50 pencil set has all the colors you'll need to meditate your stress away with your new coloring book.
Quantity: 12, 24, or 50 pencils
---
Fiskars Gel Pens
If you're looking for affordable gel pens to color with, check out these pens from Fiskars. This pack comes with glitter pens, neon and metallic colors, and also swirl colors. You'll have plenty of colors for any illustration or drawing. The crisp free flowing ink makes coloring smooth and easy.
These acid-free pens are great for coloring, scrapbooking, or general crafts. The 0.8-1.0 mm tips make them perfect for getting the details in the most intricate adult coloring books.
Quantity: 48 Piece Set
---
Prismacolor Premier Colored Pencils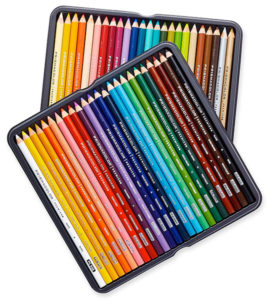 If you're a more advanced colorist or looking to spend a little more money, you may want Prismacolor Premium Colored Pencils. The soft lead cores of these vibrant pencils are perfect for shading and blending to create realistic and three dimensional drawings. The leads are thick and resistant to cracking and chipping, making them perfect for adult colorists.
Let these rich colors take you away from your worries as you color away your stress.
Quantity: 24, 48, 72, 132, 150 pencils
---
Staedtler Triplus Fineliner Pens
These pens from Staedtler are more like fine-tip markers. These 0.3mm pens feature acid-free ink and minimal bleed-through, so they're great for adult coloring books. They feature an ergonomic triangle shape so that you can color comfortably. These pens are also dry safe, so if you accidentally leave the cap off they won't dry off.
The brilliant and bright ink of these pens are water-based so it easily washes out of clothes. The bigger packs come with classic colors, bright colors, and even neon colors. You'll have enough options to create a vibrant and beautiful piece of art.
Quantity: 6, 12, 20, 36, 42 pens
---
Watercolor Brush Pens Set
If you're looking for a fancier, more versatile art marker, try these brush pens from Chalkola. The flexible tips make them versatile so you can achieve fine and broad strokes with a single pen. They're great for coloring, drawing, or even writing calligraphy.
If you're feeling really artsy, you can dip the pen in water and use it as a watercolor pen. These markers will help you up your coloring game and also let your creativity flow.
Quantity: 28 pens
---
Now that you've picked out the perfect coloring tools, don't forget to get an adult coloring book to relieve stress.
Save on Pinterest