Desktop Zen Gardens for Peace at Work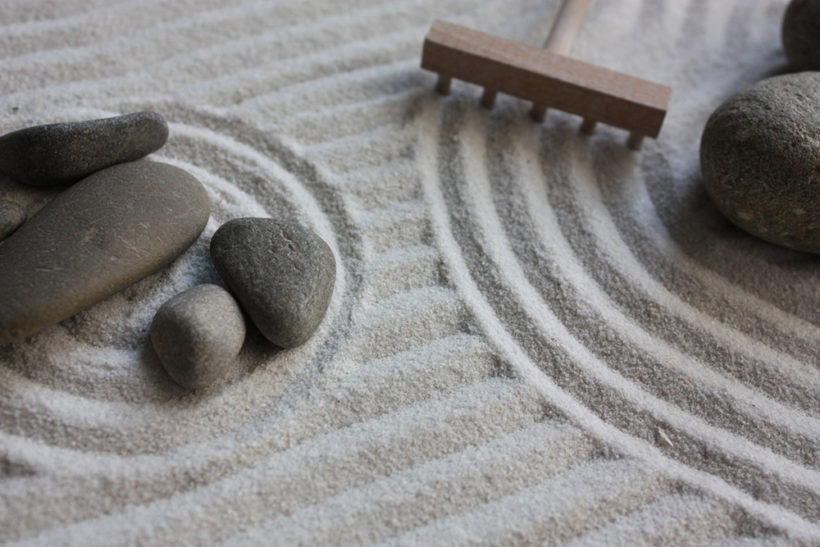 One of the most stressful spaces for people is their office desk. Whether you work at home or in an office building, a lot of your frustrations and worries happen while seated at your workstation. A great way to add some peace and mindfulness to your day is with a desktop zen garden. These miniature Japanse style gardens are a perfect way to bring calm and focus to any compact space, whether at home or work. If you're interested in learning more about Japanese landscaping or just want another way to bring calm and mindfulness into your daily routine, desktop zen gardens are the perfect solution. They're also a great alternative if you don't have space in your yard for a traditional Zen garden. In this article, we cover some of the benefits of desktop Zen gardens as well as recommending some of the best kits to start your own.
Benefits of a Mini Zen Garden
Compact Alternative to Traditional Zen Gardening
If you live in an apartment or have a small yard, there isn't enough space for a traditional Zen garden. A mini Zen garden is a compact alternative that will fit anywhere in your home. You can still practice Zen gardening without the expense or labor of installing rocks and gravel in your yard. These kits are also very affordable for newbies or people interested in learning more.
Practice Mindfulness at Any Moment
In addition to your regular meditation practice, it's nice to incorporate little moments of mindfulness throughout the day. This especially good to help combat stress and anxiety during hectic moments. I find a desktop Zen garden is the perfect mindfulness accessory for work. Often taking a moment to meditate is impractical in an office setting, but pausing for a few moments to care for your garden can bring you the same calm and focus.
Tool for Stress Relief and Relaxation
Combing and arranging a zen garden is a very calming and relaxing activity. The appearance of the garden and added accessories (like small plants or Buddha statues) can foster peaceful energy. It's great for a work desk, bringing calm and providing a relaxing break from computer work.
Zen Gardens Stimulate Creativity
Meditation alone helps clear the mind, stimulate creativity, and help with problem-solving. The meditative nature of arranging a zen garden helps you clear and focus your mind. It also gives you space to be playful in your arrangements and designs, which can put you in a creative headspace and make you open to experimentation and going outside your comfort zone.
Adds Beauty to Your Decor
This is the most obvious benefit: zen gardens look nice. There are plenty of designs and styles available to match your decor or personal style. Plus you can vary the arrangement and designs in the sand. It adds beauty to sterile offices or a lovely decorative addition to your home.
Best Desktop Zen Gardens
These are Zen Garden kits that have everything you need to get started. They come in a variety of styles and color. Whichever mini zen garden you choose will be based on your personal preferences and needs. The next section includes additional tools that you may want to buy to enhance your experience.
Iconic Home Deluxe Wooden Zen Garden
If you're new to desktop zen gardens or just want to start with one that has the basics, this is a great kit. Covering all the basics, this zen garden comes with a sleek black base that looks great display on a desk or bookshelf. The base includes two side containers to hold the two types of rocks: all black stones and a mix of natural stones. This helps you keep organized while you focus your energy on drawing claming designs with the incuded rake.
This kit also comes with a larger stone with the word "Zen" on it to use as a focal point in your design. They also send extra sand in case you need to replenish it later. This is a nice set for anyone looking for a simple zen garden.
Size: 8 3/8 inch x 6 5/8 inch x 1/2 inch height
Included in Kit: base, white sand, 2 stone types, "Zen" stone, bamboo rake
---
ICNBUYS Japanese Zen Garden
If you're looking for more decorative zen garden options, ICNBUYS offers a variety of different designs, from sleek minimal sets to more decorative ones like the one pictured. This one looks more like a traditional Japanese garden. In addition to the round tray and white sand, it comes with a Japanese bridge, small trees, bushes, and other decorative pieces. Use this set to create your own mini-paradise at work or at home.
If you want to be more adventurous with your designs, this mini zen garden comes with three tools: a rake, sand pusher, and sand pen for freehand drawing. This garden set comes in a sleek gift box perfect for giving or wrapping as a present.
Size: 9.4″ diameter
Included in Kit: base, white sand, rake, sand pusher, sand pen, Japanese garden decorations
---
Ocean Sand Desktop Zen Garden
If you're looking for something a little more whimsical, Zen Fox Studio sells a variety of cute and unique desktop zen gardens in many different colors and themes. This one is my favorite, their ocean sand garden. This aqua base is filled with blue sand and comes with a variety of ocean themed accessories to decorate with. Add ocean creatures like a clownfish, dolphin, or even a blue whale to your scene. Create the ocean floor with included pebbles, sea shells, and driftwood. Use the included rake and stylus drawing tool to create wave-like designs.
This is a playful way to bring the outdoors to the office or home and it's perfectly sized to keep on your desk. Enjoy some peaceful relaxation time as you imagine yourself on vacation while you create a sea scene.
Zen Fox Studio also sells woodland scenes, dragon gardens, traditional gardens, and other unique mini garden sets. Check them out in their shop.
Size: 7.25″ diameter
Included in Kit: base, blue sand, rake, sand stylus, pebbles, artificial plant, 3 seashells, driftwood, 8 ocean creatures (Clownfish, Starfish, Cownose Ray, Dolphin, Sea Turtle Hatchling, Great White Shark, Killer Whale, and Blue Whale. )
---
Home Zen Sand Garden
This set is just like having a mini-zen garden right in your office. It comes with lots of accessories inspired by nature, including two trees and two bushes, as well as many rocks. The tower and bridge pieces are reminiscent of Japanese architecture. You can focus on mindfulness as you rearrange the accessories and draw in the sand.
Let your imagination guide you to create relaxing designs with the two included bamboo rakes. Perfectly sized for an office desk or home display.
Size: 11 inch by 8 inch
Included in Kit: wooded base tray, 6 rakes, Torii Shinto Gate, Bridge, Pagoda, 2 Moss, 2 Sakura Cherry Blossom Trees, Lotus Flower, Various stones
---
Magnetic Zen Garden
This is a unique desktop zen garden because the sand is magnetic. You can draw traditional designs, or use the tools and magnetic rocks to "build" interesting shapes with the sand. The set comes with three miniature tools that look like traditional garden tools (a spading fork, hoe, and shovel). Playing with this zen garden is not only relaxing but can challenge your creativity.
Everything is stored inside a gorgeous wooden box with a latch. That lid makes this good for cat owners who are constantly struggling to keep their kittens away from their zen garden. This is a unique gift for gardeners, yogis, and meditators.
Made in the USA
Size: 8.4 x 8.2 x 3.8 inches
Included in Kit: wooden box, 2 bamboo wood tools, magnetic sand, magnetic rocks, stacking rocks
Mini Zen Garden Tools
Zen Garden Rake Set
Open up your expression with this mini zen garden rake set. It comes with three different rakes for a variety in designs, a spinning rake for making circles, plus a drawing stylus for creative freeform shapes.
When you're ready to start again, use the push rake to smooth the sand and erase previous designs. Comes with a box to store when not in use.
---
Zen Garden Sand Stamps
If freeform drawing is not your thing, sand stamps are a great alternative or additional tool to use in your zen garden. This set comes with ten mesmerizing stamps about 2″ in diameter. With floral patterns, spirals, shapes, and other interesting designs, you can create repeating patterns or mix them together for original compositions.
Each stamp has a wooden handle for easy manipulation and use.
---
Looking for more ways to inspire relaxation in your life? Check out these essential oil diffusers for aromatherapy and meditation coloring books.