5 Best Fitness Trackers for Yoga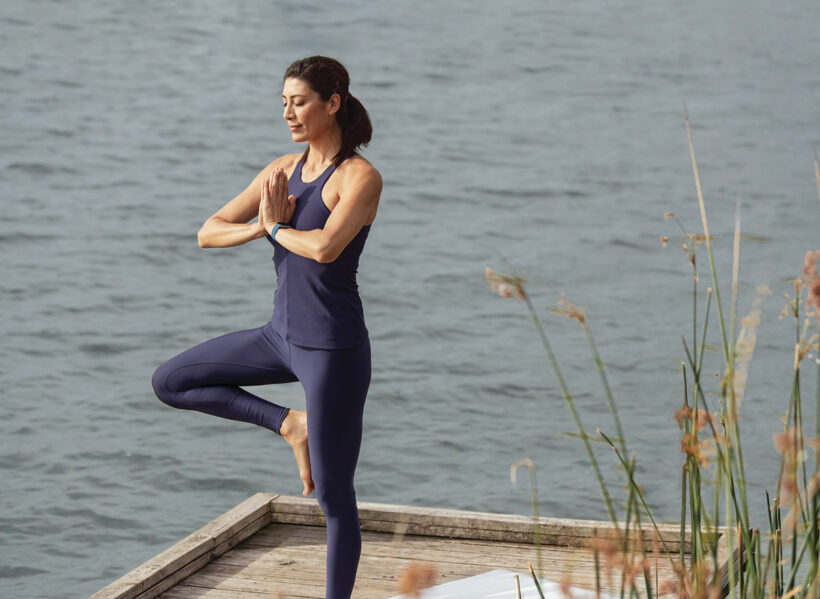 Building healthy habits is one of the biggest challenges of starting a healthy lifestyle. This is something I have struggled with most of my adult life. When life gets busy with school, work, and family obligations, it's easy for exercise and meditation to fall to the wayside. A good way to help you remember to make exercise a priority is through using fitness trackers. Originally focused on inspiring people to get more steps and stand more, a lot of trackers now have special tracking for specific types of exercise, like yoga, and even features specifically for meditation and stress.
If you're considering using a fitness tracker to help you maintain a regular yoga practice, these are some of the best options available for yogis and beginners alike.
Apple Watch
If you're an iPhone user, then an Apple Watch is the best tracker for yoga. Available in two sizes with an unlimited number of band options, it's fashionable and functional, creating a customizable extension of your phone on your wrist. Make calls, send texts, browse the news. It's all there. But where the Apple Watch really shines for me is with its yoga and mindfulness tracking.
If you've struggled to create a regular meditation practice, the Apple Watch ill help remind you. Breathe notifications will remind you to take a moment and guide you through a mindful breathing exercise of any length. You can also start one of these any time you need a moment to destress.
Use the Fitness app to track yoga workouts, where it will record information about your heart rate and the number of calories burned. You can set time or calorie goals to receive a notification when you've reached them or use open mode while in yoga class.
Because it exists in the Apple ecosystem, you can use thousands of other apps, including third-party yoga and meditation apps directly on your wrist. Ever since I got my Apple Watch, I find myself moving and exercising more while using my phone less! It's a great option for yoga tracking.
Pros:
Yoga Tracking
Unlimited band options, including 3rd party
Hundreds of third party apps
Make calls from your wrist

Cons:
Only works with iPhones
Higher price point compared to other trackers

Tracks: steps, heart rate, exercise, and so much more
Available Colors: gold, silver, black
Notable Features: Fitness goals and reminders, Retina display with Force Touch, swappable bands, call, text, and other iPhone notifications, App store
---
Fitbit Versa 3 Fitness Smartwatch
If you don't have an iPhone, Fitbit offers their own smartwatch with plenty of features for fitness-minded yogis. They have their own version of the guided breathing app, to lead you through two or five minuted guided breathing exercises based on your heart rate. In addition to tracking your activity all day, Fitbit also has 20+ goal-based workout modes, including one for yoga.
The Versa brings tons of other cool smartwatch features, like wrist-based calling and messaging. You can also use downloadable apps. Built-in GPS and a waterproof design make it great for all kinds of workouts.
If this smartwatch is outside of your budget, Fitbit has lower-priced trackers that offer great yoga tracking without the smartwatch frills.
Pros:
6+ day rechargeable battery
Interchangeable bands
Yoga and other workout tracking
Compatible with iPhone & Android

Cons:
One of the more expensive Fitbit options

Tracks: Steps, Distance, Calories, Workouts, Sleep (duration and stages), Heart Rate, Reproductive Cycle, Oxygen Saturation (SpO2)
Available Colors: Black, Soft Gold (plus endless band options)
Notable Features: Interchangeable Bands, Waterproof, Plays Music, Runs Apps, Weather, Smart Notifications (Calls & Texts), 6+ Day Rechargeable Batteries, Personal Coaching, Move Reminders, Guided Breathing, PurePulse Wrist Based Heart Rate Tracking, On Screen Workouts, 20+ Exercise Modes, Built in GPS, Fitbit Pay, Clock Face Options, Amazon Alexa built-in
---
Amazfit Cheap Fitness Tracker
If a smartwatch doesn't fit into your budget, there are plenty of cheap fitness trackers for yoga. Amazfit had been making budget-friendly fitness trackers for a few years now and they're great for all types of fitness tracking, including yoga.
The Amazfit Band offers all the basic fitness and activity tracking most people need. Yogis will appreciate the reminders to move and step counting to make sure you're meeting the recommended 10,000 steps a day. It does offer some cool features if you sync it with your smartphone: you can get call alerts, text messages, or even remote camera shooting for taking photos of yoga poses. Or turn them off to stay disconnected from distractions.
One of the nice things about a basic fitness tracker like this is there are no apps to distract you! This is a great choice for an affordable, fitness-focused, yoga tracker. In addition to the basic step and heart rate tracking all day, this model features "multi-sport tracking" which adjusts the tracking based on what activity you're doing. The yoga tracking is similar to what you'll see on more expensive smartwatches, giving you info on heart rate and calories burned.
Pros:
Affordable price
15-day rechargeable battery
Workout tracking (including yoga)

Cons:
No apps
No built-in GPS

Tracks: steps, calories, distance, blood oxygen level, heart rate, sleep
Available Colors: black, olive, orange
Notable Features: Alexa built in, 15 day battery life, Health Assessment System, 11 sport modes, menstrual health tracking, stress monitoring, breathing exercises, 5 ATM water resistance, 45 customizable watch faces
Check out more cheap fitness trackers.
---
Garmin vivoactive 4s Smartwatch for Yoga
If the blocky, techy look of most fitness trackers turns you off, Garmin offers a smartwatch that looks more like a traditional watch, with a round face. It's also packed with tons of features perfect for yoga and meditation fans.
The built in sports app allows you to track over 20 workouts, including yoga. If you need some inspiration at home or on the go, you can follow an on-screen animated yoga workout. Great for working out in the park or doing yoga while traveling. Take it to the next level by building your own yoga workouts in Garmin Connect and then download them to the watch to access it on the go.
It takes breathing exercises to the next level with its stress tracker. It keeps track of your stress all day, letting you know how stressed you are, and also prompts you to do a short breathing exercise when you're extra stressed. It's a great way to help you check it on hectic days. You can also start a breathwork activity at any time. The respiration tracking will let you know how you're breathing during meditation or yoga.
Other cool health tracking includes menstrual cycle and pregnancy tracking, hydration tracking so you make sure to drink enough water, and sleep tracking. If you can afford the price, the Garmin vivoactive has tons of great features to offer for fitness-minded folks.
Pros:
7 day battery life (smartwatch mode)
Stress tracker with breathing exercises
On screen yoga workouts
Customizable bands

Cons:
High price
Need Bluetooth headphones to listen to music from watch
Screen scratches easily (get a screen protector)

Tracks: Steps, calories burned, sleep, energy, blood oxygen saturation, stress, women's health, hydration, respiration, heart rate, workouts,
Available Colors: Gold with rose band, rose gold with white band, silver with gray band, black with black band
Notable Features: 7 day smartwatch battery (5 hours GPS mode), Garmin connect app (Android 6.0+ and Apple iPhone iOS 12+), smart notifications, music, Garmin Pay, 5 ATM waterproof, customizable bands
---
Bellabeat Leaf Tracker Jewelry
The Bellabeat Leaf has been one of our favorite trackers since it first hit the market. It's advertised as a "wellness tracker" with more of a focus on overall wellbeing. It's also not as interested in tech bells and whistles–this tracker doesn't have a screen. There are no fancy apps or notifications to steal your attention. Sold primarily as a clip-on style tracker, it is designed to be beautiful and can be worn like jewelry as a necklace or bracelet.
It features the expected sleep and activity tracking, plus great tracking for mindfulness and meditation. The built-in meditation tracking helps you build a habit through guided meditations. It also tracks stress so you can be proactive to keep stress levels low.
The leaf doesn't have specific yoga workout-tracking, but the focus on overall wellness and mindfulness with minimal features and distractions is important for many yogis. The Leaf also offers an amazing 6-month battery life, so you can worry about more important things than charging your tracker.
Pros:
6-month battery life
No distraction design worn like jewelry

Cons:
No workout tracking
No smart watch functionality
No screen on tracker–need to use phone to check stats

Tracks:steps, distance, activity, breathing, sleep, period and ovulation, calories burned, meditation
Available Colors: chakra black/rosegold, chakra gray/silver, leaf black/rose gold, leaf black/silver, leaf gray/rose gold, leaf gray/silver
Notable Features: smart alarm, women's health tracking, LEAF app, 6-month battery life, beautiful tracker can be worn as jewelry, inactivity alert, mobile tracking app, water-resistant
---
Still looking for the best fitness tracker for you? Check out our favorite meditation and stress trackers or this fitness tracker comparions chart.