Mindfulness, Meditation, and Stress Trackers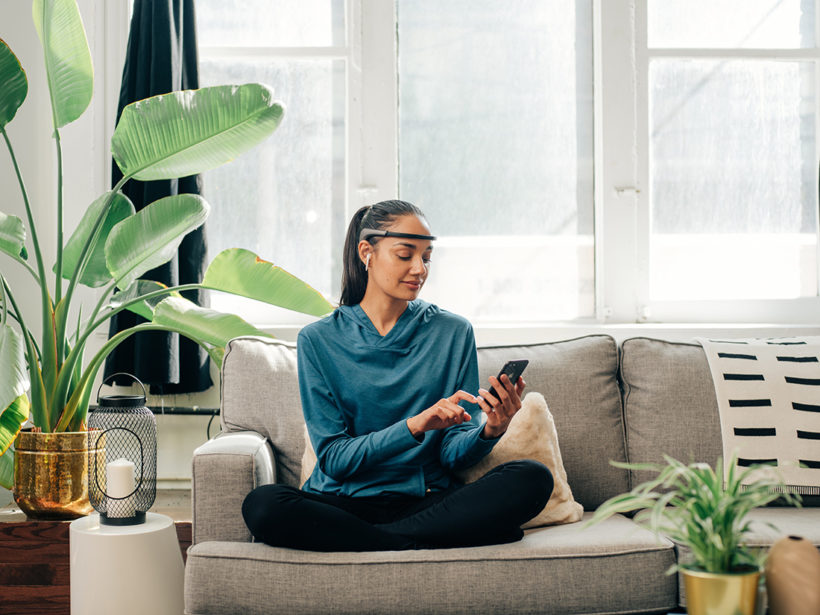 One of the great things about meditation is anyone can do it without any extra equipment. However, one of the challenges in our technologically connected world is actually unplugging and building a meditation habit. Not surprising, many technological solutions for stress and mindfulness have been invented, including meditation apps and even stress trackers. We've dived into the land of fitness trackers and other meditation tech to see what the latest offerings are and if they're even worth the investment.
While people who have already built a successful meditation practice may find these gadgets to be a waste of money, there are benefits for other people. Newbies may find tracking and reminders helps them build a regular practice. Anyone who struggles with stress or anxiety may find this to be a great companion to other treatments. Some of these items are all-around fitness trackers with special features perfect for stress tracking and reduction. Check them out to see if they fit your needs. (We also have reviews on the best trackers for yoga.)
Bellabeat LEAF Activity and Health Tracker
The LEAF tracker is well known for being made specifically for women and also being one of the most fashionable activity trackers on the market. They advertisement as a wellness tracker, with a focus on whole health. In addition to the usual step and activity tracking, it also tracks monthly cycles and reproductive health.
What's really great is the Leaf's meditation and stress tracking. As you use the tracker, it makes stress predictions based on your lifestyle and also other impacting factors like activity level, sleep, menstrual cycle, and your meditation habit. This can help guide you to be proactive to beat stress. The companion app also has built-in meditation tracking. Use their guided meditations or simply track or log your own meditation sessions. Use goals to help progress your practice and meditate regularly. You can also use the guided meditations to help you fall asleep, a great feature for people who suffer from insomnia or anxiety.
Other features include a smart alarm that can wake you in the morning or remind you to take your birth control pill. To make this tracker even better, LEAF is a gorgeous clip-on device that that comes in two styles (a leaf or a chakra gemstone) and has the appearance of fine jewelry with wooden housing instead of cheap plastic found on most activity trackers. Optional accessories are available to wear it as a bracelet or a necklace.
Available colors: chakra black/rosegold, chakra gray/silver, leaf black/rose gold, leaf black/silver, leaf gray/rose gold, leaf gray/silver
Good for: building a meditation habit, tracking women's health, managing stress, activity tracking
Tracks: steps, distance, activity, breathing, sleep, period and ovulation, calories burned, meditation
Notable features: smart alarm, women's health tracking, LEAF app, 6-month battery life, beautiful tracker can be worn as jewelry, inactivity alert, mobile tracking app
---
Pip Stress Management Bio Sensor
The Pip is very different from other stress trackers. Instead of a wearable technology like a clip, the Pip is a scientific instrument you use to measure and track your body's stress through electrodermal activity (EDA). The goal is that by tracking and managing your stress, you'll be happier overall. When you hold the Pip, it uses those EDAs to determine if you're stressed or relaxed, and then helps you to control any stress.
The companion apps help you visualize your stress levels and guides you to stay mindful and focus. It's sort of gamifying the art of mindfulness and stress relief, which is helpful for people who have anxiety or trouble focusing during meditation. The app tracks your progress over time and coaches you to improve if the techniques you're using are not effective. Since it is small and discrete you can use it anywhere to refocus your mind.
Since you do not wear the Pip, it doesn't track anything beyond stress. This makes the Pip perfect if you're not interested in fitness and activity tracking and just want a device to help you with stress and mindfulness.
Available colors: black, white
Good for: tracking and managing stress, meditating and being mindful, reducing stress, refocusing your mind
Tracks: EDA and stress/relaxation
Notable features: Companion apps for stress management, scientific monitoring of EDA, compatible with iOS and Android
---
Muse 2 Brain Sensing Headband and Meditation Assistant
Muse is one of the coolest devices I have ever seen, it looks like something out of a sci-fi movie! Designed specifically for meditation and mindfullness, Muse is a headband that measures you brain while you meditate. If you're looking for a fully meditation focused device, this is it.
The way Muse works: you put on the headband and also your headphones and connect both to your smartphone. Muse monitors your brain activity (it's an EEG device that uses advanced signal processing to interpret your mental activity). When your mind is peaceful, it plays calming weather sounds. If your mind starts to wander, the weather intensifies into a storm, bringing your attention back to your breath. It helps guide you through your meditations and also improve and develop your practice over time. The free companion app also features many other guided meditations with focus on your heartbeat or your breath.
Over time, the app tracks and measures your progress. This helps keep you motivated to develop a regular meditation habit while also giving you insights into your mind and body. While the Muse 2 device is a little pricey, it can be shared by multiple users since it's only needed while actively meditating. This is a great option if you've struggled with meditation or are a scientifically minded person interested in the health benefits of mindfulness.
Good for: meditation tracking, guided meditations, staying focused, relieving stress
Tracks: mindfullness/focus during meditation, heart (PPG + Pulse Oximetry), body movement, breath
Notable features: set goals, track progress over time, guided meditation, Bluetooth connection, compatible with iOS and Android, headband can be shared by multiple users, USB rechargeable, 5 hour battery life
---
WellBe Stress Balancing Bracelet
WellBe is a bracelet meant to help you track and conquer your stress. The tracker and the app calibrates to your behavior and helps you track stress triggers in your life to reduce it. The bracelet measures your heart rate and then the app analyzes it to determine stress levels and pairs that with events, locations, and other activities throughout the day. The app can also alert you when your stress levels are high so you can take a meditation break to bring your mind under control.
In addition to the tracking, the smartphone app features personalized guided meditations and other well-being exercises to help increase mindfulness as you reduce stress and anxiety. Everything is personalized to your needs.
One of the downsides of this tracking bracelet is that it is so focused on stress relief that it doesn't really track anything else. So if you're looking for a fitness tracker as well, WellBe is not an all-in-one solution. It is perfect if you just want to focus on stress and anxiety tracking.
Available colors: Black leather, white leather, natural cork
Good for: reducing stress, relieving anxiety, guided meditation
Tracks: heartrate, stress levels
Notable features: 24/7 tracking, free iOS & Android apps, guided meditation, stress relieving activities
---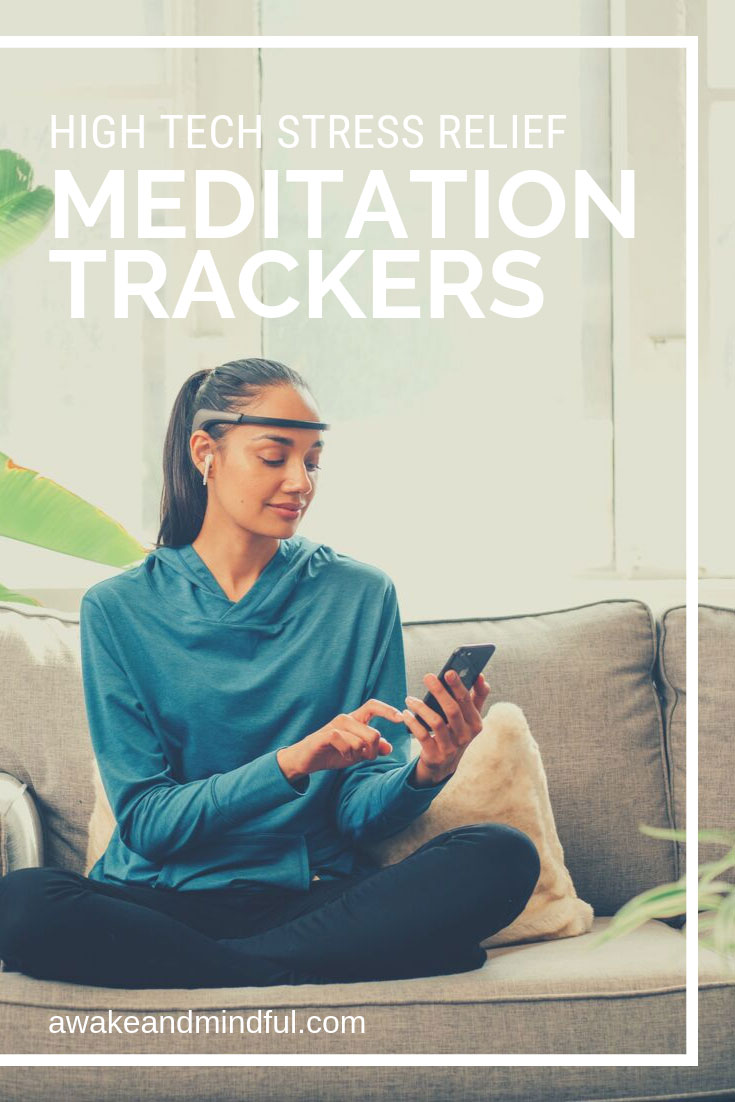 Want to get into meditation without paying a lot of money for fancy mindfulness technology? Learn how to meditate in the morning and make a habit of it. Also, check out some books for beginners on meditation and mindfullness.
Track all parts of your wellness journey with these fitness trackers for yoga. Is stress and anxiety affecting your ability to sleep? Try some guided meditations for sleep and insomnia. If you want sleep tracking, there are plenty of fitness trackers with sleep monitoring or home sleep monitoring devices you can use to track and improve your sleep quality.