Mindfulness, Meditation, and Stress Trackers 2023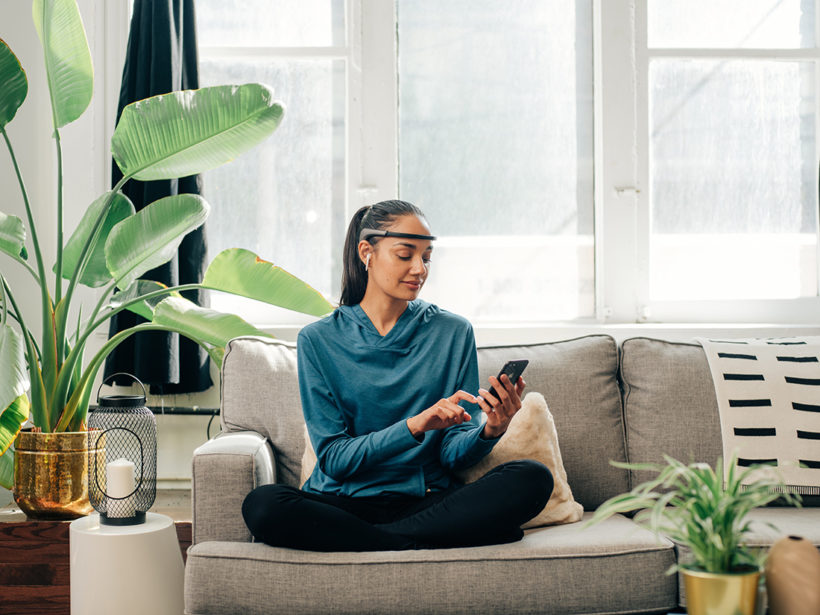 One of the great things about meditation is anyone can do it without any extra equipment. However, one of the challenges in our technologically connected world is actually unplugging and building a meditation habit. Not surprising, many technological solutions for stress and mindfulness have been invented, including meditation apps and even stress trackers. We've dived into the land of fitness trackers and other meditation tech to see what the latest offerings are and if they're even worth the investment.
While people who have already built a successful meditation practice may find these gadgets to be a waste of money, there are benefits for other people. Newbies may find tracking and reminders helps them build a regular practice. Anyone who struggles with stress or anxiety may find this to be a great companion to other treatments. Some of these items are all-around fitness trackers with special features perfect for stress tracking and reduction. Check them out to see if they fit your needs. (We also have reviews on the best fitness trackers for yoga.)
Meditation Tracking and Training Gadgets
Muse 2 Brain Sensing Headband and Meditation Assistant
Muse is one of the coolest devices I have ever seen, it looks like something out of a sci-fi movie! Designed specifically for meditation and mindfullness, Muse is a headband that measures you brain while you meditate. If you're looking for a fully meditation focused device, this is it.
The way Muse works: you put on the headband and also your headphones and connect both to your smartphone. Muse monitors your brain activity (it's an EEG device that uses advanced signal processing to interpret your mental activity). When your mind is peaceful, it plays calming weather sounds. If your mind starts to wander, the weather intensifies into a storm, bringing your attention back to your breath. It helps guide you through your meditations and also improve and develop your practice over time. The free companion app also features many other guided meditations with focus on your heartbeat or your breath.
Over time, the app tracks and measures your progress. This helps keep you motivated to develop a regular meditation habit while also giving you insights into your mind and body. While the Muse 2 device is a little pricey, it can be shared by multiple users since it's only needed while actively meditating. This is a great option if you've struggled with meditation or are a scientifically minded person interested in the health benefits of mindfulness.
Good for: meditation tracking, guided meditations, staying focused, relieving stress
Tracks: mindfullness/focus during meditation, heart (PPG + Pulse Oximetry), body movement, breath
Notable features: set goals, track progress over time, guided meditation, Bluetooth connection, compatible with iOS and Android, headband can be shared by multiple users, USB rechargeable, 5 hour battery life
---
Core Meditation Trainer
Core is a device that is targeted at newbies and people dealing with stress or anxiety to help them develop a consistent meditation habit. Core is a device that you hold in your hands as you meditate. It has biosensors that measure your heart rate and send it to the Core App on your smartphone. As it monitors you during a meditation session, the Core vibrates and lights up to guide you through the session. I find the vibrations that guide the breathing to be intuitive and also help keep my attention focused. You can also use the Premium section (requires subscription) of the app for guided meditations, music, and personalized recommendations based on your goals.
The app also allows you to track your progress and also see how meditation over time affects your physical and mental well-being. Because Core can only track you while you're using it, you will only get health data for the times you're meditating. If you want to be able to track your stress or heart rate all day, you should consider getting a fitness tracker with stress tracking abilities (see our favorites in the next section). One of the features I appreciate is you can share the Core with other members of your family. Each person will need to download the app to their phone to keep track of their own data.
Good for: meditation tracking, guided meditations, staying focused, relieving stress
Tracks: mindfullness/focus during meditation, heart rate variability,
Notable features: 2 week battery life, iOS & Android app, natural wood base, Core can be shared by multiple users, track progress over time, Bluetooth connection
---
Flowtime Smart Meditation Cushion
When I first learned about Flowtime and how it's a "smart" meditation cushion, I was a little bit skeptical. But the more I learned the more brilliant the idea seems. This is the least obstrusive of the meditation tracking options and a perfect addition to you practice if you already use a meditation cushion set.
This set comes with two pillows: a floor zabuton-style pillow with a polyester fiber filling and a zafu-style sitting cushion with a biobased sponge and buckwheat hull filling. The sitting cushion has the sensor built into it, so it automatically tracks your bio-data when you sit down to meditate. Using the smartphone app you can use three meditation modes: Guided Lesson Mode, Resonant Breathing Training, and Timer Mode. The app also keeps track of your trends over time so you can get real insight into the benefits provided by your meditation habit.
One thing to note is that meditators with larger bottoms have reported the cushion feels a little small and uncomfortable to them. Hopefully Flowtime will offer various cushion sizes in the future. The height of the cushion is adjustable by removing buckwheat hulls.
Available colors: Gray, White
Good for: Unobstrusive meditation tracking
Tracks: heart rate, breathing patterns, HRV, Stress
Notable features: 100% Cotton, rechargeable battery, 2000 hour battery life, Android 6.0 and iPhone iOS 11.2 apps, Bluetooth connection
---
Best Fitness Trackers with Stress and Meditation Tracking
Bellabeat Ivy Activity and Health Tracker
The Ivy tracker is well known for being made specifically for women and also being one of the most fashionable activity trackers on the market. They advertise the Ivy as a wellness tracker, with a focus on whole health. In addition to the usual step and activity tracking, it also tracks monthly cycles and reproductive health.
What's really great is the Ivy's meditation and stress tracking. As you use the tracker, it makes stress predictions based on your lifestyle and also other impacting factors like activity level, sleep, menstrual cycle, and your meditation habit. This can help guide you to be proactive to beat stress. The companion app also has built-in meditation tracking. Use their guided meditations or simply track or log your own meditation sessions. Use goals to help progress your practice and meditate regularly. You can also use the guided meditations to help you fall asleep, a great feature for people who suffer from insomnia or anxiety.
Other features include a smart alarm that can wake you in the morning or remind you to take your birth control pill. To make this tracker even better, LEAF is a gorgeous clip-on device that that comes in two styles (a leaf or a chakra gemstone) and has the appearance of fine jewelry with wooden housing instead of cheap plastic found on most activity trackers. Optional accessories are available to wear it as a bracelet or a necklace.
Available colors: Blush silver, blush rose gold, garden black, garden rose gold
Good for: building a meditation habit, tracking women's health, managing stress, activity tracking
Tracks: steps, distance, activity, breathing, sleep, period and ovulation, calories burned, meditation
Notable features: smart alarm, women's health tracking, LEAF app, 6-month battery life, beautiful tracker can be worn as jewelry, inactivity alert, mobile tracking app
---
Fitbit Luxe Fitness Tracker Jewelry
Fitbit makes some of the most popular fitness trackers and we really like the Luxe because it's fashionable (and can be styled like jewelry) while providing some of the best features in the Fitbit line-up, including stress tracking and management.
For stress management, the Fitbit app will report your daily Stress Management Score, which helps you see how your body is managing stress. It tracks these trends over time so you can see if you're in a particularly stressful period or see how mindfulness techniques like regular meditation are lowering your stress levels. If you feel yourself caught up in a particularly stressful or anxiety fueled moment, you can use the on-wrist guided breathing sessions for a quick mindfulness break. The Fitbit app will also track your mindfulness minutes so you can make sure you're getting in your daily meditation practice.
It you're looking for a tracker to help you with exercise, Luxe has plenty of ways to monitor your fitness. Packed inside this band are all fitness tracking features you need. Whether you like to run, hit the gym, or cool down on your yoga mat, the Luxe features 20 exercise modes and SmartTrack automatically senses your workout. Nightly sleep tracking helps to provide a full picture of your health and wellness.
All of the Fitbit trackers feature the stress management and wellness tracking, so check out this Fitbit comparison to see which model is right for you.
Available colors: gold, black/graphite, lunar white/soft gold stainless steel, orchid/platinum stainless steel (and interchangeable wrist bands)
Tracks: steps, distance, calories burned, sleep, heart rate, SpO2 (oxygen saturation), SmartTrack exercise modes, Stress Management Score, breathing rate (sleep), skin temperature (sleep)
Notable features: 5 day battery life, always-on color display, smartphone notifications, Do Not Disturb mode, Silent Alarms, timer and stopwatch, Daily Readiness score, call & text notifications, GPS via phone, menstrual cycle tracking, Active Zone Minutes, 50m water resistance, Guided Breathing app
---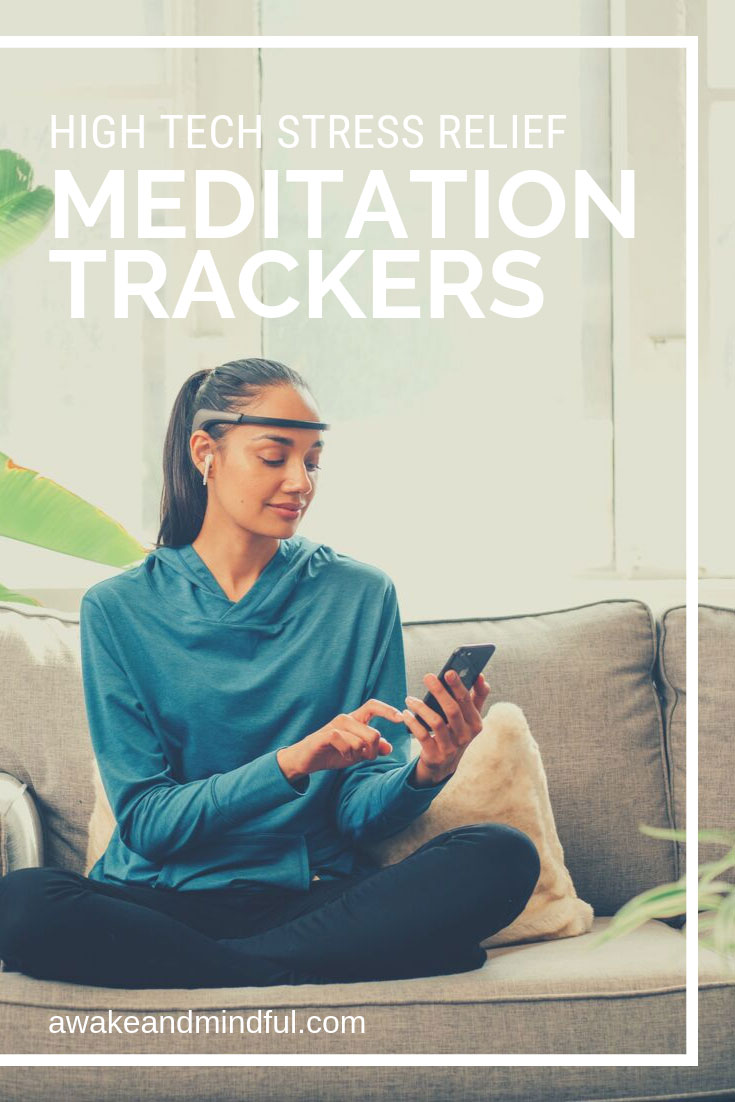 Want to get into meditation without paying a lot of money for fancy mindfulness technology? Learn how to meditate in the morning and make a habit of it. Also, check out some books for beginners on meditation and mindfullness.
Track all parts of your wellness journey with these fitness trackers for yoga. Is stress and anxiety affecting your ability to sleep? Try some guided meditations for sleep and insomnia. If you want sleep tracking, there are plenty of fitness trackers with sleep monitoring or home sleep monitoring devices you can use to track and improve your sleep quality.