5 Best Guided Meditation Apps for iOS & iPhone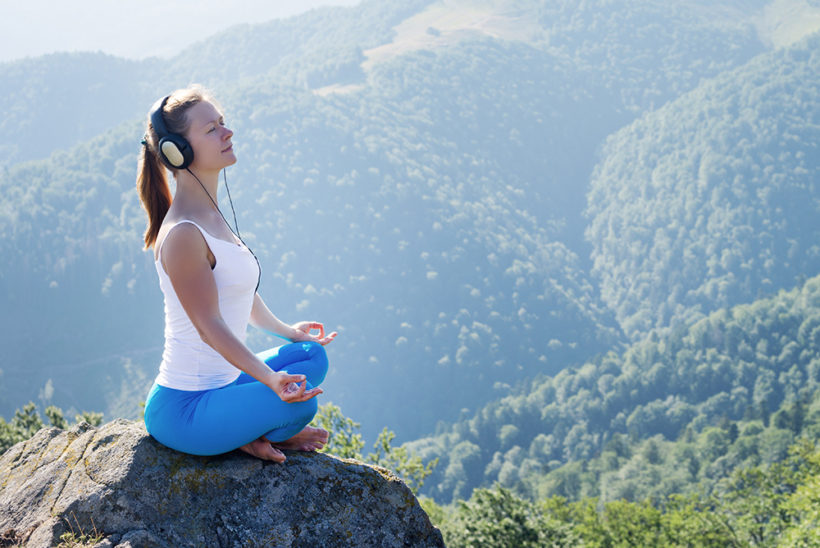 If you struggle to stay focused while meditating or are new to your meditation practice, you may find guided meditations helpful. Guided meditations help you relax, focus your mind, and focus an intention for your practice. There are many sources for guided meditations, including CDs, podcasts, and videos. One of the best resources I've found is guided meditation apps. These apps let you meditate anywhere, at any time with their guided meditation audio. They also let you set reminders, track your progress, and help build a daily meditation habit.
If you're new to meditation or find yourself struggling to maintain a daily habit, give these apps a try.
Guided Meditation Apps for iOS
Headspace: Guided Meditation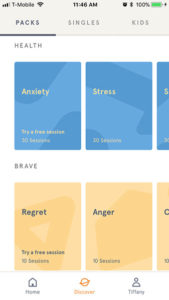 Headspace is one of the most recommended guided meditation apps right now. I decided to give it a try when I saw reviews mentioning how helpful it is for people who struggle with meditating consistently. I do want to mention from the beginning that you can download and try to app for free, but to really get the longterm benefit and access to the full library of guided meditations you need to buy a subscription.
Many experienced meditators won't be interested in Headspace, but it's perfectly designed for beginners who are learning how to meditate and build a daily habit. The guided meditations are divided into three types: Courses that focus on certain goals, Singles which are one-off meditations for specific scenarios, and Minis for quick 1-3 minute meditations. Each meditation begins with a little "education" in the form of a mini movie or audio guidance that explains the concept or intention each meditation is focusing on.
The app recommends you start with a 10 session "Basics" pack that teaches you how to meditate and understand the concepts of mindfulness. You can then continue with two more "Basics" packs to deepen your practice or try out a different pack.
Most of the guided meditations give you an option of session length between 3 – 20 minutes, so you can easily increase meditation time as you gain experience or pick a shorter time for quick sessions.
Each guided meditation is narrated by Andy Puddicombe, one of the co-founders of Headspace. He has a very calming voice and makes an excellent guide. I've found the variety of packs and singles provides enough options that I haven't gotten bored yet, but I have talked to other people who feel the techniques used like body scans, noting, and visualizations are too repetitive. Whether you'll feel the same is up to your preferences.
One thing the app really gets right for me is how well it encourages building a daily meditation habit. It tracks your meditation, including setting goals for daily streaks and adding up the total time spent in meditation. It also syncs with Apple's Health app as Mindfulness minutes.
For the Apple Watch, the Headspace app provides two exercises to help calm your mind when anxiety and stress have it spinning out of control. One is an SOS guided meditation that helps you focus on your breath and calm a frantic mind. Touch has you touch the screen for 30 seconds, which is an easy way to focus your mind anywhere.
Available for: iPhone, iPad, & Apple Watch
---
Grokker: Yoga, Fitness, Mind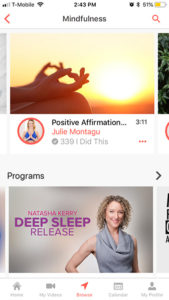 The Grokker app is a little different that other guided meditation apps. Think of it as more of a Netflix for body and mind health with some extra motivation built in. It's kind of a one stop shop for guided meditation, yoga, fitness videos, and even recipes. Grokker features videos in each of those categories to focus on a holistic approach to a healthy lifestyle.
Grokker has an entire section of guided meditation videos to help you achieve mindfulness, eliminate stress, or just take a break and check in. Some of my favorite videos are by Stacy Conlon. She has a series of videos all under 10 minutes that are perfect for taking a quick meditation break during the day at work. Her Ease Your Anxiety and Stress video has been a lifesaver for me when I'm having a hectic day at work. I just put on my headphones and take a break for 8 minutes and immediately feel calmer.
You can access the videos on your computer via a web browser or on iPhones and iPad with their iOS app. If you're using Apple's Health app to track your fitness and meditation, Grokker can sync Mindful Minutes and Workouts to give you accurate tracking. Another bonus of the iOS app is it allows you to set personal goals and tracks your "Wellness Minutes" each week. Those minutes lead you to "level up," a great motivation to keep working toward your goals.
I recommend Grokker over Headspace if you want one subscription to give you unlimited meditation, yoga, pilates, and cardio workouts. It also gives you a ton of variety in guided meditations and yoga workouts.
You can signup for free to access some video content. Their premium membership does have a monthly fee–$9.99 a month on the annual plan and $14.99 month-to-month–but it gives access to all of their amazing videos. You can use their 14 day free trial to check it out and decide if it's worth it to you. For me, the fact that I can get yoga videos and meditation videos for the fraction of the cost of going to a yoga class makes it a fantastic deal. I like to use it for daily yoga practice and when I need a guided meditation to help me relax.
Available for: iPhone, iPad, Web
---
Buddhify Mindful Meditation App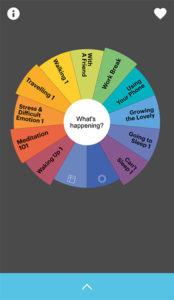 Sick of guided meditation apps that charge a subscription fee? With Buddhify you buy the app once and have unlimited access to it forever. Built for busy lifestyles, the app is designed to provide you guided meditations any time you need them, anywhere. The meditations are categorized by what you're doing or how you're feeling. This way you can open up the app and select "Waking up," "Travelling," or even "Work Break" and select from meditations written for that scenario. They also provide a great range of guided meditations from 4 minutes to 30 minutes so you can pick one that fits your available time.
The app itself is customizable so you can edit your wheel to feature the types of meditations you do most. While a lot of the design of the app is meant to help beginners build their meditation practice, they've also built in a meditation timer. Once you've moved beyond guided meditations, you can use that timer to track meditation time. There are also statistics and achievements to keep you motivated and help you advance your practice.
More awesome features include guided meditations for kids, meditations designed to be done with other people, and the ability to send meditations to friends as gifts that they can access without buying the app.
Available for: iPhone, iPad
---
Stop, Breathe & Think App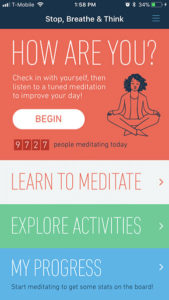 Stop, Breathe, & Think as a little bit of a different approach to meditation. The app is very personable, checking it with you and even conversing with you each day to set goals and reminders to build a meditation habit. That makes this app a lot more approachable if you've struggled with other meditation apps before. The app also focuses on emotional feeling and well-being, which makes it good for people who are meditating to help with depression and anxiety.
The app provides tons of guided meditations, as well as traditional meditation timers and a breathing timer. When you open the app, it has you check in with your mind and body, then tell it how you feel physically and mentally, and log your emotions. Based on that information, it recommends meditations for you. I find this great for those days when I'm feeling "meh" or not particularly motivated to meditate.
If you're looking to build a meditation habit, this relaxation app tracks your check-ins and meditations, as well as your answers from your "check in." This helps you see your personal progress and improvements and helps you form a meditation habit. It also syncs with Apple's Health app, so you can keep track of all of your fitness and health data in one place. This is a great option if you want to relax and build a meditation practice as a beginner. This app is also good if you have meditation experience but struggle to make a habit out of it.
Stop, Breathe & Think will sync mindfulness minutes with the Health app. It also tracks meditation streaks, check-ins, and your emotions over time. For some extra fun, you can earn stickers for hitting meditation goals.
The app is free to download and you get access to a ton of content which you can use without even signing up. There is an unlocked "Premium" version for $9.99 monthly or 4.92 per month on the annual plan.
Available for: iPhone & iPad
---
Calm Meditation & Sleep App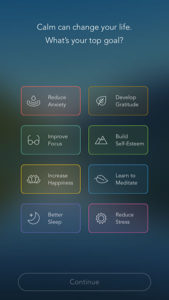 Calm is a big competitor of Headspace, but their focus is more on relieving sress and promoting sleep. They have four main sections of the app. Meditate features a collection of guided meditations under specific categories like Managing Stress, Relaxing for Sleep, and Mindfulness at Work. The Music section features similar categories of music like Nature, Relax, and Sleep. The music is great to play in the background while meditating, studying, or just relaxing at home.
The one thing that really sets Calm apart from the other apps is their Sleep section. It features Sleep Stories, calming audio stories to help you drift off to sleep. Just like when your parents read you stories before bed, these stories lull you to sleep with relaxing narration, calming images, and soothing sound effects. You can choose from a variety of categories including fiction, non-fiction, kids, and even ASMR stories.
The fourth section is a new addition of Masterclasses. These are classes on a variety of topics like "Social Media and Screen Addiction" or "Breaking Bad Habits" where experts dive deep on the topic and give you tangible steps to follow.
Apple Watch app gives you access to the Daily Calm, a daily guided meditation that will help you build a meditation habit.
The app is free to download but does require a subscription to access the full library of features and guided meditations.
Available for: iPhone, iPad, & Apple Watch
---
Looking for more apps to help with mindfulness? To blow off some steam, check out these relaxation apps. Consider trying a mindfullness bell app for meditation which can help you stay focused during your practice. Looking for more technology to help with your meditation practice? Check out these meditation and stress trackers.
Save on Pinterest