5 Best Zafu & Zabuton Meditation Cushion Sets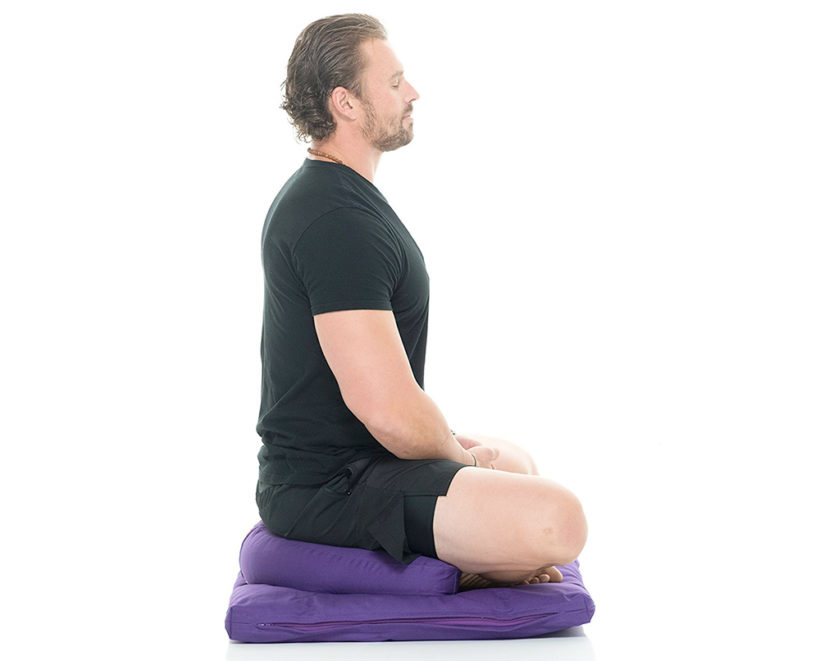 Traditionally used for zazen zen meditation (meaning seated meditation), zafu and zabuton cushions make a meditation more practical and comfortable, especially if you meditate sitting on the floor. They're especially nice if your home has hardwood floors, or your knees are sensitive.
Zafu is the Japanese name for a round cushion (called putuan in Chinese). Traditionally they are stuffed with reedmace down making them very soft and comfortable. To use them for meditation, you sit the buttocks on the cushion, which allows the knees to rest on the floor.
Some people choose to use a zafu with a zabuton, which is a rectangular cushion that can be placed under the zafu pillow to provide more comfort and support for the knees during meditation. These can be purchased separately or bought together in a set.
We have collected some of the best zafu and zabuton sets so you can find the perfect match to enhance your meditation practice.
Bean Products Zafu and Zabuton 2 Piece Set
Bean Products makes these excellent meditation cushion sets from organic materials. With each set, you have a choice of a round or extra large oval zafu cushion filled with organic buckwheat to 6 inches thick. The zabutons come in a matching color and is filled with 3-inches of recycled cotton batting or organic fill. The set provides a comfortable seat that relieves knee and back discomfort, allowing for longer meditation sessions.
Various colors come in various fabric types, regular cotton duck canvas, hemp, or organic cotton. All covers are removable and machine washable. With dozens of color options, you're sure to find a nice, comfortable set to match the decor and design of your meditation space.
The zabuton measures 36″ x 32″, 3″ thick.
Made in the USA from organic materials.
Available colors: aqua, black, blueberry, blush, burgundy, cactus, cranberry, denim, earth, forest green, lavender, natural, navy, orchid, punch, purple, red, royal blue, saffron, shadow gray, sky blue, tangerine, stone gray
---
Two Toned Rectangular Zafu and Zabuton Set
This zafu and zabuton cushion set from D&D Futon Furniture features a stylish two tone design, so you can easily select a stylish color to match your home. The zafu is rectangular in shape, making it work well for cross legged and kneeling meditation positions. It's also about half the price of the Sun & Moon set, if you're on a budget.
Both are filled with cotton so you can comfortably meditate on hardwood floors or when sitting for long periods of time.
The zafu is 6″ thick, 9″ wide, 15″ long
The zabuton is 3″ thick, 28″ wide, 36″ long
Available colors: black and red, black and gray, black and royal blue, black and hunter green, black and burgundy, black and peach, black and pink, black and tan, black and green, black and navy, black and white, black and turquoise
---
Zafu Cushion and Zabuton Mat Meditation Set
If you're looking for a little more style, color, and pattern from your meditation pillows, try one of these sets from Leewadee. They offer a variety of colors and patterns to help inspire your meditation practice.
Both cushions are hand stuffed with natural kapok fibers for a firm and comfortable pillow. The outer covers are made of cotton twill in a variety of colors and patterns.
The zabuton has a quilted design that adds a pleasant aesthetic and extra comfort to the cushion.
The round zafu cushion is 16″ long, 16″ wide", 8″ height. The zabuton mat is 32.5″ long, 27.5″ wide, 2″ height.
Available colors: brown, black, gray, red and brown pattern, brown pattern, green pattern, brown and red pattern, black and gray pattern, red and green pattern, blue pattern
---
Portable Zafu & Zabuton Set
This set is perfect if you're on the go and often take your meditation practice to a yoga class or other venue. It comes with a zafu meditation pillow, a zabuton cushion, and a strap for easy portability. Both have removable, zippered poly cotton covers for easy cleaning.
The zafu cushion is filled with buckwheat hull for comfort and firmness. The zabuton mat is made from 3″ foam and measures 26″ by 26″.
Made in the USA.
Available colors: green, indigo, light blue, mocha, orange, pink, red, teal, violet, yellow
---
Awaken Crescent Zafu and Zabuton Set
If you prefer a cresent zafu cushion for meditation, then this set will work perfectly for you. This matched set of meditation cushions is made from natural cotton and filled with buckwheat to provide comfort during your practice. The cresent shape helps for proper posture and cushioned sitting in cross-legged positions. The tilt is especially helpful if you have tight hips and can't usually rest your knees on the ground.
The outer layers are machine and hand washable and have a zipper for easy removal. This set also comes with a carrying strap so you can take it with you to class or even a meditation retreat.
Zafu is 22″ x 16″ and 4″ thick.
Zabuton is 31″ x 27″ and 4″ thick.
Available colors: black, purple, gray, orange
---
Still searching for the perfect cushion or chair to support your practice? Consider these:
Meditation chairs
Meditation chairs with back support
Ergonomic meditation cushions and seats
Zafu cushions
Zabuton meditation cushions
Travel meditation cushions and pillows
Home meditation benches
Portable and folding meditation benches