5 Best Ergonomic Cushions & Seats for Floor Meditation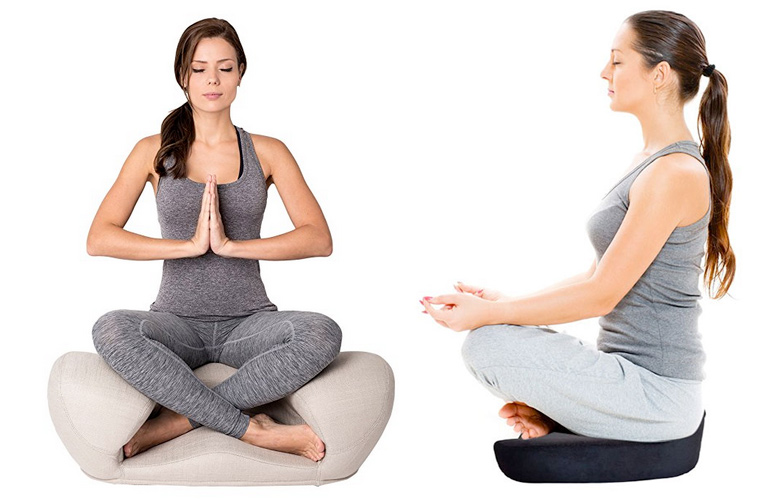 The biggest challenge most beginning meditators face is comfortably sitting for long periods of time. In our modern age, common problems like poor posture, sitting hunched at a desk, and back pain make it difficult to sit comfortably on the floor. Even with the assistance of meditation chairs and seiza benches, many are still distracted by trying to comfortably hold their pose for more than a few minutes at a time. Luckily, there are other options and you can consider an ergonomic cushion to aid your meditation practice.
Ergonomic meditation is possible by utilizing cushions, chairs, and benches designed to provide the ultimate comfort by helping to keep your body properly aligned for painless meditation. They cushion the parts of your body that tend to hurt during prolonged sitting and encourage the proper tilt of your hips so you sit up straighter. If you employ one of the options for your sitting or kneeling meditation, you will find it more comfortable and they will make it easier for you to meditate for longer. The option that will work best for you will depend on what type of meditation position you prefer and what your budget is. Check out our recommendations below.
Ergonomic Cushion for Floor Meditation
Memory Foam Meditation Cushion
This is one of the most popular options for an ergonomic cushion for meditation, and one of the most affordable too. Designed as a general ergonomic cushion, it works well for floor meditation and meditation on a chair. The ergonomic design helps support your bottom and legs for a perfectly aligned lotus or Burmese position, or even just sitting with comfortably crossed legs. The curve cradles your hips and instantly improves your posture, helping you to sit up straighter.
The cushion is made from cushy memory foam and a luxurious velour cover (that is machine washable). The bottom of the cushion has a non-slip grip for safe use on any type of floor or chair. The Zen Comfort folds and stores in the included travel bag, great for when you want to meditate on the go.
The really great bonus with this cushion is since it has such a versatile design, you can use it for more than just meditation. This ergonomic cushion is great for using on a desk chair at the office or in the car for commuting and long road trips. Your bottom and your back with love you for it. Overall the Zen Comfort is an affordable and comfortable option if you're looking for an ergonomic meditation cushion.
---
Ergonomic Kneeling Chair
If you prefer a kneeling meditation but can't get down to the floor or find kneeling to be painful, consider this ergonomic meditation chair. Designed as a posture friendly alternative for office workers who sit at desks all day, this ergonomic kneeling chair from Flash Furniture is a great option for meditators as well. If you've never used one of these chairs before, you sit on the highest cushion while your knees and upper calves rest on the lower cushion. Utilizing a kneeling mimics the same position you'd achieve by kneeling on a seiza bench or a zafu cushion, without requiring you to get down on the floor. This chair is especially good for people who suffer from back pain, especially from sitting at a desk most of the day.
This chair from Flash Furniture features a classic wooden frame. The thickly padded seat and knee rest make it a comfortable ergonomic meditation seat. The height is easily adjustable using a series of pegs so it works for any sized person and can be used easily by all members of the family. Once you sit on this chair, you'll find good posture comes naturally and meditating will be easier. When you're done with your meditation, you can even roll this chair up to your desk and do your work for the day.
One thing to note, the casters on this chair are not hardwood floor friendly, so you may want to consider that before you make your purchased. You can check out a kneeling chair without wheels here.
Color Options: Black, Gray
---
Alexia Ergonomic Meditation Seat
If you're looking for an ergonomic cushion to aid your meditation practice and are willing spend a little bit more, the Alexia is the Cadillac of meditations seats. The Alexia almost looks like something out of the future. It's part chair, part cushion and made to make your seated meditation poses much more comfortable. This ergonomic cushion is made of neoprene foam which supports your body and helps you keep everything aligned for a comfortable and correct meditation posture in lotus pose. The shape of the seat is designed to support 5 parts of your body: the lower back, the ischium, your knees, your insteps, and your feet. Because the surface you sit on is slightly sloped, it promotes the correct posture for your spine.
Weighing in at 15 lbs, this chair is meant to be used in your home and doesn't travel easily. Many users not only use it for meditation, but also for sitting while working on a laptop, reading, or watching TV. With seats available in fabric, genuine leather, and vegan leather options, you're sure to find one that matches your decor and personal tastes. The Alexia is more expensive than most other meditation chairs and cushions on the market today, but if you can afford it you will find it's the most ergonomic chair of meditation you can buy.
Color Options: beige fabric, black (genuine and vegan leather), brown (genuine and vegan leather), calypso fabric, canvas fabric, cream leather, dove gray fabric, gray vegan leather, light gray vegan leather, green leather, light blue vegan leather, medium blue vegan leather, mustard yellow (genuine and vegan leather), orange vegan leather, ore fabric, purple leather, red (genuine and vegan leather), sky blue fabric, white (genuine leather and vegan leather)
Dimensions: L 26″ x W 32.5″ x H 11.5″
---
Ungloo Box Meditation Floor Chair
It starts with what looks like a box but soon transforms into a comfortable, ergonomic alternative to both meditation chairs and benches. The Ungloo Box is the base, large enough to sit on and store all the accessories. It comes with two cushions, one for the seat and one for the backrest, as well as two foam leg wedges. If you're meditating on a hard surface, the floor pad will cushion your feet and ankles.
Because all of the accessories are detachable, it allows you to use this "chair" however you see fit, easily meditating in a lotus position with the support of the leg wedges or using a kneeling position like you'd achieve on a meditation bench by tucking your feet into the box.
It's a reasonably portable option: once all the accessories are stored inside the box, you can carry it thanks to the built-in handle on the side. It weighs about 8 lbs and easily stores in a closet or on a shelf.
Consider the Ungloo box as an ergonomic alternative to a traditional meditation chair or bench. It's very portable and provides back support, so it's an excellent option for many meditators.
---
Moonleap Ergonomic Meditation Cushion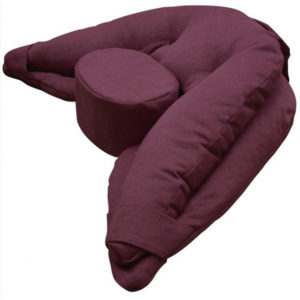 Moonleap's zafu meditation cushion is very different from what we're used to seeing. It's actually a three-piece ergonomic cushion developed over several years to reach the optimal design. The design displaces weight from sensitive areas that can hurt from prolonged sitting and moves the pressure to the outer leg and buttocks. The center cushion is made of a soft foam to support your sit bones. The rest of the cushion is filled with spelt husk to support the legs, and the angle supports pelvic tilt for effortless straight posture. Spelt husk does not compact as much as other fillings, it's springier and makes the cushion lighter. It's also hypo-allergenic.
This cushion is meant specifically for lotus and Burmese meditation positions. It features a carry handle for easy portability and storage. It also breaks down into three pieces to more easily pack and store. It's made from a sturdy twill fabric for durability and comfort. The cushions are made to order and available in a variety of colors. They're also available in two sizes, regular or large. Before you order you should measure your hips or your height. The large cushion is meant for people over 6'2″ tall or with hips more than 41″ wide.
Color Options: black, gray, blue, green, brown, tan
---
Still searching for the perfect seat to aid your practice? Check out meditation chairs with back support to make sitting on the floor easier. Meditation benches can take pressure off your legs and feet for kneeling meditation. If you just want to make sitting more comfortable on a hard floor, consider zafu and zabuton cushion sets.