10 Best Meditation Floor Chairs with Back Support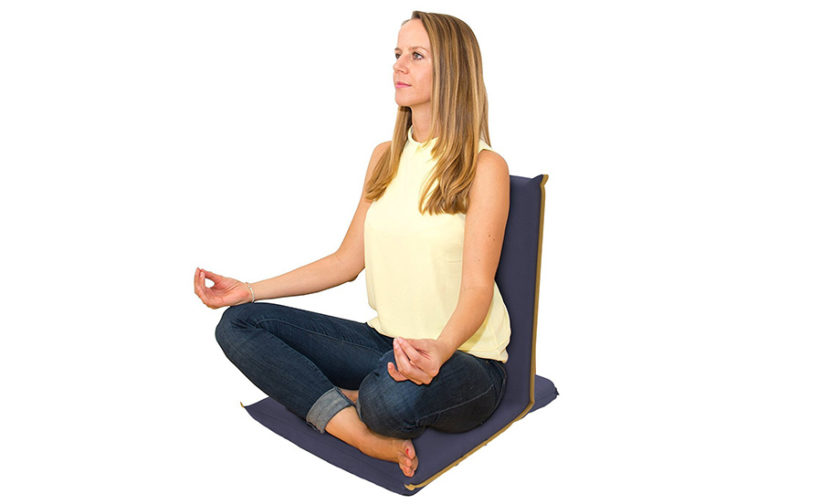 Meditation is a practice that anyone can participate in because you just need a calm space, your body, and your mind to start. But there are three challenges that prevent many people from successfully practicing meditation: finding the time, focusing their mind, and eliminating physical distractions. Discomfort and pain can be major distractions for new meditators. For some people, the traditional practice of sitting on the floor to meditate might not be possible because of physical restrictions. Usually, back pain is the biggest complaint, though some people also find the floor too hard to sit on for long periods of time, especially if your home has hardwood floors. You want to be as comfortable as possible while meditating because any pain or discomfort will cause a distraction. (Learn more about the benefits of using a meditation chair.)
Meditation chairs can easily solve the problem of back pain and supply a more comfortable seat. There are many different options available in different price ranges and styles, so most people can find a chair that meets their needs within their budget.
Most chairs will have some sort of cushion for the seat that will make a comfortable surface to sit on for the duration of your meditation, so your shopping energy can focus more on back support, style, and price.
If you have back problems, it's important to look for a chair that will provide proper support for your specific issues. You may want to consult with your doctor for recommendations if you have severe back pain and trouble sitting up straight. For most back issues, you should be able to try one of these chairs to make your meditation practice more comfortable, so your energy can be focused on your breath and mindfulness.
If you're just searching for general floor chairs, we have another article about gaming floor chairs for adults and teens.
You won't find meditation chairs for sale in most local stores, but here are some that you can find online.
Best Meditation Chairs with Back Support
bonVIVO Easy III Padded Meditation Chair
If you're on a budget and looking for an easily portable and padded option for your meditation floor chair, check out this model from bonVIVO. This foam chair has a supportive backrest that will help you maintain good posture during your meditation. They've designed the weight to be under 7 lbs and included a handle to easily transport your chair, either for storage or to meditate on the go.
One of the pros of this chair is that it makes a great multipurpose chair. So when you're not meditating your kids can use it to watch TV or play video games. It's also comfortable to sit in to read, knit, or do other hobbies. This is a great, reasonably priced chair for meditation. For meditators up to 220 lbs.
Available Colors: Blue & Beige, Beige & Cognac
Dimensions: Seat is 16.5″ long and 18.5″ wide, the back is 20.5″ tall and 18.5″ wide
---
Friends of Meditation Buddha Meditation Chair
This is the Cadillac of meditation chairs. If you're looking for a meditation seat that is highly portable, easy to store, and very supportive and comfortable, this Buddha meditation chair is for you. Designed for cross leg posture and ardh sidha asana, this chair is a great option for beginner and advanced meditators. It has the normal cushioned seat and backrest familiar to most meditation chairs. But then it has so much more.
First, it includes an extra backrest to support your lower back. This backrest is removable and adjusts up and down so you can customize your experience, or share the chair with a family member who has different back support needs.
This chair also includes a 3-inch meditation block to help raise your buttocks. The front is curved to accommodate your legs for a crossed leg meditation posture.
It's fully foldable and includes a carrying bag, so you can take it with you to yoga class, or discretely store it in your home. Suitable for people up to 6'2″
Available Colors: Red, Black
Dimensions: 24 x 22 inch
---
Giantax Adjustable Folding Floor Cushion Chair
If you're looking for something a little nicer than the Back Jack, this floor chair from Giantax is similarly priced and features a few "upgraded" features. The seat and the back are cushioned, providing more comfort and support for sensitive bottoms and spines. It's also adjustable to six different degrees of slope, so you can customize the chair to provide you the back support you need–even lying it completely flat for savasana.
The look is a little more classy–it matches the look of upholstered furniture like sofas and chairs, so it looks a little nicer if your meditation spot is a public area in your home.
Available Colors: Navy, Black, Coffee, Gray
Dimensions: 20″ high, 22.5″ deep, 17.5″ wide
---
BirdRock Memory Foam Floor Chair
Some people need more than just back support for their floor meditation. Sometimes comfort is also an issue, especially needed support for the sacrum or the lower back area. This floor chair by BirdRock is targeted at gamers who are sitting for long periods of time, so their focus is really on comfort. The chair features soft fabric covering memory foam that cushions and supports your body.
This floor chair is completely adjustable, with 14 different position angles (including laying down completely flat). You will easily be able to find the perfect setting to support your back during floor meditation. If the Merax floor chair doesn't have the comfort features you're looking for, this chair is the next step up without a huge price increase.
This meditation floor chair comes in 8 different color options so you can easily find one to match the decor of your meditation room, living room, or bedroom. One of the big plus sides of this chair is it is so comfortable for just lounging around and watching TV. You may find your kids using it when you're not meditating. If you don't want it out in your home, it's easy to store in the flat position under a bed or in a closet. This chair is heavier (over 10 lbs), so it's not great for taking to class, but it's perfect for a home meditation practice.
Dimensions: 41.25″ x 21.25″ x 6″
Available Colors: blue, brown, eggplant, gray, lime green, orange, hot pink, purple
---
Seagrass Harmony Meditation Chair
This is a beautiful meditation chair, made from seagrass and featuring comfortable cushions for the seat and back. The curved design of the seat allows space for the feet and support for the knees if you choose to sit in a crossed-leg position. It provides comfortable support for your knees and rear, while also providing back support.
The chair is also low enough to the floor that you can sit near the edge and cross your legs on the floor. This chair looks lovely in any meditation space, or on display in your home.
Dimensions: 31″ wide x 29″ deep x 23″ high, seat height of 8″ with cushion.
Available Colors: Cream Cushion, Chestnut Cushion, Moss Cushion, Sandlewood Cushion
---
Friends of Meditation Vipassana Meditation Chair
If you prefer using a zafu and zabuton cushion set to meditate, but still need back support to stay comfortable, the Vipassana chair is a happy medium. With its minimal design, the extra cushion allows for comfortable meditation in cross leg posture, or you can remove it for vajrasana posture (a kneeling position). This flexibility allows you to experiment with different postures, vary your practice, or share the chair with other family members who have different preferences.
The extra cushion is perfect to elevate your hips two inches above your legs and ankles, which helps prevent leg numbness or just make the position easier if you are less flexible in the hips. In addition to a comfortable design, this chair is also foldable for easy storage and features a carrying handle so you can take it on the go. Considering it's not the most attractive chair, you may want to store it when you have company over. The manufacturer does note that this chair is best used by people up the 5'11" in height.
Dimensions: 20″ x 18″ x 20″
Available Colors: Brown, Green
---
Gaiam Rattan Meditation Chair
If you're searching for lower back support and willing to make an investment to buy a great meditation chair, consider the Gaiam Rattan meditation chair. This won't be the right choice for everyone, but if you have a dedicated meditation space in your home this meditation chair is a stylish and comfortable choice. The Gaiam Rattan chair is designed specifically for cross legged meditation position, with a comfortable kapok filled cotton cushion to prevent presure on your legs, ankles, and rear. The seating area is large enough to comfortable accomodate your crossed legs.
The back of the chair is designed with an elegant triangular shape to provide support to the lower back. It is not cushioned, but you could easily add a small pillow for extra comfort. Though it is not easy to store, the gorgeous sustainable design will look good in a living room, bedroom, or even at the office. It's a great option if you want back support and chic design all in one. Suitable for people up to 250 lbs.
Dimensions: 34″W x 25.5″D x 19.5″H, seat height 8″
---
Friends of Meditation Rama Chair
This is another gorgeous meditation floor chair with back support that is perfect for a home practice or yoga room. Handmade from teak wood, this chair features a high density foam cushion that offers a firm seat which supports full lotus and half lotus meditation postures, as well as Burmese posture. For back support, the Rama features a lumbar cushion that is adjustable depending on your height. We recommend this chair for meditators who have knee issues, you can comfortably sit on the chair and cross your knees on the floor without putting any strain on the joint.
The design is gorgeous, with a lush maroon fabric. It is not portable or foldable, but the Rama looks great in any meditation space or yoga room, plus guests won't bat an eyelash at it in your living room either. This chair is designed for people 6'1″ and shorter.
Dimensions: 31″ wide x 22″ deep, cushion is 9″ off the floor, lumbar support can adjust to 21″ or 24″ high
---
Coleman Stadium Seat Cheap Meditation Chair
If you're on a budget and looking for a cheap and affordable floor chair for meditation, this is a great option. It's not meant for meditation, but it will give you back support and a little cushion at a low price. The Coleman Stadium seat is perfectly portable and lightly cushioned to create a comfortable seat anywhere. Meant for when you go to sporting events, this cushion actually rolls up for compact storage. When you want to use it, the seat unfolds into a chair that can be used on the floor or any other surface.
Since it's meant for outdoor use, it's water resistant which means you can easily use it to meditate anywhere. Camping? Check. Backyard? Check. On the beach? Check. And this Coleman chair will give you the back support you need for extended meditation sessions.
Available Colors: Blue, Red, Black
---
Back Jack Floor Chair
The Back Jack Floor Chair is one of the most popular (and most affordable) chairs used for meditation. It's not specifically made for meditation, people using it for camping, playing videos games, or any other activity that requires sitting on the floor. However, the design is perfect for people who need back support while they meditate. The price is also very reasonable in comparison to some more specialty meditation chairs.
The steel frame supports your back, while the dense foam seat provides a comfortable cushion for your bottom. There is only one size but 9 colors to choose from so you can find a chair to match the decor of your meditation space. These chairs also easily stack, so they are perfect for large meditation classes or families that meditate together.
Available Colors: black, burgundy, green, natural, navy blue, purple, red, royal, blue, sand
Dimensions: Backrest: 12″ wide x 21″ tall
---
While you can comfortably meditate in any dining room or office chair you already have in your home, you may want a dedicated space and chair specifically for meditation to help you get in the right mindset for your practice. The meditation chairs in this list will help get you closer to the floor, allowing you to cross your legs while your back is supported, which cannot be done in an ordinary chair.
If you're looking for more comfortable chairs, check out these gaming floor chairs for adults and teens.
Don't necessarily need back support? Check out our reviews of the best meditation chairs. If you're not sure a meditation chair is for you, check out these meditation benches, zafu & zabuton cushion sets, or these ergonomic meditation cushions for your practice.