5 Best Meditation Chairs for a Comfortable Practice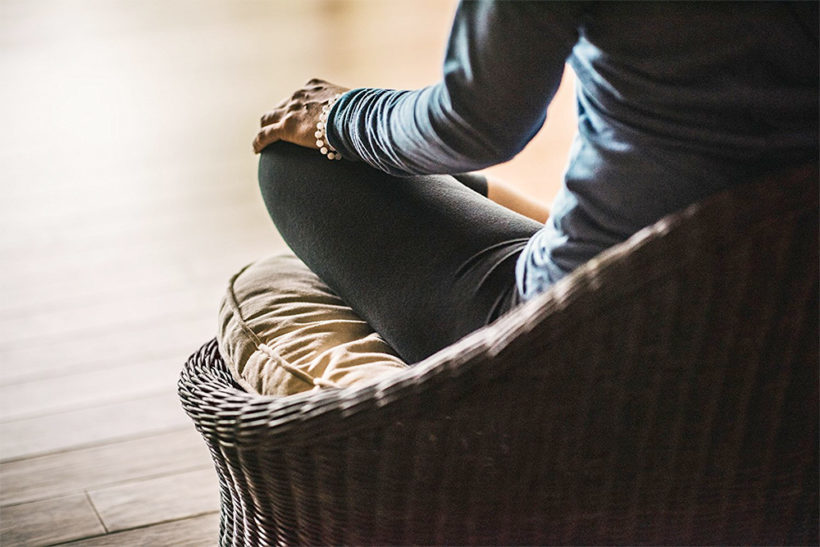 The biggest challenge while meditating is keeping your mind focused. Often anxious thoughts or worries clutter our mind–which is the whole reason we're meditating to begin with. Another challenge is any discomfort in the body, which will immediately steal your attention so it's impossible to meditate. Generally sitting with proper posture is enough to eliminate aches and pains associated with longer meditations, but sometimes we need a little more help to make the practice comfortable. Meditation chairs can provide extra comfort by eliminating back pain and strains on the legs and knees while providing a cushion for our bodies against hard floors. (Read more about the benefits of using a meditation chair.)
These chairs can make meditation more accessible for people with injuries and seniors who need extra support. Once you find the right meditation tools to supplement your practice and make it more comfortable you will be willing to meditate more frequently and for longer periods of time. Our recommendations for the best meditation chairs are categorized by the best of their type, for a variety of budgets and uses. Check out each of them below to find the best chair for your practice.
Considerations When Buying a Meditation Chair
Before you purchase a meditation chair for your practice, you should take the following factors into consideration:
Preferred Meditation Position: Most chairs are designed for cross-legged meditation positions. If you prefer kneeling to meditation, a cushion or bench may be a better alternative.
Back Support: If you experience back pain when you meditate or find yourself unable to hold a proper posture for long periods of time, you should buy a meditation chair that provides adequate back support.
Height of Chair: Many meditation chairs sit directly on the floor. If you have a hard time getting down on the floor you should look for a chair with some height to it. You may find using a regular dining room chair is a better alternative.
Body Type: Some meditation chairs have weight and height limits. You want to fit comfortably on the chair.
Storage: Where will your chair "live" in your home? If you have a lot of room or dedicated meditation space, then you can pick any type of chair you want. Otherwise, look for meditation chairs that can be easily stored. Some can be disassembled or folded up to store in a closet.
Portability: If you frequently go to meditation or yoga retreats or enjoy meditating in nature, you should consider buying a model of chair that is portable. Look for carrying handles or carrying cases.
If you have a lot of needs, you may find you need multiple meditation chairs (or even a collection of cushions as well). It's not uncommon to have a chair or bench for home meditation and then a portable chair or cushion that you take to classes or use while you travel. The most important point is to find what works best for you.
---
The 5 Best Meditation Chairs
Best Meditation Chair with Back Support: Relaxing Buddha
This is hands down one of the best meditation chairs that provides back support and customizable cushioning for your needs and your favorite meditation positions. Designed by Swami Dhyan Unmesh, he's created this chair to allow anyone to comfortably sit in lotus postures and cross leg posture. It provides general back support as well as extra lower back cushioning with the optional If you use the curved meditation cushion, you can comfortably sit in Ardh Siddha Asana while avoiding any numbness to the legs.
The sitting cushion is made of 4″ thick high-density foam, providing a supportive seat that cushions against the hard floor. Once you've customized the positioning of the additional cushions, you can easily use the Relaxing Buddha for short or long meditations. Many people buy this chair to use on yoga and meditation retreats to make sure they're sitting in a proper and comfortable posture all day. This chair is portable since it folds up and fits in the free carrying case, making it easy to store at home. You can also take it on the go, it weighs just over 11 lbs. Meant for people up to 6'2″ in height. Comes with a 7-year warranty.
If you're on a budget, but still looking for a meditation chair that provides back support, check out our affordable recommendation the bonVIVO Easy III.
Available Colors: Red, Black
Dimensions: 24 x 22 inch
Pros:
Provides back support
Adjustable cushions to support a variety of postures
Portable with carrying case
Cons:
More expensive than other floor meditation chairs
Have to readjust cushions every time you unpack it
Check out our guide on the best meditation chairs with back support for more reviews.
---
Best Portable Meditation Chair: Picnic Time Portable Rec Chair
This chair isn't exclusively designed for meditation, but it's a great option if you're looking for a lightweight easy to carry chair. Designed for camping and recreation, the Picnic Time portable chair is made with a lightweight steel frame and foam cushions. The back is adjustable with six recline options. As far as support for meditation, this chair will provide back support to help you sit comfortably on the floor or ground. When it comes to the seat cushion, it is not large enough to provide support to the knees and legs, but it does provide a comfortable seat for the bottom.
The back folds flat for easy storage and you can use the included handle to easily carry the chair. It will fit in large suitcases but won't make it in your carry on bag. This isn't my number one recommendation for a meditation chair for home practice, but if you're looking for something you can take to the park for a nice nature meditation or easily carry with you when you travel, the Picnic Time Rec Chair is an affordable, portable choice.
Available Colors: black, light blue, lime, navy, red
Dimensions: 29″ x 21″ x 2″ thick
Pros:
Affordable Price
Lightweight & portable
Includes carrying handle
Variety of color options
Adjustable reclining positions
Cons:
Not specifically designed for meditation
No specialized lumbar support
Seating cushion not large enough to cushion ankles or knees
---
Best Ergonomic Meditation Chair: Alexia
The Alexia is a blend between a meditation chair and a meditation cushion. It takes that blend to the next level with an ergonomic design that fully supports your legs and encourages proper lotus posture for seated meditation. The seat is designed with a sloping angle than helps you achieve the correct posture in your spine for safe and comfortable meditation. The feet comfortably rest below you with no weight from your body to strain them. The sides cushion your knees so there is no discomfort if they can't usually lay flat on the floor. The Alexia provides a great alternative to people who cannot sit on the floor, but gets them close to the ground in the proper position.
Now, the Alexia is not easily portable, so it's meant for home meditation only. It doesn't fold up either, so to store it you'll have to find a closet large enough to put it in. Luckily it does come in plenty of color options, so it's easy to find one that matches the decor of your meditation room, bedroom, or living room. While it is designed for meditation, I have seen other reviewers say they use the Alexia while working on their computers or watching TV.
Color Options: beige fabric, black (genuine and vegan leather), brown (genuine and vegan leather), calypso fabric, canvas fabric, cream leather, dove gray fabric, gray vegan leather, light gray vegan leather, green leather, light blue vegan leather, medium blue vegan leather, mustard yellow (genuine and vegan leather), orange vegan leather, ore fabric, purple leather, red (genuine and vegan leather), sky blue fabric, white (genuine leather and vegan leather)
Dimensions: L 26″ x W 32.5″ x H 11.5″
Pros:
Ergonomic design
Lots of color options
Makes it easy to sit in a cross-legged position
Cons:
More expensive than other meditation chairs and cushions
Limits you to one position
No back support
Not Portable
Check out more ergonmic meditation cushions and seats.
---
Most Stylish Meditation Chair: Gaiam Raja Chair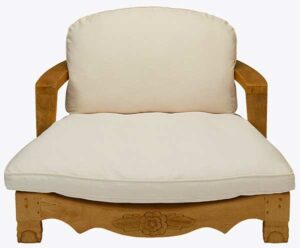 If you're looking to outfit a dedicated meditation space or just searching for a chair that won't look out of place in your living room, consider the Gaiam Raja meditation chair. A premium meditation chair, it's made from carved mango wood with kapok-filled cushions for the seat and back. Meant specifically for crossed leg meditation positions, the chair is wide enough to provide full support for the legs and knees and the front of the seat drops 3 inches to comfortably support your feet. The back of the chair provides support for the lower back to help you comfortably maintain a proper posture while meditating.
The top of the cushion is just 8″ off the floor, creating a comfortable alternative for people who can have a hard time sitting on the floor. As a bonus, the Raja includes small arms that aid the meditator in getting up and down from the chair. The Gaiam Rattan chair will provide you with comfort for your daily meditation and long periods of sitting. This chair is not portable in any way, but it looks great and can find a place in almost any room. When you order the chair it comes with cream colored cushions, but you can order other colors separately.
Dimensions: 30″W x 27″D x 19.5″ H, seat height 8″
Pros:
Pleasing design
Provides back support
Machine washable cushion cover
Cushion cover can be changed for other colors
Cons:
More expensive than other less stylish meditation chairs
---
Best Budget Meditation Chair: bonVIVO Easy III
If you're budget conscious or looking for a cheap meditation chair that provides flexibility in sitting positions, check out the BackJack. It was originally designed as a regular floor chair for activities like watching TV, playing video games, or even camping. Because of the affordability of the chair, its easy portability, and its durable construction, it's no surprise that the BackJack became a favorite for meditators.
In comparison to other cheap meditation chairs, the big pro for the Easy III it the chair is evenly cushioned with firm foam on the seat and backrest, so there are no uncomfortable hard bars to dig into your back and distract you while meditating. The sleek design easily folds up and is portable with a built-in carrying handle and a weight of only 6.6 lbs. The flip side of the sleek design is this chair does not offer any extra support, so you may need to supplement with some cushions depending on your needs.
While the appearance is not fancy, it does look good enough to leave out in a living room or bedroom. You may find this chair does double or triple duty in your home, with the kids using it to watch TV or play games with friends.
Available Colors: Blue & Beige, Beige & Cognac
Pros:
Affordable price
Foldable & portable
Padded seat and back
Can use as a multi-purpose floor chair
Supports users up to 220 lbs.
Easy to clean stain-resistant cover
Cons:
Does not provide extra lumbar support
Back angle is not adjustable (90 degree only)
Dimensions: Seat is 16.5″ long and 18.5″ wide, the back is 20.5″ tall and 18.5″ wide
---
Alternatives to Meditation Chairs
Maybe the idea of a meditation chair doesn't match with your practice or you're looking for a meditation accessory that doesn't cost so much or take up so much space. There are a few options that may match your practice and your preferred meditation position better.
Meditation Bench
A meditation bench, also known as a seiza bench, is designed to provide extra comfort to the legs while sitting in a kneeling position for meditation. By putting the weight of your body on the bench, there is less pressure on your knees, legs, and ankles. This means you can meditate for longer periods of time without discomfort.

There are generally two designs for a meditation bench: a standard design with a leg on each end (left) or a pi shaped bench (right).
If your floor is a hard surface, you may want to use a blanket or a zabuton cushion to provide extra cushion for your legs and knees.
Learn how to use a meditation bench and check out the best seiza benches for home meditation.
Meditation Cushions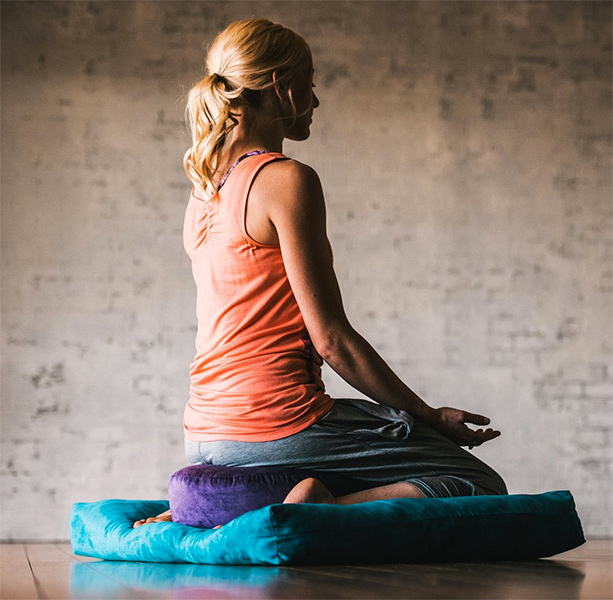 If back support isn't a concern for you, but you're looking for comfort for your bottom or legs, a meditation cushion may be a good alternative. The most common cushions are called zafus and zabutons. A zafu is a cushion that is meant to be sat on while you meditate. They come in a variety of styles and shapes, most commonly round, oval, and crescent. You sit on them and they relieve pressure on your bottom and help you maintain correct meditation posture. They can be used for kneeling positions and crossed leg meditations, which make the cushions good if you like variety.
A zabuton is more like a general floor cushion. It helps protect your legs and knees from hard floors and relieves or prevents pain while you are sitting or kneeling. A zabuton can be used alone or in conjunction with a zafu cushion or a meditation bench.
Check out zafus, zabutons and meditation cushion sets.