5 Best Meditation Zafu Cushions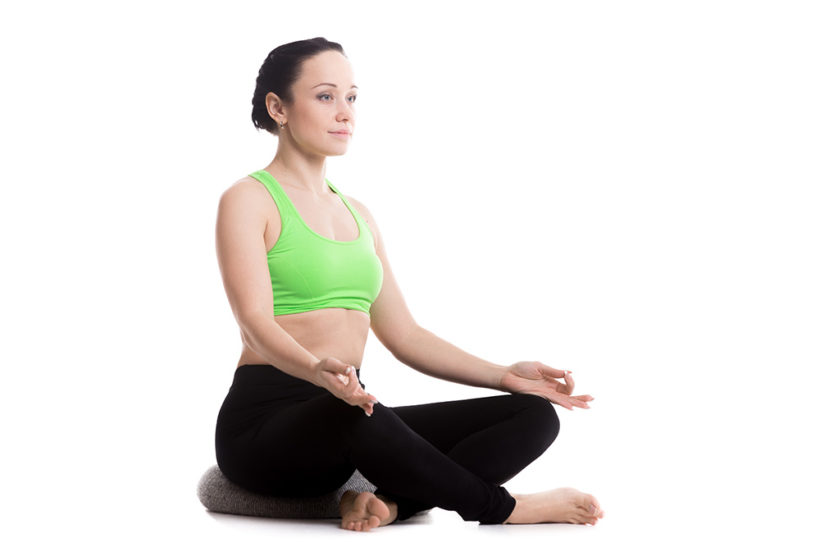 There are many products available to help make a sitting floor meditation more comfortable. Some people prefer to kneel and use a meditation bench, but others prefer a sitting position. If you like to sit in full lotus or half lotus while you meditate, you may want to consider using a meditation cushion (often referred to as a zafu or a yoga pillow). We've compiled the following list in our search for the best meditation cushion.
Meditation pillows generally come in either a round or crescent shape. Round zafus are the traditional shape, and many say they make the best meditation pillow. There are also crescent-shaped meditation cushions, which provide a little more support to the legs. Make sure to choose the one that creates the most comfortable meditation seat for your practice. They are often used with zabutons for extra comfort and support for the legs.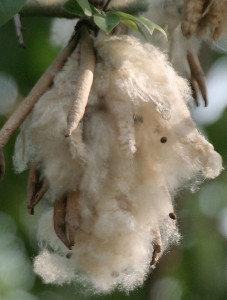 You should also consider the fill of your meditation bolster. The most common fillings for zafus are cotton, buckwheat, and kapok. All three fillings are natural but create a different cushion experience. Cotton is a very familiar filling to most people, as most decorative and bed pillows are filled with cotton.
Kapok is very similar to cotton and is the traditional filling for zafus. It's a fluffy material that comes from kapok trees. This filling makes the cushions very lightweight (perfect if you take your cushion to class) but can flatten over time and revived with a fluff of the pillow. The filling of kapok pillows cannot be easily adjusted, so you're stuck with whatever the pillow comes with.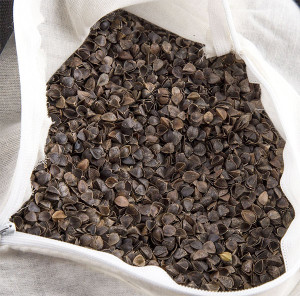 Buckwheat cushions have a filling made from the outer shells of buckwheat grain. This part is normally thrown away because it can't be eaten by humans or animals. These cushions usually have a zipper built in, so you can add or remove the filling to customize the perfect meditation seat for you. When you sit on the cushion, it conforms to your body and is less wobbly than a kapok cushion. However, that makes these cushions twice as heavy as the kapok and cotton cushions, and they make a bit of noise when you sit on them.
With that information in mind, take a look at the best meditation pillows and cushions:
Best Meditation Cushions
Peace Yoga Buckwheat Zafu Meditation Bolster
These meditation bolsters from Peace Yoga are filled with buckwheat, to create a comfortable seat for meditating. Keep your focus during meditation while this zafu provides comfort for your bottom against hard floors. It also helps properly align your spine so energy flows easily through your body. The cushion features a grab and go handle on the side for easy portability.
The cushion is also firm enough to double as a yoga block for some postures. The cotton cover is fully removable via zipper and machine washable. The buckwheat hulls are sealed in a separate pouch.
Size: 13″ x 13″ x 4.5″
Colors: black, blue, burgundy, green, gray, purple, turquoise
---
Bean Yoga Round or Oval Zafu Cushion
If you want more choice in size, filling, and fabric color, you should consider these meditation pillows from Bean Products. This cushion comes in either the traditional round shape or a wider oval shape that can provide more comfort for your legs. Customize the feel of the cushion by choosing eco-friendly cotton or hemp, or organic buckwheat. Settle down for a long meditation session on one of these comfortable pillows. These pillows are ergonomic for spine alignment, less pressure on the sit bones, and less stress on the legs and ankles.
The cover is removable and machine washable. All materials are from the USA and the pillows are made in Chicago.
Fillings: cotton, hemp, buckwheat
Sizes: 14″ round, 18″ oval (both 6″ tall)
Colors: black, purple, navy, burgundy, medium blue, earth, olive, aqua, natural, periwinkle, red, forrest green, brown, khaki, orange, denim, buttercup, chakra blue, hibicus, lime, nutmeb, wheat, pink, or hemp covers in black or natural
---
Kapok Filled Round Meditation Pillow
Using the traditional kapok filling, these zafu meditation seats feature a traditional round design with pleated sides. The cover is cotton twill fabric, with handstuffed cushions. Because these zafus are extra stuffed, they don't flatten like other cushions. With 9 colors to choose from, you can find the perfect pillow to match your decor.
The carrying handle makes it convenient to take it with you to class or your favorite meditation spot. Made in the USA.
Size: 14″ diameter, 8″ high
Colors: black, natural/black, brown, burgundy, cinnamon, clay, navy, olive, sand
---
Waterglider Buckwheat Crescent Meditation Pillow
If you're looking for a crescent shaped meditation pillow to provide your legs more support while you meditate, consider this cushion from Waterglider. This organic cotton twill cover comes in 5 colors and is filled with buckwheat hulls for a firm and comfortable cushion. The crescent shape allows you to tuck your feet in closer to your body, putting less stress on the feet and ankles.
Many reviewers on Amazon have called this the best meditation cushion. Made in the USA.
Size: 16″ wide, 8″ high
Colors: burgundy, plum, orange saffron, twilight, green grass
---
Crescent Half Moon Meditation Cushion
This theraputic yoga pillow from Seat of Your Soul is another fantastic option if you're looking for a cresent shaped meditation pillow. It's completely organic with cotton filling and a cotton cover (removable for washing). The ergonomic design helps align your spine, and eases any strain on the sit bones and lower back. This cushion is perfect for meditating in lotus position and keeps your body comfortable so you can meditate longer.
Use the carry handle to take this pillow to class or when you travel. Easily meditate anywhere.
Size: 17″ wide, 5″ high
Colors: natural, gray, black, burgundy, navy blue
---
Still on the search for the best meditation cushion? Check out zafu and zabuton meditation sets or standalone zabuton meditation mats and cushions.
Learn how to sit for meditation.