Zabuton Meditation Mats & Cushions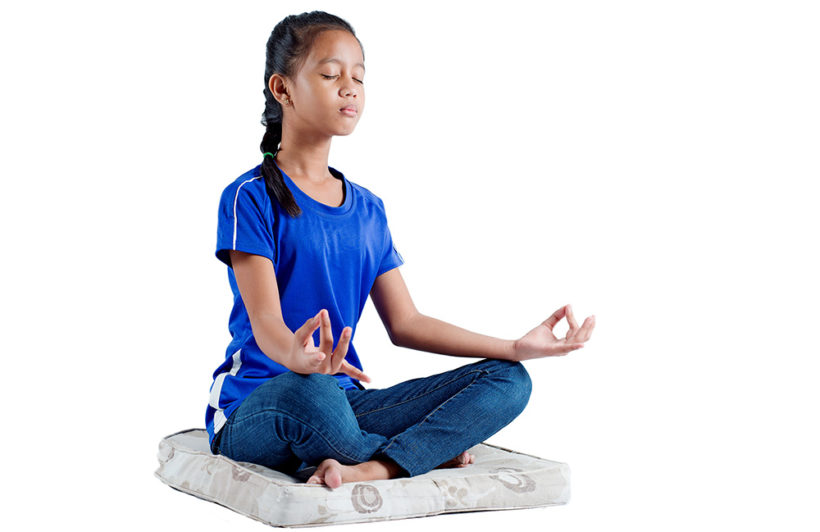 What is a zabuton? It's a Japanese cushion used for sitting on the floor though it can also be used on a chair. Because they're often used as a floor mat, they are perfect for sitting meditation.
Zabuton mats are the first accessory I recommend for people to buy when they start a regular meditation practice. They are extremely versatile as they can be used on their own to sit on cross-legged to meditate, or they can be paired with other meditation props to create a more comfortable practice.
Pair a zabuton mat with a zafu cushion to comfortably support your knees and legs when sitting crossed legged in lotus or kneeling on the cushion. You can also buy a zafu separately to mix and match.
Set your meditation bench on a zabuton cushion to protect your legs while kneeling and allow for longer meditation sessions, especially on hardwood floors.
There are so many different options available for people looking to buy a zabuton cushion or pillow. Most offer the same features–it is a pretty basic cushion and design–so your preference for fabrics, materials, and colors or patterns will most likely affect which ones you purchase.
Here are some of the best zabuton mats that we would recommend for adding some extra comfort when you meditate.
The Best Zabuton Cushions
Bean Products Meditation Zabuton Cushions
Bean Products makes an affordable and simple zabuton meditation cushion. They're filled with eco-friendly natural botton batting that sits at 2.5″ tall. The covers are removable and washable.
Use this cushion with any zafu or meditation bench to create a comfortable seat, allowing your mind to focus on your breathing and not be distracted while meditating. This cushion can also be used to provide extra padding for some yoga poses and it's great for cushioning sensitive knees.
With 20 different colors to choose from, including bright and bold colors, you'll easily find a pillow to match the color scheme of your meditation space.
Made in the USA.
Zabuton dimensions: square 24″ x 24″, 2.5″ tall.
Available colors: black, purple, natural, navy, red, forest green, khaki, medium blue, brown, nutmeg, olive, periwinkle, aqua, burgundy, buttercup, denim, orange, hibiscus, lime, pink
---
Waterglider International Kapok Zabuton
If you're looking for a firmer zabuton cushion, check out this kapok-filled meditation pillow from Waterglider International. The 100% organic cotton cover is removable and washable. The cushion is filled with 100% pure imported kapok. Kapok is fluffier and lighter than cotton filling, for a softer pillow.
With six colors and two size options, you'll not only find something that fits perfectly in your meditation space but also fits your practice.
Available sizes: Medium 24″ x 24″, Large 36″ x 28″
Available colors: black, green grass, plum, twilight, orange saffron, burgundy
---
Hugger Mugger Portable Zabuton Yoga Cushion
Made from upholstery-grade fabrics, these zabutons from Hugger Mugger are sturdier that most meditation cushions. As a result, you can use them not only for meditation, but also for yoga. They come with a travel harness so you can easiy transport your mat to and from yoga class or to an outdoor meditation spot.
For yoga use it as a cushion for shoulder stands or as a bolster for restorative poses. If using it to meditate, this pillow creates a comfortable seat or supports your ankles, legs, and knees when using a meditation bench.
They don't offer as many color options, but these classic neutrals will blend with nearly any decor.
Available colors: plum, olive, black
---
Two-Tone Zabuton Floor Cushions
These zabuton pillows are plush! At 3″ thick, it's hard to find a more comfortable cushion for meditation. Sitting cross-legged or kneeling on a meditation bench, your legs will be cushioned for the duration of your meditation on the cotton pad.
The two-tone design makes them visually unique from other floor cushions.
This zabuton is 3″ thick, 28″ wide, 36″ long.
Available colors: black/burgundy, black/tan, black/blue, black/navy, black/turquoise, black/red, black/purple, black/gray, black/white, black/pink, black/green
---
Emoor Zabuton Japanese Floor Cushion
If you'd prefer an authentic floor cushion made in Japan, try this zabuton by Emoor. If you're picky about materials, you may not be into this pilow. The fabric is a polycotton blend and the stuffying is 100% polyester.
The whole pillow is machine washable and quickly air dries, so you can easily keep it nice and clean.
It's only available in one color, but this is a gorgeous cushion. It goes well with classic and modern designed massage spaces.
This zabuton is 22″ x 23″.
---
Still searching for the perfect cushion or chair to support your practice? Consider these:
Meditation chairs
Meditation chairs with back support
Ergonomic meditation cushions and seats
Zafu cushions
Zafu & Zabuton meditation cushion set
Travel meditation cushions and pillows
Home meditation benches
Portable and folding meditation benches