5 Best Portable & Folding Seiza Meditation Benches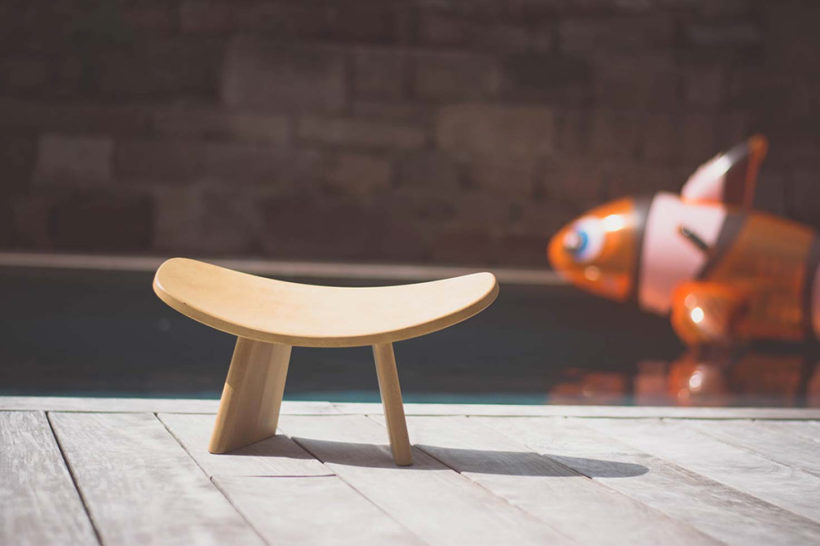 If you have an on-the-go lifestyle that involves a lot of traveling, you don't want to sacrifice your meditation practice. Meditating helps you keep calm and deal with the stress of changing locations and the hectic pace of airports and other modes of travel. Folding meditation benches are very portable. They can easily be stored in a suitcase, backpack, or tote bag and then unfolded for use in hotel rooms or public parks.
Even if you don't travel a lot, folding meditation benches are great to take to yoga class or if you like to meditate in nature. Toss it in your car or carry it in your backpack on the bus and you can meditate in the park, on the beach, in the woods, or anywhere else you desire. Let the peaceful noises of nature enhance your meditation.
Folding meditation benches are also great for cramped apartments or other smaller homes where you don't have enough space for a dedicated meditation area. When you're done meditating for the day, just fold up the bench and easily store it under your bed, in a drawer, or in a closet while taking up minimal space. (If space isn't an issue and you usually meditate at home, check out these seiza meditation benches.)
If you're looking for a portable meditation bench, here are a few of the best to help you keep up your meditation practice no matter the location.
5. Best Travel Meditation Benches
Pi to Go Folding Meditation Bench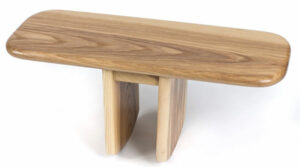 This unique design of this seiza bench looks like the pi symbol. It's made from hardwoods with a poly coat finish. The legs fold up flat against the seat for easy portability and storage. Just toss it in your bag and you're ready to meditate anywhere.
The legs are rounded, allowing for any angle for your sitting meditation. The center position of the bench legs allows for more space for your legs, making this the perfect bench for taller meditators.
Dimensions: 18″ wide, 7″ deep, 7.25″ high
---
IKUKO Wooden Portable Meditation Bench
This gorgeous portable meditation bench from IKUKO has a unique curved seat form, making it an ergonomic bench. It helps you naturally straighten your spine for perfect meditation alignment.
Since this kneeling bench is curved to fit your bottom, it is comfortable enough to not need a cushion. The feet are removable, and then all three pieces fit in an included 100% cotton bag for easy storage or travel.
Made from wild cherry wood in Canada. Comes in natural wood, black, or stained dark walnut.
Dimensions: depth 20cm, width 42cm, height (choice of 16 cm, 18cm, or 20 cm)
---
Florensi Folding Meditation Bench
This folding meditation bench from Florensi is similar in design to many home meditation benches. The big difference is it features a hinged folding leg design for easy portability and storage. Made from sustainable bamboo, the legs feature angled feet with no-slip grips so you will stay steady on any surface. This bench also features a removable cushion to help increase comfort and meditation time. The cover is also removable for easy washing.
When it's time to go, the legs fold in until the bench is flat. Store it in the included carrying case or take it with you to meditate outside the home. This is a great investment for many future years of meditation.
The design of the bench is meant to take the pressure off your ankles, so you can meditate in a kneeling position longer without discomfort.
With five different color options available, you should be able to find the perfect bench to match your meditation space decor or just your favorite color.
Available colors: blue, gray, sage green
Dimensions: 18″ by 7″ x 6″
---
Still Sitting Nomad Meditation Bench
I really love the design on this portable meditation bench. The sleek, modern design by Norwegian architect Asmund Skard makes this meditation bench extremely portable. The seat is fabric, held up by two legs that criss-cross to support your body in a seiza sitting position. You can adjust the fabric using the velcro on the bottom for a higher or lower seat. When you're ready to go, it quickly folds up and lays flat. Storage is easy as it can fit on a shelf or in a drawer. If you're a big traveler, it takes up minimal space in a carry-on bag.
There are two sizes available. Check out the item description to see their sizing recommendations based on your height and weight and your sitting preferences.
Made in the USA.
Available colors: black, natural
---
Needs Portable Seiza Bench
If you're a frequent traveller with limited space in your luggage, this is the portable meditation bench for you. Imported from Japan, this folding bench is the ultimate in a portable bench. This "bench" is a loop of fabric, with two boards inside to form supportive "legs." When you look at it from the front, it forms a trapezoid. The seat is soft to support your bottom, with a smaller flat side that rests on the floor.
Incredibly lightweight, this "chair" folds up flat and goes in the included carrying bag to stash in a carry-on or even a messenger bag with ease.
One downside with this meditation seat is it only comes in one size. People who are over 6 feet or of a heavier weight will find the NEEDs to be too small for their uses. If you're of average height and size, this could work perfectly for your portable meditation needs.
---
Don't forget to buy a zabuton mat to go with your meditation bench, especially if you're meditating on hard floors. The zabuton will provide a comfortable cushion for your legs and knees so you can keep your attention focused on your breath.
If you're looking for a meditation pillow that's more portable, check out travel meditation cushions and mats.