Best Seiza Meditation Benches for Home Meditation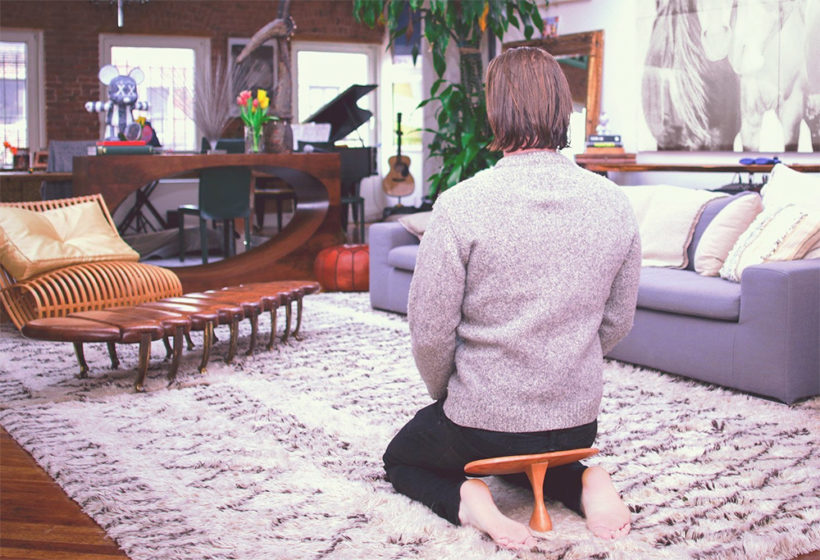 If a home meditation practice is a regular part of your routine, you may want to consider purchasing a meditation bench. Meditation benches help make a kneeling meditation more comfortable. By sitting on the bench, it takes the pressure off your legs so your body is more comfortable. Without any pain, you're able to keep your focus and meditate longer. (Learn more about how to use a meditation bench.)
If you normally meditate in your home, there are plenty of options for meditation benches that will enhance your practice. In this article, we cover some high-quality meditation benches you can add to your meditation space to enhance your practice. If you meditate on the go or like to meditate outside, check out these portable and folding benches. If you need back support, consider these meditation chairs.
Home Meditation Benches
Dual Height Padded Meditation Bench
If you're looking for a basic style meditation bench with a little padding, this is a great option. This seiza bench features rounded legs, which give you the option of two heights and the ability to angle the bench for the most comfortable sitting position. It's a great model to choose if you're just starting to meditate or looking to relieve back or leg pain while meditating. That increased comfort will allow you to meditate for longer periods of time.
Handmade in California, USA by meditators. With three sizes and 15 color options and patterns available, you're sure to find one that will work for your body and for your meditation space. The sizing is based on flexibility tests rather than physical size. They suggest you can "measure" yourself by making a stack of books at various heights to find which size will be most comfortable for you.
Sizes: small, medium, large
Colors: charcoal, black, blue, coral, eucalyptus, hazel, sandy beach, paisley, gold with flowers, brown with gold swirls, orange vines, tan with blue flowers, autumn gold, carnival, circles (pictured left)
---
Adjustable Red Oak Meditation Bench
If you're not worried about cushioning, this seiza kneeling stool made from solid red oak is a beautiful and functional option. The beeswax finish is completely non-toxic and will keep the wood looking great for years to come. This bench also features curved multi-angle legs so you can easily adjust to the most comfortable position as you meditate.
Handmade in Maine, USA from locally harvested red oak and coated with a non-toxic beeswax finish. It's not only beautiful but a great option to support a small business. This bench is only available in one size, so if you're very inflexible or very tall, it might not work for you.
---
Black Dragon Bench with Adjustable Height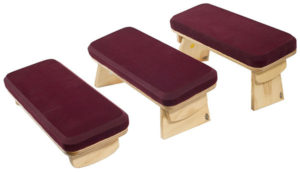 This bench is very different from other meditation benches in its adjustable height. Instead of just coming with rounded legs that provide a small amount of height adjustment, the Black Dragon bench comes with different legs to change the height of the bench, offering three different heights. That means it can be used as a kneeling bench or to sit crossed leg while you meditate. The legs easily attach with magnets so you can quickly switch them out.
This bench is a great option if you like variety in sitting positions while meditating. If you plan to share this meditation bench with other family members or friends, the flexibility in height and use is great. Made in Australia from sustainable timber.
---
simplysitting Handcrafted Meditation Bench
This bench from simplysitting is absolutely gorgeous in its design. More like pi style benches, it features one "leg" which goes between your feet to support your weight. Handcrafted from sustainable American cherry wood, it's designed with a comfortable curve in the seat for long meditation sessions.
One of the bonuses with this meditation stool is it's actually portable! The seat detaches from the stand so you can easily pack it in a suitcase or toss it in your bag. It weighs a little over 1 lb. so it doesn't add a lot of weight or bulk to your bag. This bench is great if you meditate at home, in nature, or go to meditation retreats.
Check out more portable benches for meditation on the go.
---
Now Meditation Bench and Mat
I know what you're thinking–this doesn't look like a meditation bench. But it is, as long as you're thinking outside the "box" of what a bench is. The Now Kit started as a Kickstarter that wanted to make mindfulness and meditation more achievable for the average person by making a supportive bench that is ergonomic and affordable.
Instead of a traditional wooden bench or stool, the Now Bench combines the firmness of a stool with the comfort of a meditation cushion. It's made from soft and firm foam, so you can easily flip, tilt, and otherwise customize to get the perfect balanced angle for sitting meditation. The kit also comes with a Now Mat, a rubberize exercise mat that cushions your legs while you kneel. This kit gives you everything you need for a comfortable and focused practice.
Check out more ergonomic cushions for meditation.
---
Best Budget Meditation Bench
Because meditation benches are handcrafted and often made of solid wood, they can bee expensive. If you're on a budget and looking for a cheap meditation bench, this model from Meditation Designs is an affordable alternative. Designed for meditators up to 6'1″ in height, these benches are handmade from acacia wood. They also feature a built in cushion for extra comfort.
With solid construction and professional upholstery, this bench is a great option for home meditation without breaking the bank.
Available Colors: Natural (off white), Burgundy, Black
Size: 18″ long, 8″ wide
---
Save on Pinterest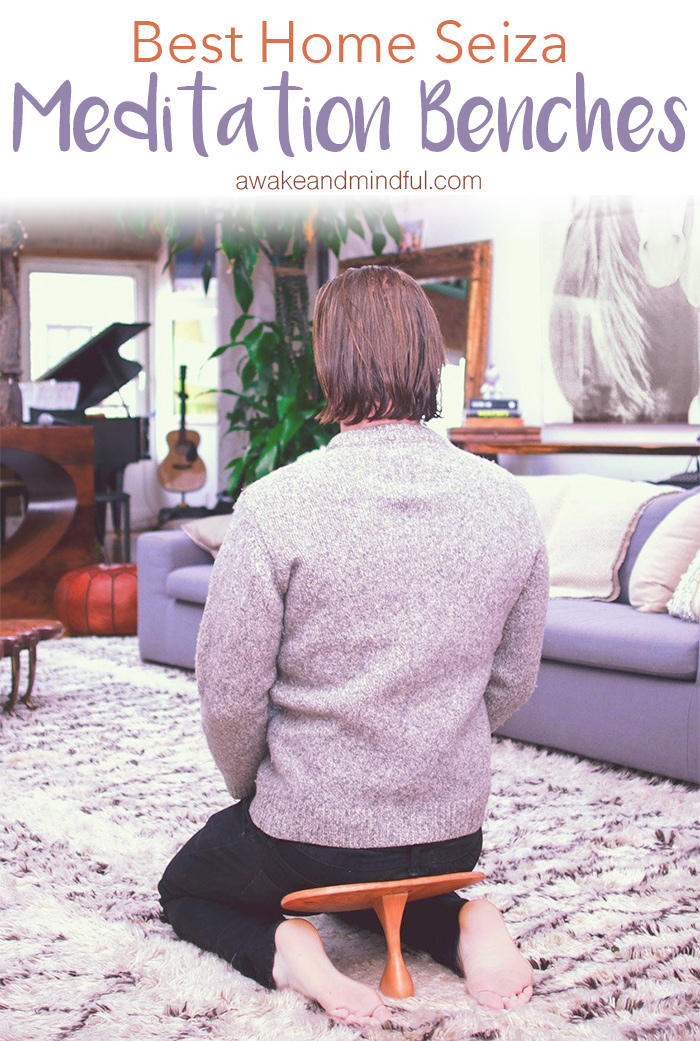 Once you've found a meditation bench that will work for you, consider buying a zabuton meditation cushion to help support your knees and legs. You may also want a meditation shawl to keep you warm and comfy while you meditate.
---
---