5 Best Seiza Meditation Benches for Home Meditation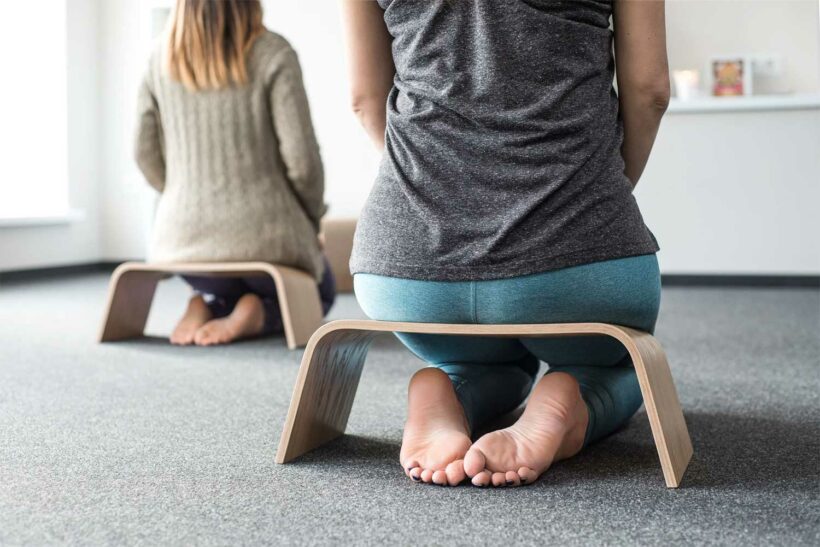 If a home meditation practice is a regular part of your routine, you may want to consider purchasing a meditation bench. Meditation benches help make a kneeling meditation more comfortable. By sitting on the bench, it takes the pressure off your legs so your body is more comfortable. Without any pain, you're able to keep your focus and meditate longer. (Learn more about how to use a meditation bench.)
If you normally meditate in your home, there are plenty of options for meditation benches that will enhance your practice. In this article, we cover some high-quality meditation benches you can add to your meditation space to enhance your practice. If you meditate on the go or like to meditate outside, check out these portable and folding benches. If you need back support, consider these meditation chairs.
5 Best Home Meditation Benches
Florensi Folding Meditation Bench
If you're looking for a comfortable meditation bench with some padding, Florensi makes a fantastic folding meditation bench. Made from sustainable bamboo, the legs are angled for a comfortable sitting position and feature no-slip grips. This ergonomic support makes sure you maintain a proper sitting position during meditation.
This bench is also very portable thanks to the hinged folding legs. You can take it with you while you travel using the carrying case or fold it up to easily store it at home. To add to your comfort, the bench comes with a detachable cushion to extend meditation time. The cover is removable for easy cleaning.
Well designed to hold up to years of daily meditation, this is a great bench to choose if you're just starting to meditate or looking to relieve back or leg pain while meditating. That increased comfort will allow you to meditate for longer periods of time.
Size: 18″ x 7″ x 6″
Colors: blue, gray, sage green
Check out more travel meditation benches.
---
Monk & Llama Kneeling Meditation Benc
Another compact and portable meditation bench option, Monk & Llama designed this bench to be functional and inspiring. The inspiration comes from the positive messages etched into the bamboo seat. If the messages aren't your style, no worries because they'll be covered by the detachable cushion.
Built with magnetic hinges, the bench stays steady in kneeling meditation. When you're done, just fold the legs flat and put it in the carry case for easy storage or transportation.
Colors: Gray, Beige
---
Bamboo Meditation Bench with Folding Legs
If you're looking for an eco-friendly meditation bench with a sleek design, check out this one from Sunshin. Made from sustainable bamboo, this beautiful piece features hinged legs to easily fold and store it when not in use. The legs are angled to provide an ergonomic kneeling position to reduce fatigue and knee, hip, or back pain.
Connect to the zen energy of the bamboo while you meditate at home, outdoors, or on meditation retreats.
Dimensions: Seat is 19.5″ wide, 7.5″ deep and 6.3″ tall
---
Valiai Design Home Meditation Bench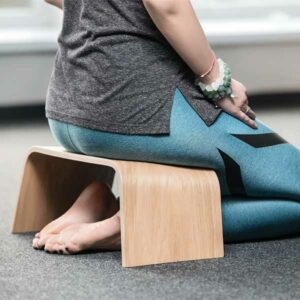 If aesthetics are important to you or you're looking for a meditation bench that will look good displayed in your home, this is the one for you. Valiai Design constructs these beautiful meditation benches based on Scandanavian design. They are one single curved piece of plywood available in oak or walnut finish.
Like many traditional meditation benches, it is designed to provide comfort while meditating in a kneeling position. Using this bench takes the pressure off your ankles and knees, allowing for longer and deeper meditation sessions.
A beautiful bench, there's no need to store it away in a closet. You may find yourself using it to casually sit around the house.
Colors: Oak, Walnut
Dimensions: length 20″, width 8″, height 7″, weight 2 lbs
---
Best Budget Meditation Bench from Waterglider International
Because meditation benches are handcrafted and often made of solid wood, they can be expensive. If you're on a budget and looking for a cheap meditation bench, this model from Meditation Designs is an affordable alternative. Designed for meditators up to 6'1″ in height, these benches are handmade from acacia wood. They also feature a built-in cushion for extra comfort.
The bench legs are rounded, allowing you options for tilting the angle of the bench while sitting on it. This makes it easier to find a more personalized kneeling position. With solid construction and professional upholstery, this bench is a great option for home meditation without breaking the bank.
Available Colors: Natural (off white), Burgundy, Black
Size: 18″ long, 8″ wide
---
Save on Pinterest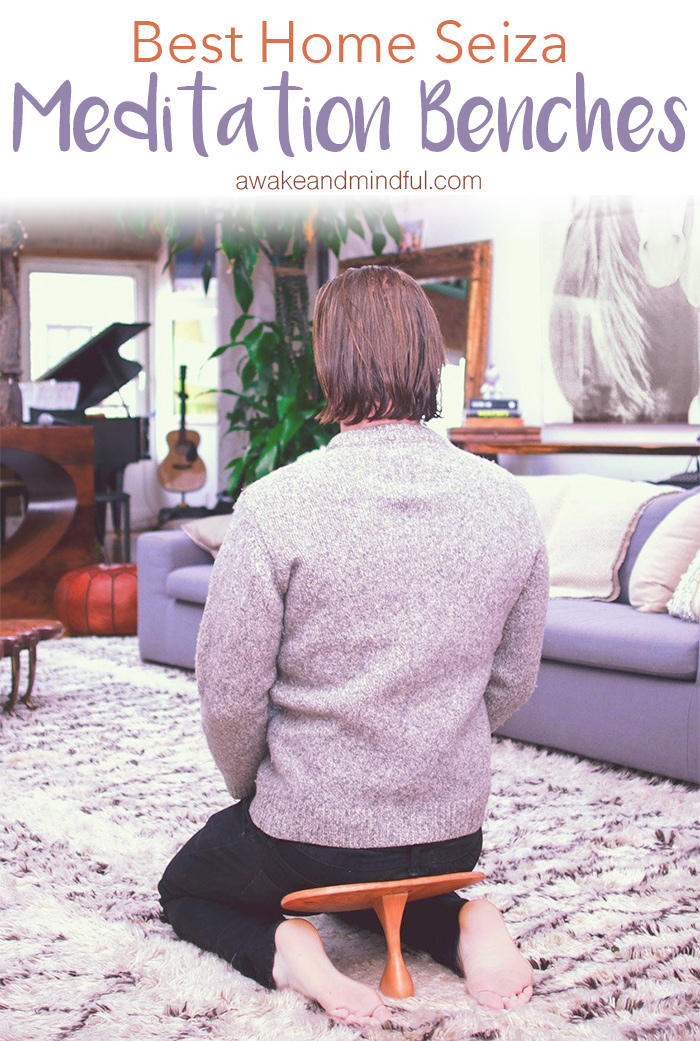 Still looking for the perfect bench? Check out more portable benches for meditation on the go.
Once you've found a meditation bench that will work for you, consider buying a zabuton meditation cushion to help support and cushion your knees and legs. You may also want a meditation shawl to keep you warm and comfy while you meditate.