Best Meditation Shawls and Scarves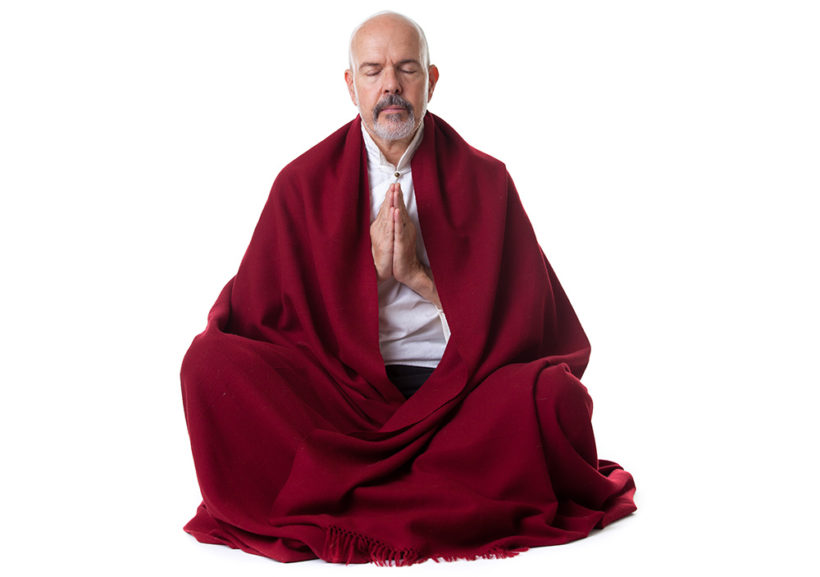 To help you stay comfortable and focused during your meditation, you want to make sure your body stays warm. This is especially important if you meditate in morning or in the evening before bed. The temperature is usually cooler and you're often meditating in your PJs. To help stay warm you can use a blanket or a meditation shawl.
There are so many varieties of meditation shawls available. It's easy to find one that matches your decor, or comes in your favorite color, or has a beautiful pattern. You should also keep in mind the materials they're made of. You want something soft and warm so you're not distracted during your meditation.
We've gathered some of our favorite meditation scarves from budget options to luxurious wool shawls. You're sure to find something you'll love in this list.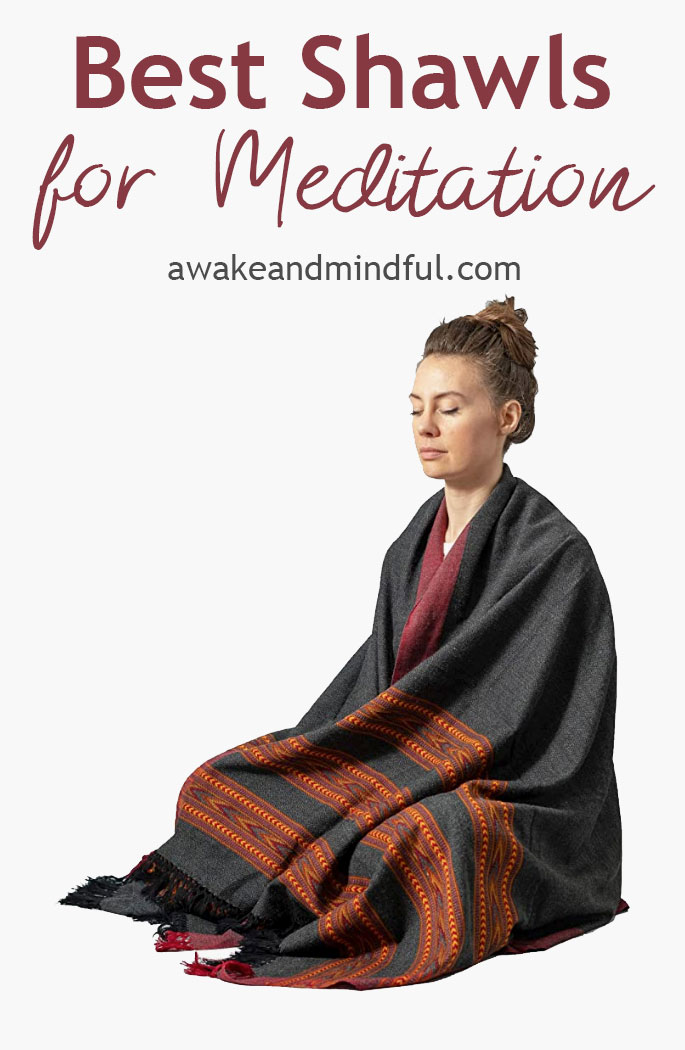 Meditation Shawls and Scarves
OM Yoga & Meditation Shawl
If you're looking for a budget meditation scarf that is gorgeous, this rainbow colored shawl is perfect. Made from viscose rayon, this over-sized scarf is affordable and beautiful. It features the sacred OM symbol knitted into the pattern. The different stripes of color mean that each scarf is unique and special.
This meditation shawl is perfect for a morning meditation, or could even be worn during the day as a reminder to stay present and mindful. This is a fair trade item and it comes with a free mala bracelet.
25″ wide by 72″ long.
---
Indian Om Prayer Meditation Shawl
Another affordable option with a beautiful and sacred pattern, these meditation shawls are the perfect addition to any practice. The soft rayon scarf features a hadnblock print of a variety mantras on each shawl.
These scarves are handmade in India. This scarf is lightweight so you can use it any time of year and also wear it as an eye-catching accessory. It also has a reversible weave, so both sides include the beautiful pattern. With ten colors to choose from, you're sure to find one you'll love.
36″ wide by 70″ long.
Available Colors: black, burnt orange, forest green, lavender, light blue, light green, pink, saffron, black/white, red/white
---
Tibetan Monk's Buddhist Meditation Shawl
If you're looking for a beautiful and comfy shawl similar to the burgundy meditation shawls used by Tibetan Buddhist months, this is the perfect option. It's large and warm, made from 100% wool. This cloak is perfect to keep you comfy and focused while you meditate.
The meditation cloak is made in India in Dharamshala, a refugee settlement of Tibetans. The shawl is vegetable dyed to match a monk's burgundy red.
46″ wide by 96″ long.
---
Striped Wool Meditation Shawl
I love the subtle design of these shawls from Om Shanti Crafts. The earth tones have a warm and calming effect on the eye, perfect for meditating and getting in touch with nature. Made from a wool and polyester blend, these shawls are soft and durable, and will keep you warm during early morning meditation. It's large enough to use for both sitting meditation and as a yoga blanket during savasana.
Handwoven in India.
7.5′ long and 3.5′ wide.
Available Colors: brown, dark gray, ivory, light gray, red
---
Reversible Jamawar Shawl for Meditation
Another beautiful shawl for meditation, this reversible jamaware features a beautiful paisley pattern. Made from a wool and acrylic blend, the design is different from other shawls on our wrist, with a more formal look to the design.
This shawl is large enough to be used for meditation, worn as a scarf or wrap, or used as a blanket.
88 inches by 43 inches
Faitrade.
Available Colors:
---
Looking for more accessories to enhance your meditation practice? Consider mala meditation beads, meditation chairs with back support, and zafu zabuton meditation cushions.