Best Yoga DVDs for Beginners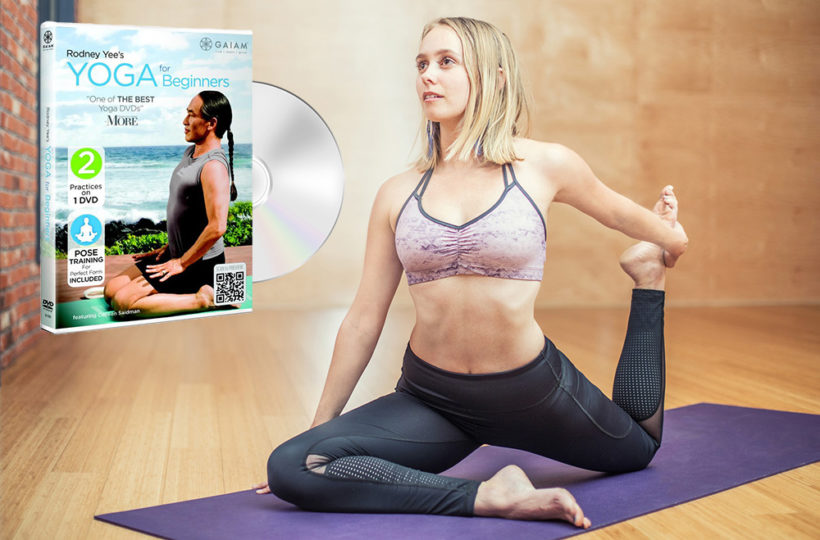 Whether you're venturing into the world of yoga for the first time or wanting to build a solid home practice, you can't just start with any old Yoga DVD. As you build up your strength and learn new poses, you'll be able to conquer any yoga class you desire, but to start out it's best to avoid injury by following beginner's level sequences that use basic poses and include lots of instruction. Once you've gotten some basic yoga equipment, you can easily start a home practice following online videos or yoga DVDs. This article covers some of the best yoga DVDs for beginners. These easy to follow sequences will teach you how to properly do the poses and guide you as you increase your strength and flexibility throughout your practice.
Yoga DVDs for Beginners
Rodney Yee's Complete Yoga for Beginners
Rodney Yee is one of the most well known yogis in the home DVD market, having made dozens of videos of home yoga practices. It's no surprise that his yoga DVDs for beginners are some of the best available. I highly recommend his Complete Yoga for Beginners DVD as a great starting place. Including 5 different practices and a downloadable pose guide, there is a lot of value in this DVD.
Four of the routines are 20 minutes each, focusing on yoga basics, energy, flexibility, and relaxation. The "bonus" routine is a quick 10 minute express practice perfect for those days where you barely have time to get in your yoga. Start with the yoga basics video, which will give you all the guidance you need to learn the new poses, as well as highlight common mistakes.
This DVD also makes a fantastic gift for yoga beginners.
---
Yoga for Beginners: Boxed Set
If you're looking for a lot of bang for your buck, this boxed set of Yoga DVDs for Beginners is a fantastic value. It includes three separate DVDs target to newbies beginning and expanding their home yoga practice. Between the three DVDs are over 40 routines to help diversify your at home practice. The routines range from 15 to 60 minutes with different focuses for each DVD.
Disc 1: Yoga for Stress relief, features 21 routines focusing on morning & evening routines, issues in the neck, shoulder, and back, easing your mind, and yoga for stomach and digestion issues. Disc 2 is the "Yoga for Beginners" disc, with 11 routines divided between AM and PM routines. Disc 3 will be invaluable for a lot of newbies, it is "Essential Yoga for Inflexible People." It focuses on teaching basic poses and routines with the assistance of a yoga chair, and then offers more advanced routines as your flexibility progresses. Those 13 routines build up to the finale: a 90 minute full routine that makes use of all your progress.
---
Beginners & Beyond: Yoga For Weight Loss for Beginners
If weight loss is a big part of your yoga goal, this DVD is a great option for you. Maggie Rhodes guides you through 12 routines that will help you burn calories and tone your body. Her videos are easy to follow and fantastic for beginners, while still providing enough challenge for intermediate yogis. Plus, the videos were shot on the beach at Half-Moon Bay Antigua, creating a gorgeous and calming atmosphere for your practice.
One thing I will caution, if you are completely new to yoga, you may struggle to keep up with the routines on this DVD. Make sure you understand the basics of the most common yoga poses before you start and you will be fine. Usually, some experience from a studio class will be enough.
---
BodyWidsom Yoga For Beginners DVD
This DVD is a best seller with 8 routines designed to introduce beginners to yoga practice. All of the routines are led by Barbara Benagh, who has 35 years experience teaching yoga around the world. With a focus on building strength and flexibility, this DVD is a great starting point with anyone who is new to yoga or is getting back into their practice after an extended break.
One of the nice things about this DVD is that it allows you to create custom routines by picking and choosing what kind of workout you want to do that day. There is also a section focused on teaching you the poses and modifications that will be helpful for many beginners.
---
Hatha & Flow Yoga for Beginners
If you're interested in yoga flows and building up to a more intense yoga workout, check out this DVD. Featuring two 30 minute classes, Tamal Dodge leads you through a basic hatha class, focusing on learning the poses. This is great for complete newbies who are still learning poses.
Once you're comfortable you can try his "flow" routine, a more intense non-stop workout. You may have to build up some experience before you attempt the flow, but it's a good practice for beginners and intermediate yogis. The flow offers a full body workout that builds strength and works your core and makes a great addition to any weight loss routine.
---
Looking to add meditation to your practice? Check out these meditation DVDs for beginners.