5 Best Yoga Mats for Beginners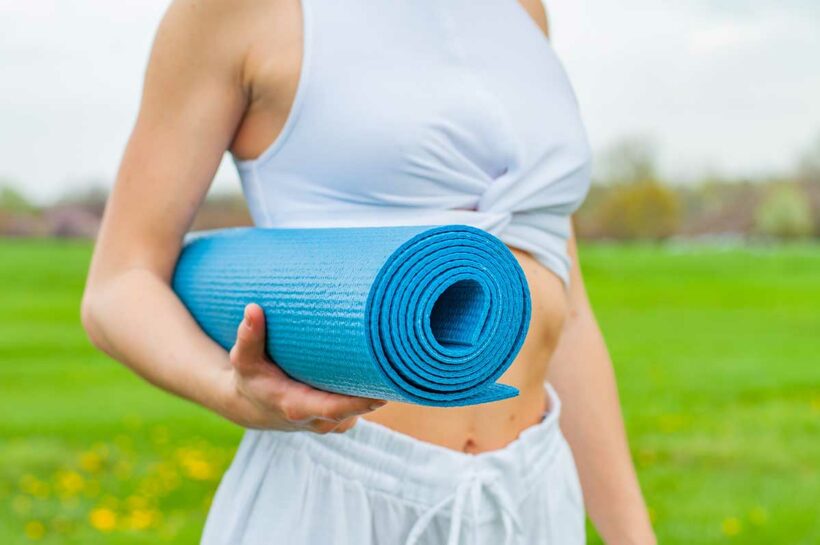 If you're new to your yoga practice, there is only one piece of gear that you must buy for success: a yoga mat. With so many options out there, it can be hard to find the perfect mat to match your practice and your body. We've rounded up the best yoga mats for beginners. These are tried and true options for yogis who practice at home, at the studio, and even outdoors. Check out our recommendations below and our tips for selecting the best yoga mat.
Best Yoga Mats for Beginners
1. Manduka Begin Yoga Mat
Manduka mats are a favorite of experienced yogis, but their price is often more than beginners want to spend. The Begin yoga mat is half the price of their Pro mats and has all the features new yogis need. Made from TPE, this mat features a closed-cell surface that prevents sweat from seeping into the mat. This makes the mat easier to clean (wipe with a damp cloth after each practice), but also means the mat can become slippery if you're excessively sweaty.
With 5 mm thickness, the Begin Mat has a nice cushion to it, but the mat is still lightweight at only 2.5 lbs, making it perfect to take to class. This mat is reversible, so you can practice on either side and also features an alignment stripe down the middle to help with proper positioning. It is only 68″ long, so taller yogis may need to look at longer options.
Material: TPE
Mat Thickness: 5 mm
Dimensions: 68″ tall by 24″ wide
---
2. Jade Harmony Yoga Mat
If you ask a room full of yogis what their favorite mat is, you will hear the name Jade come up over and over again. While their high-quality mats can be on the pricier side, they are worth the investment if you plan on doing yoga frequently. The Harmony mat is their most popular thanks to its thick rubber material. The dense open-cell rubber is a great cushion and provides a sticky grip during hot yoga classes and is one of our top recommended yoga mats for sweaty hands and feet.
Since the mat is made from natural rubber, you will have be careful to only clean it with water. It can also have a rubbery smell that bothers some yogis, but airing it out helps. Tall yogis will rejoice that this mat is available in both the standard 68″ length as well as the extra long 74″. Made in the USA, Jade plants a tree for each mat sold.
Material: Rubber
Mat Thickness: 3/16″
Dimensions: 68″ or 74″ long by 24″ wide
---
3. Liforme Original Yoga Mat
This is another pricey yoga mat, but it's really worth the investment if you plan to practice frequently. One of the main reasons why I recommend Liforme to beginners is the alignment guide printed on each mat. It's an easy way to check to make sure you're in proper alignment in your poses–especially helpful when you're practicing at home. This rubber-based mat provides an excellent grip so you'll be secure in your down dogs and won't slip during hot yoga.
This mat is also longer and wider than standard yoga mats, giving you a little bit extra room to practice. The Liforme original mat is eco-friendly, made from a blend of eco-polyurethane and rubber, which makes them PVC free and they also biodegrade in landfill conditions so you don't have to feel guilty when it's time to buy a new mat. The blend is also dense and cushioning for extra comfort to knees and other joints.
Material: Eco-polyurethane and rubber blend
Mat Thickness: 4.2mm
Dimensions: 72.8″ L by 26.7″ W
---
4. Yoga Design Lab Cork Yoga Mat
Cork yoga mats are a favorite of hot yoga practitioners and yogis who want to use all-natural products. Yoga Design Lab makes these mats with a 100% natural rubber base layer that will prevent your mat from slipping around while you practice. The top layer is made from sustainable cork which absorbs sweat and stops you from slipping around. If you need extra grip, just spritz your cork mat with water before practice. It makes the cork softer and easier to grip.
Some bonuses with the Yoga Design Lab mat: it features a beautiful mandala design available in black or white. Since the design is symmetrical, you can use it as a guide to help with alignment. The mat also comes with a carrying strap to easily take it to class. You can also customize your thickness depending on how much extra cushion you need. I generally don't recommend the 1.5mm one unless you practice on a soft surface like carpet or grass. It is very thin and provides little cushion.
Material: natural rubber, sustainable cork
Mat Thickness: 1.5 mm, 3.5 mm, 5.5 mm
Dimensions: 70″ long by 24″ wide
---
5. Best Budget Mat: GAIAM Classic Yoga Mat
If you're on a budget or just want a cheap yoga mat to start your new practice with, this is one of the best options. Most cheap mats are made from PVC, but Gaiam uses a special PVC foam for their classic mats that are free of latex and 6 harmful phthalates. At 5mm thick, it provides a cushioned support to make yoga poses more comfortable. Some users find it too squishy and not as dense as the other mats on our list. The textured surface provides a nice stickiness for regular yoga use. If you hit up a lot of hot yoga classes, you may need a yoga towel to prevent slipping when you're really sweaty.
If you're new to yoga or only do yoga occasionally, this is a great beginner mat. More experienced yogis or those who practice every day will do better buying one of the previous mats on our list.
Material: Latex and 6 Phalate Free PVC foams
Mat Thickness: 5 mm
Dimensions: 68″ long by 24″ wide
---
How to Pick a Yoga Mat
While there tends to be a consensus on which brands make the best yoga mats, each yogi has their own personal preferences and needs that will determine which yoga mat is best for them. If you don't have a lot of experience with yoga, it's hard to know what your needs are. It may be better to start off with a cheaper mat and upgrade later once you understand your needs. An alternative is to try renting mats at yoga studios–many studios have a variety of brands available so you can get some 1 on 1 time to see what works best. If that's not available, it may take some trial and error to finally find the perfect mat.
If you haven't found the best mat for you, here are some factors to consider when shopping for a yoga mat.
1. Price
This can be a big one for yogis on a budget. Prices on yoga mats can vary from a cheaper $20 mat found in a discount store to over $100 for the big name brands. Opinions on whether pricing matters are as varied as there are yogis. Some people really believe you get what you pay for while others will ride and die for their affordable mat. Generally, cheaper mats are made from cheaper materials and will wear out faster. That means they may lose their stickiness, start to develop holes, or you may find the material flaking.
From a financial point of view, if you're replacing a cheap mat every year, it may be worth it to invest in a more expensive mat that will last for years.
2. Thickness
The thickness of a yoga mat can make a real difference in your practice. If you have sensitive knees, you may notice that a thin yoga mat doesn't provide enough padding for you and you may need a thicker mat. However really thick mats tend to be squishier, which means they can stretch or indent easier while you're moving through poses. It can be a delicate balancing act to find the right thickness. Look for mats made out of dense material that can provide more cushion in a thinner form like dense foam or rubber.
The thickness of the mat will also affect the weight. If you're carrying your mat a lot to go to the studio or you travel frequently you may want a thin mat that is more portable and weighs less (check out our favorite travel yoga mats for some thin yoga mat options).
3. Material
The material a mat is made out of will have a big influence on your experience with the mat. It will affect the thickness (dense material will result in a thinner mat), the feel of the mat, and the grippiness.
Common yoga mat materials are rubber, dense foam, and cork. If you have allergies to latex, you may have a reaction to rubber mats. One thing to watch out for with cheap yoga mats is they contain toxins or toxic materials like latex, PVC, or phthalates. Look for mats that specifically advertise as being free of these toxins. If you are looking for an affordable mat, avoid any that contain PVC and instead look for TPE (thermoplastic elastomers) which is a synthetic rubber blend that is non-toxic.
4. Size
A standard yoga mat is usually around 24 inches wide and between 60 to 72 inches long. For most yogis, that works perfectly. If you're taller than 6 feet, you may find a standard yoga mat too short for your practice, with your feet or head hanging off during shavasana. Some brands make extra-long versions of their most popular mats which are better for taller yogis.
Learn more about how to choose the right yoga mat.
---
Still looking for a yoga mat? Check out the best yoga mats for sweaty hands and the best travel yoga mats.
If you're practicing at home, make sure to get all the essential gear for a home yoga practice.