5 Best Yoga Towels for Hot Yoga & Sweaty Hands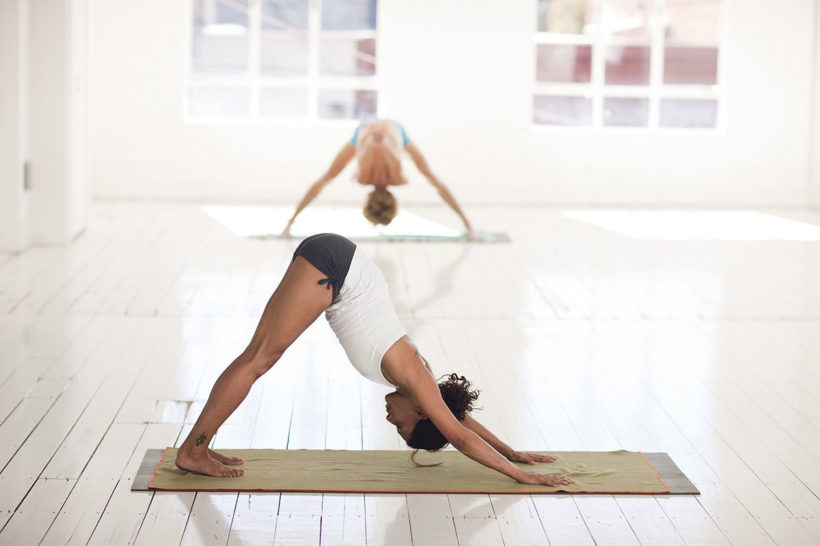 Whether you have sweaty hands or an addiction to your hot yoga class, a yoga towel is a helpful accessory. Sometimes even the stickiest yoga mats can't win against a super sweaty class. Adding a yoga towel will let you use your favorite yoga mat without the worry about a slippery, sweaty surface that will make some yoga poses unsafe. Easy to roll out on top of your yoga mat, you can toss your yoga towel in the washing machine to make sure you always have a clean, bacteria-free surface to practice on. Check out some of our favorite yoga towels to find the perfect one for your practice.
Best Grippy Yoga Towels
1. GAIAM Yoga Mat Towel
A budget-friendly option designed specifically for hot yoga classes, this yoga mat towel from GAIAM is made from microfiber. That means it's soft, super-absorbent, and dries quickly. Because it's so absorbent, you'll be able to remain dry and keep a good grip, even in the sweatiest hot yoga classes. It's also machine washable, so you'll have a clean surface to practice on. This yoga towel is so affordable, you can buy a few so you always have a fresh one on hand.
PROS
Machine washable
Dries in half the time compared to cotton towels

CONS
Made from a polyester/nylon blend–not natural materials

Size: 24″ wide by 69″ long
Available Colors: blue shadow, tropical dusk (dark navy), heron lilac, folkstone grey, mulberry, purple, vivid blue (fuscia trim), riverside (light blue)
---
2. Yogitoes Yoga Towel
If you go to a lot of hot yoga classes or frequently practice vigorous asanas, you may want to spend a little bit more to get the benefits of the Yogitoes Yoga Towel. If you find regular towels slip too much while you practice, this towel features sylicone grips on the underside, so it will stay firmly in place. The fabric is soft and absorbant, so your sweat will disappear even in the hottest class.
If you easily get bored of plain yoga mats, the Yogitoes yoga towel comes in a dozen beautiful designs to add some variety to your daily practice. Plus this yoga towel is sustainable–each towel is made from 4+ recycled plastic water bottles. This allows it to be more absorbent than a regular cotton towel with a positive environmental impact.
PROS
Machine washable
Beautiful designs
Made from recycled water bottles

CONS
Double the price of "basic" yoga towels

Size: 68″ long, by 24″ wide
Available Colors: blue, midnight (dark navy), indulge purple, onyx black, grey, turquoise, rainy day (beige), and a variety of beautiful patterns
---
3. Shandali Go Sweat Non-Slip Yoga Towel
Another affordable option to control sweat during yoga practice, Shandali makes these brightly colored Go Sweat Hot Yoga Towels. Made from microfiber, they are absorbant to keep your hands and feet dry. They also provide a nice cushion for extra comfort.
Shandali's yoga towel is also great to use outdoors without a yoga mat. Roll it up and throw it in your bag to enjoy yoga or meditation in the park or at the beach. It's also available in two sizes: a large option the size of your yoga mat and a "hand towel" version that is perfect for people who get sweaty hands.
One thing to note, the Go Sweat towel is not designed with a textured or "grippy" underside to prevent it from sliding around. It is grippier than a regular beach towel, but you may need to spray the towel with water to help improve the grip at the beginning of your practice.
PROS
Machine Washable
Affordable Price Point
Two size options

CONS
No "grip" on bottom of towel
Size: Standard Mat Size – 26.5″ by 72″; Hand Towl – 16″ by 26.5″
Available Colors: Evening blue, gray, teal, lemonade pink, placid blue, violet
---
4. Aurorae Synergy 2 in 1 Yoga Mat
If you find that even the stickiest yoga towel and mat can't quite stick enough, so you struggle with bunching and slidding during your classes, Aurorae has a solution for you! This combines yoga towel and mat into one awesome product. One side is a standard sticky yoga mat (to go on the ground) and the other is a microfiber towel (your side). As you practice, the microfiber towel absorbs your sweat and actually gets stickier, leaving no risk of slipping as you heat up. (If you find it slippery when dry, the manufacturer recommends spraying the mat with water to activate the stickiness before class.) The 2 in 1 design keeps you from slipping around and also means you only have to carry one item to yoga class.
Made with an eco-friendly 5mm yoga mat, it is bonded to the microfiber towel and stitched along the sides to make a long-lasting product. If you're worried about sweat, odors, or cleanliness, this yoga mat is machine washable! Make sure to clean it regularly. So you can get as sweaty as you want at class and easily clean your mat at home. If other mats have failed your sweaty hands and feet, I highly recommend you give the Synergy a try!
PROS
Combined yoga mat and yoga towel in one
Perfect for sweaty hands and feet
Easy to clean by hand or washing machine

CONS
May need to spray the mat with water before class
Debris can get stuck in microfiber–not good for outdoor practice
Needs regular cleaning to prevent odors

Size: 24″ wide, 72″ long
Available Colors: amethyst, sapphire, emerald, lapis, onyx, Tahiti tide
---
5. eQua Hand Yoga Towel
If you find your hands get extra sweaty during normal vinyasa flows and you have a hard time holding positions like down dog without slipping around on your mat, you may benefit from a hand yoga towel. Made of the same grippy and absorbent material of a yoga mat sized towel, the hand towel is smaller so you can lay it across the top of your mat when you need it for extra grip.
I find smaller towels like this are perfect because you can easily grab them when you need them in the middle of a class or even use them rolled up as a cushion to modify uncomfortable positions. It's also great for dabbing sweat off your face during or after class. You can also roll it and use it like a yoga strap in a pinch. If you go to a lot of hot yoga classes, a full mat-sized towel may be a better choice so you can get more sweat absorbing real estate.
PROS
Made of a durable, exsorbent microfiber
Cheaper and smaller than a mat-sized yoga towel

CONS
Only large enough to use for your hands

Size: 26.5″ x 16″
Available Colors: magic (purple), thunder (grey), midnight (blue), maldive hd (blue), desert flower (pink), green ash, cosmic sky (light purple), tropical surf (turquoise green), and a variety of patterns
---
Make your hot yoga class easier with these yoga mats for sweaty hands and feet.