5 Best Yoga Mats for Sweaty Hands & Feet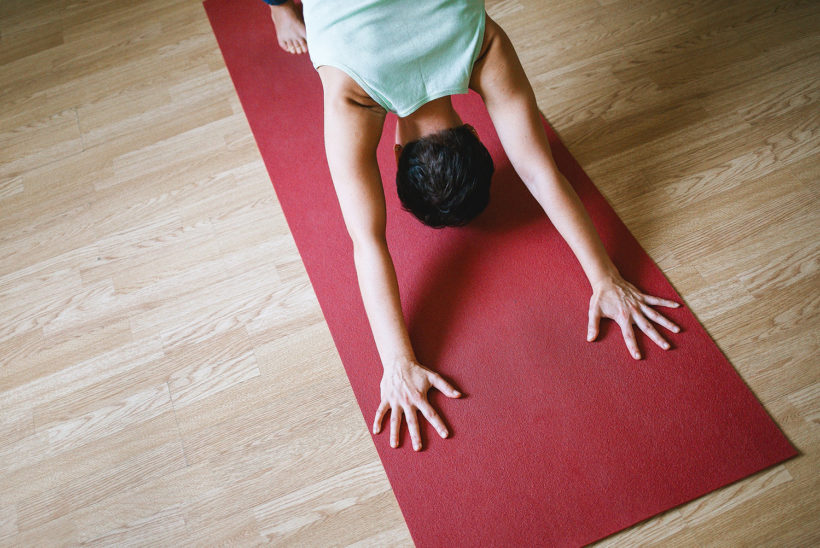 Yoga mats are one of the foundational tools of a yoga practice. They're often called "sticky mats" because they have a slightly sticky texture that allows you to get a good grip with bare hands and feet so you can safely hold various poses without slipping and falling. If you've ever done a hot yoga class or (like me) have a tendency to get sweaty palms, you know that your "sticky" mat can turn into a slip and slide. Luckily, there are a few yoga mats on the market that do a better job of helping you keep your grip. For this article, I break down some of the best yoga mats for sweaty hands and feet, which will help you remain steady and stable in your practice.
Our Favorite Yoga Mats for Sweaty Hands & Feet
1. Jade Harmony Yoga Mat
Real rubber mats tend to provide better stickiness and grip than the synthetic rubbers found in most cheaper mats. Jade Yoga makes this fantastic rubber yoga mat that's perfect for hot yoga class and sweaty yogis alike. The open cell natural rubber means this mat will give you optimum grip even during the sweatiest and most challenging practices. They also make it from sustainable materials, which is a bonus for environmentally conscious folks.
It's no coincidence that the Harmony also happens to be their most popular yoga mat. The 3/16″ thickness provides cushion and comfort for any pose. It also weighs under 5 lbs, so you can easily tote it to all of your favorite classes. All Jade Yoga mats are made in the USA. They also plant a tree with Trees for the Future with the sale of each product.
PROS
Made from sustainable rubber
3/16″ thickness for extra cushion
A variety of bold color options

CONS
Rubber scent may bother some users
Need to follow special care instructions for rubber mats

Size: 3/16″ thick, 24″ wide, and choice of 68″, 71″ or 78″ long
Available Colors: black, sedona red, electric blue, fire engine red, flamingo pink, gray, kiwi green, lavender purple, midnight blue, olive green, purple, raspberry, slate blue, teal, Tibetan orange.
---
2. Manduka PROlite Yoga Mat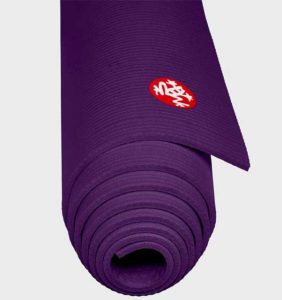 Manduka is one of the big brand names loved by yoga teachers and yogis alike, so it's no surprise they make one of the best yoga mats for sweaty hands. If you're constantly on the go and head to a studio for hot yoga classes, this lighter and thinner version of the Manduka Pro will work really well for you. Manduka has designed this mat with a closed-cell surface. Not only does it remain sticky, but the material also repels sweat, preventing bacteria growth and odor. The underside of the mat also features their proprietary dot patterned bottom to prevent the mat from slipping around on the floor while you practice.
Manduka mats are often compared to leather shoes, that they break in and become better with time. This is great for its durability over the years, but sometimes the breaking in period can be a bit of an issue. Many people find the mat is a bit slippery when they first get it because of the coating from the manufacturing process, this is especially for hot yoga or vinyasa yoga classes. (Some people recommend washing the mat immediately or rubbing the mat with sea salt to help increase the initial grippiness.)
All Manduka mats are sustainably made, and the PROlite mats come from an emissions-free facility. Manduka also gives a lifetime guarantee, so if your mat peels, flakes, or flattens they will replace it for free.
PROS
Lightweight yoga mat
Closed cell surface prevents sweat seepage and prevents odor and bacteria growth
High quality, long lasting yoga mat

CONS
Thinner mat means less cushion
Mat needs to be "broken in" for ultimate grippiness

Size: 71″ or 79″ long
Available Colors: black, harbour blue, hermosa red, indulge purple, lotus green, midnight, perennial purple, purple, spark, thunder gray, truth blue
---
3. Hugger Mugger Para Rubber Yoga Mat
Hugger Mugger offers their own rubber yoga mat that is great for sweaty hands and sweaty practices. Designed with a non-slip grip on both sides, its great for practice at home or the studio. You can also alternate which side you use depending on the type of class or practice. The side with the design is firmer with extra grip for sweaty classes. The bottom side is softer, which is great for restorative yoga classes. This mat also provides a lot of cushion for your knees with it's 1/4″ thickness.
Hugger Mugger makes the mat from sustainable rubber from non-Amazon sources. Some customers complain of a rubber smell in the beginning, but it does dissipate with use. Only available in two colors, they are very pretty mats.
PROS
Made from 100% natural tree rubber
1/4″ thick
Dual sided mat

CONS
Less color options than other brands
Open celled mat needs regular cleaning to avoid smells and bacteria build-up
Rubber odor may bother some folks
Size: 1/4″ thick, 24″ wide, 70″ long
Available Colors: river, storm
---
4. Aurorae Synergy 2 in 1 Yoga Mat
If you're like me, even the most gentle yoga glass gives you sweaty palms, which makes it difficult to hold even basic poses like down dog. If you find yourself dripping in hatha yoga class, a sticky mat may not be enough. But you don't have to buy a separate yoga towel with this cool mat. Aurorae makes Synergy for sweaty betties like me. One side is a standard sticky yoga mat and the other is a microfiber towel. As you practice, the microfiber towel absorbs your sweat and actually gets stickier, leaving no risk of slipping as you heat up. (If you find it slippery when dry, the manufacturer recommends spraying the mat with water to activate the stickiness before class.)
Made with an eco-friendly 5mm yoga mat, it is bonded to the microfiber towel and stitched along the sides to make a long-lasting product. If you're worried about sweat, odors, or cleanliness, this yoga mat is machine washable! So you can get as sweaty as you want at class and easily clean your mat at home. If other mats have failed your sweaty hands and feet, I highly recommend you give the Synergy a try!
PROS
Combined yoga mat and yoga towel in one
Perfect for sweaty hands and feet
Easy to clean by hand or washing machine

CONS
May need to spray the mat with water before class
Debris can get stuck in microfiber–not good for outdoor practice
Needs regular cleaning to prevent odors

Size: 24″ wide, 72″ long
Available Colors: amethyst, sapphire, emerald, lapis, onyx, Tahiti tide
---
5. Gaiam Cork Yoga Mat
Many folks are looking for non-toxic and natural options for their yoga mats. If you don't want a rubber mat, one made of cork is actually a great alternative. I will admit that it still features a synthetic rubber bottom to help the mat stay put during practice, but the only part your body will touch is the all-natural, sustainable cork. Cork is perfect for sweaty yogis and hot yoga classes because it naturally resists moisture, keeping it odor-free and blocking any bacteria growth. It holds up well to hot yoga classes: the raised temperatures make the cork softer and the moisture gives it a better grip.
If you've never used a cork mat before, there are a few things you should know. The mat cannot be folded or the cork may crack. Since cork is a stiffer material than most yoga mats are made of, it takes time to fully flatten out when you unroll it from class. I personally would recommend the Aurorae Synergy over this mat, but it's a good option if you want a non-rubber mat for hot yoga classes.
PROS
Made from natural, sustainable cork
Great for hot yoga classes and sweaty yogis

CONS
4.5 lbs., lightweight to take to class
Cork is slippery at cooler temps and dryer conditions
Shorter mat won't work for tall yogis
Cork can crack if mat is folded

Size: 5mm thick, 24″ wide, 68″ long
Available Colors: natural cork, cork with floral print
---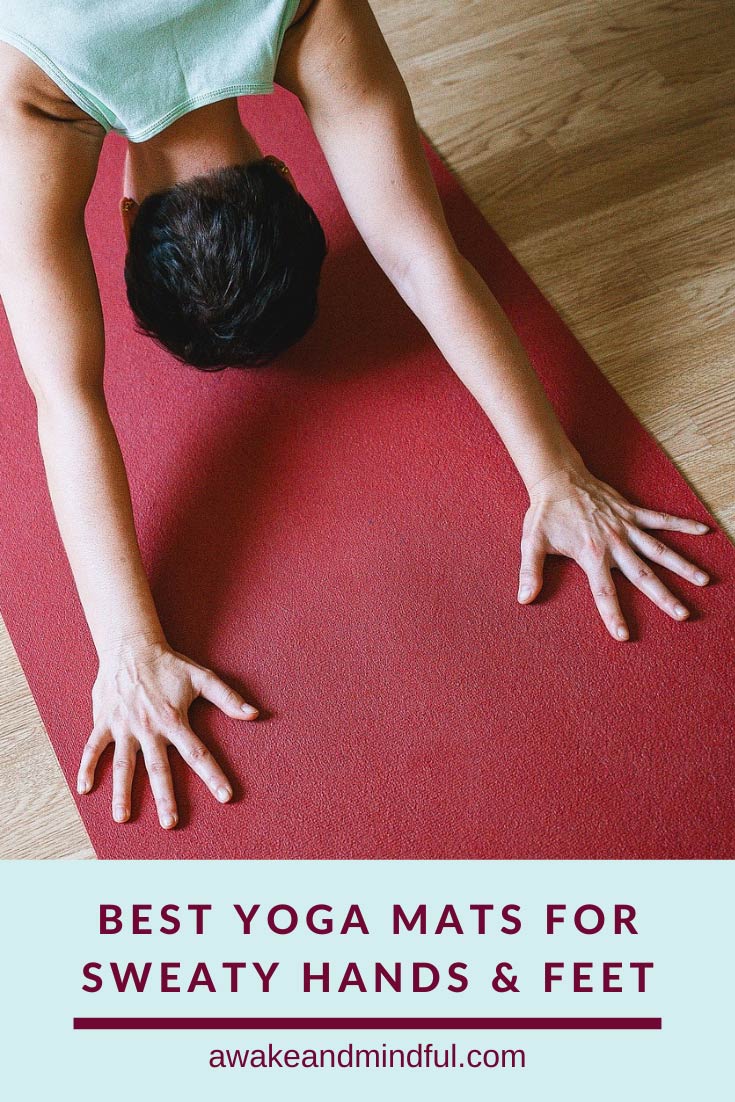 If you feel like sweat it turning your yoga mat into a slip and slide, check out these yoga towels for hot yoga and sweaty hands.
Still searching for the right mat? Learn how to choose the right yoga mat. Check out the best yoga mats for beginners and best travel yoga mats.
Keep your yoga mat fresh with this easy to make DIY yoga mat cleaner.
Enhance your home yoga practice with all the must have yoga gear and cool yoga benches and props.