5 Best Yoga Videos on Amazon Prime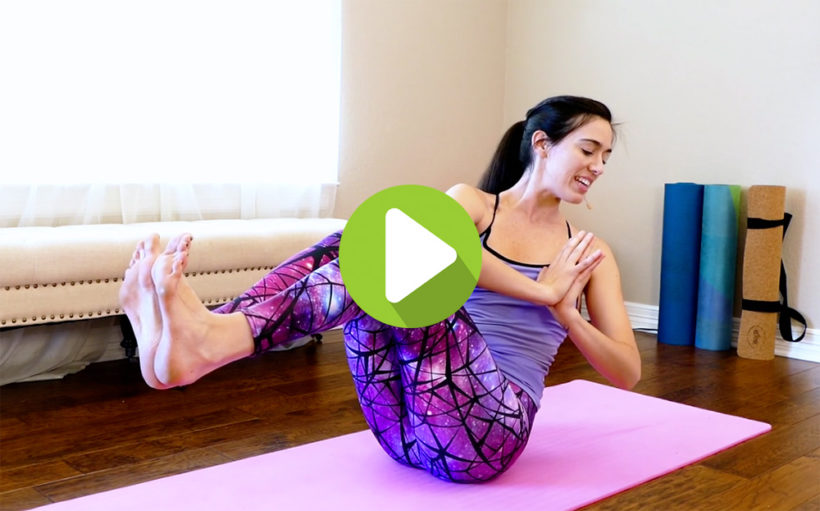 An Amazon Prime membership comes with tons of benefits, but did you know it also gets you access to tons of free yoga classes and other workout videos? Yes, if you have a Prime Membership, you can ditch your yoga studio class fees, grab some essential yoga equipment and practice at home. (And if you don't have an Amazon Prime membership, you can try one for 30 days for free.) There's a lot of free streaming content on Amazon Prime, so it can be hard to wade through and find the best yoga videos. For this article, I'm rounding up some of my favorite free yoga classes on Amazon Prime. Some are even series, so you get a ton of yoga workouts. Get out your sticky mat and a bottle of water and give them a try.
Couch to Confident 14 Day Yoga Challenge
This yoga series from Julia Maria is perfect for newbies and anyone else who needs to get back into regular exercise after feeling frustrating with previous attempts at yoga. Structured as a 14-day challenge, this is a two-week course to help you build confidence in your yoga practice. At the same time, you'll become stronger and more flexible as each episode slowly increases in difficulty. Julia is great at providing thorough instruction and giving specific tips on common problem areas.
If you've tried other beginner programs and failed, give Couch to Confident a try and it may be exactly what you're looking for.
Length: 14 episodes, about 30 minutes each
---
10 Day Yoga for Weight Loss Challenge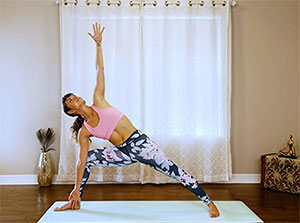 Many people come to yoga looking for a gentle way to get fit and lose weight. But just like any other workout, it can be hard to establish a routine. This 10 day challenge helps you kickstart your fitness journey with 30 minute classes focusing on different areas (strength and flexibility, twisting the spine, toning the core, etc.). Instructor Chelsey Jones has designed this series specifically for yogis at an intermediate level, so this series may be too challenging for beginners. As you complete each day, the classes become more challenging, helping you to learn and accomplish more difficult poses.
The variety of classes makes this a challenge that's worth repeating.
Length: 10 classes about 30 minutes each
---
Total Body Yoga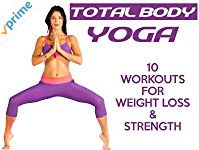 If you like the consistency of following the same instructor but enjoy the variety of selecting between different routines, the Total Body Yoga series will work perfectly for you. With a focus on weight loss and strength, each episode has yogi Sanela Osmanovic guiding you through routines focusing on different muscle groups. This allows you to vary up your exercises throughout the week: one day to focus on belly flat, another on lower body and glutes, and then a third on lower back pain.
Sanela's gentle guidance is relaxing and informative. She's often talking about the benefits of each pose and reminding you of modifications to make each position comfortable. Great for beginners and more experienced folks.
Length: 13 Episodes, About 20 Minutes Each
---
Yoga Therapy For Back Pain, Neck Pain & Stress Relief
If you're coming to yoga to increase flexibility, relieve pain, or looking for stress relief, this gentle Amazon Yoga series is made for you. These videos from Lindsey Samper are a nice length, perfect to add to any workout routine to stretch, improve flexibility, and release tension.
Lindsey leads these gentle routines for all levels of yogis. These yoga classes are great for beginners or as an add-on to other routines for a little extra flexibility work.
Length: 11 Episodes, 11-35 Minutes Each
---
15 Minute Yoga Workouts
Maggie Binkley has come out with an ingenious way to get regular yoga workouts into your schedule. She has released a series of yoga workout videos on Amazon Prime in the 15 Minute Yoga 1.0 series. The routines are compact, taking only 15 minutes, but each one has a different focus. You can do a different one each day to target certain muscles or fitness goals. She even has a suggested weekly schedule you can follow.
Maggie has great energy and her yoga routines are easy to follow workouts for all levels of experience. If you want some extra variety to your workouts, she makes other 15 minute videos for FIIT and cardio. Once you've mastered the 1.0 level, you can move on to 2.0 and 3.0 videos. It's like having a personal trainer who can challenge you as you progress.
Length: Tons of episodes will different focuses at 15 minutes each.
---
These yoga classes on Amazon Prime are great because you can watch them anywhere. If you have a smartphone or tablet, you can download or stream them at home, the office, while traveling, or even at the park. If you don't have an Amazon Prime membership, try these free yoga classes on Youtube instead.
Want to expand your home workout routine? Try these free pilates videos on Amazon Prime.
Save on Pinterest