Essential Pilates Gear for Home Workouts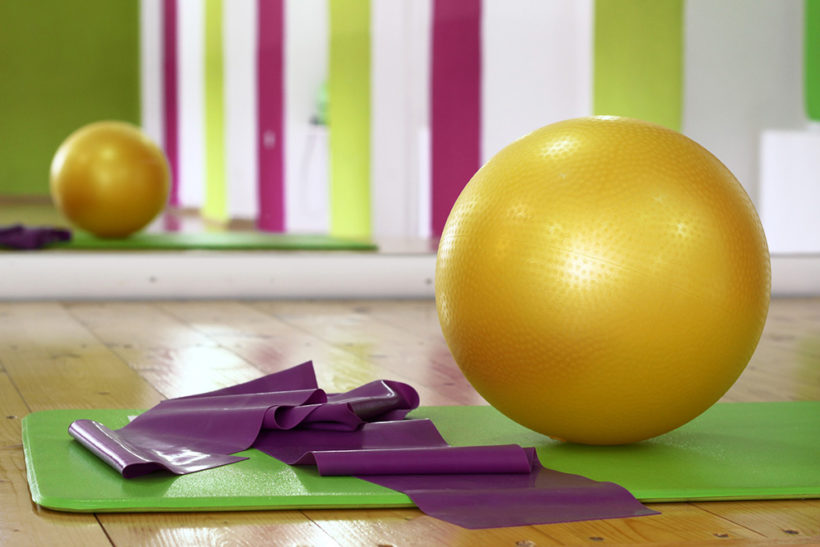 So you're addicted to that pilates glass at your gym. Or maybe you're looking for a new workout routine to do at home. Luckily, pilates is extremely approachable for beginners and newbies. So before you turn on a pilates video, make sure you have all the right gear to get started. The good news is since pilates is based on yoga, you'll be able to use any yoga gear you already own for your workouts. But if you're starting from scratch, this guide will tell you all the essential pilates gear you need.
Must Have Pilates Gear for Home Workouts
1. Pilates Mat
While you can use any general sticky mat (like a yoga mat), for pilates it's often better to have a thicker mat. Since you'll be doing a lot of poses on your back and knees, a thicker mat will make that more comfortable. Look for extra thick, high-density foam matsUsually about a 1/2 inch will work well for pilates workouts. You want the mat to have a sticky texture to help you hold poses even if your hands or feet are sweaty from the workout.
There are plenty of brands and colors to choose from. We recommend this Amazon Basics Pilates Mat as an affordable entry-level option for beginners.
Yoga Mat Tip – If you have a typical thinner yoga mat, you can use it for pilates. If you need more cushion, place your mat on top of a rug or use it in a carpeted area.
---
2. Exercise Ball
An exercise ball is a fantastic piece of equipment that can enhance your pilates practice and other workouts as well. A stability ball can be used to modify pilates poses and exercises or as a tool in the routine. You can also use them as an alternative to a desk chair, to work on strengthening your core and balance while you are working.
When shopping for an exercise ball, note the size before you buy. You should look for one appropriately sized for your height:
Under 4'8″ – 18 inch ball
4'8″ – 5'3″ – 22 inch
5'4″ – 5'10" – 26 inch
5'11" – 6'4″ – 30 inch
6'4″ and up – 34 inch
URBNFit makes a gym quality exercise ball that's affordable and perfect for at home workouts and pilates routines.
---
3. Resistance Bands
While you can get through most pilates routines without exercise bands if you want to up your performance and increase your strength fast, get a set. Originally used as a rehab tool, resistance bands are incorporated into pilates for strength and flexibility exercises. While there are two types of resistance bands, the flat ribbon style bands are most often used for pilates. We love this set from Gaiam which comes with three bands at increasing resistance levels. This gives you options for different exercises. (Note: these bands are made of latex. Try these non-latex bands if you have an allergy.)
---
4. Pilates Ring
While you can probably get through your favorite pilates video without one, a magic ring can take your workout to the next level. This flexible metal or plastic ring is used to create moderate resistance for an exercise. This mild resistance helps you target specific muscle groups in exercises like Standing Leg Press.
When shopping for your magic ring, keep in mind that rubber rings are on the softer side. If you're particularly strong, a metal ring will be a better choice for you. We like this composite pilates ring from ProBody Pilates because it's lightweight but strong and features padding on the inside and outside of the ring. That allows for a variety of comfortable positions while you exercise.
---
5. Water Bottle
You probably already have one on hand, but if you don't it's time to get a sturdy water bottle for yourself. Hydration is so important with exercise, especially when you're sweating a lot. When you're challenging yourself with cardio pilates fusions or pushing your strength training to the next level, you want your water right by your mat.
We love this BPA free water bottle from Embrava. It has a flip top, leak-proof lid perfect for taking a quick drink while in the middle of your pilates class. The includes hand strap makes it easy to take on the go, so you can hydrate while hiking, heading to the gym, or just running errands around town.
---
Kick off your home pilates routine with these pilates workout videos on Amazon Prime.