5 Best Kids Yoga DVDs for Home Practice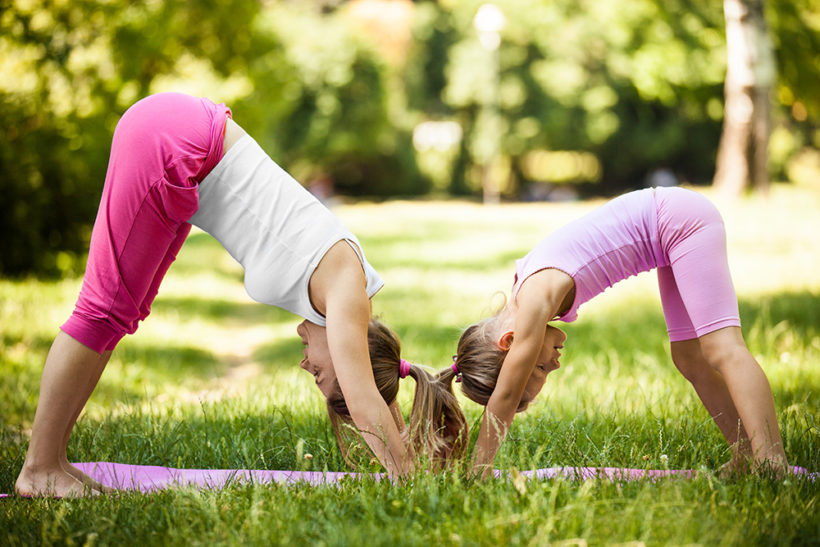 In a world of increasing digital distractions, it's hard to get children to be active and centered. Yoga is a fantastic and fun way to help your kids exercise (especially on rainy or cold days when they're stuck inside) and learn a little about mindfulness. These kids yoga DVDs are perfect to inspire activity, adventure, and fun for children of a variety of ages. They help teach children yoga poses and set up a lifetime of fitness and flexibility. Check out our favorite picks for children's yoga workouts below.
Best Yoga DVDs for Kids
Check out the comparison chart for the best kids yoga DVDs. Scroll down to read the full reviews below.

Cosmic Kids Yoga DVDs
If you find it's hard to capture your child's attention, Cosmic Kids Yoga may be the ticket to introducing them to a fun yoga practice. Cosmic Kids started as a Youtube Channel that creates videos where Jaime guides children through a story as they copy the poses she does to take them on an adventure. Each video is fun and unique and turns exercising into an exciting and entertaining experience.
We highly recommend these yoga videos for kids that would rather watch TV than get out and exercise. This DVD fuses the fun of watching TV shows with movement and yoga poses. Jamie tells the story in an animated environment that is more engaging than watching an instructor on a mat. Cosmic Kids Yoga has a whole series of DVDs. This first collection features three stories: Squish the Fish, Parsnip the Cat, and Kickapoo the Kangaroo. Toddlers and preschool age kids will love these yoga adventures.
Recommended Age Range: 3+ years old
Length: Three 15 minute classes
Pros:
Story like routines are fun.
Keeps kids active and involves a lot of movement.
Cons:
Quick pace may be difficult for some kids to keep up with.
Doesn't teach any mindfulness or breathing techniques.
---
Once Upon a Mat Kids Yoga DVD
For toddlers and younger kids, engaging with yoga and staying focused on specific poses can be a bit of a challenge. Similar to the Cosmic Yoga, instructor Jessie guides children through a short yoga adventure. She appears on her mat in a white room, which requires the kids to imagine the scenario she describes. While there's less visual stimulation, Jessie creates a fun atmosphere with more of a focus on the yoga poses and breathing. The instruction guides children in an out of the poses more like a traditional yoga class for adults, with an adventurous twist as they become a flamingo or a monkey.
Jessie is fun and uninhibited in her instruction, which many kids will enjoy. The DVD is structured as 9 mini-routines about 3-5 minutes long that can be followed on their own. If your child has more time (and more energy to burn!) you can watch several or the whole DVD. If you have young kids, either "Once Upon a Mat" or "Cosmic Kids Yoga" will be best for them, depending on if they need more or less stimulation to keep them engaged.
Recommended Age Range: 2.5+ years old
Length: Nine 3-5 minute routines (can be watched as a 33 minute workout)
Pros:
Fun kid-centric adventures with a focus on yoga poses.
Less distracting instruction will work better for some kids.

Cons:
There are no children in the video, which may be less engaging for some kids.
Requires the child to imagine the adventure, which may lose some kids attention.
Does not use the real names of yoga poses.

---
Yoga Motion Kids DVD
If you have preschool and elementary aged kids that you want to teach yoga to, this DVD is a great introductory course. This video, hosted by Lindsay, can be used in two ways. It's set up with 10 chapters that are individual 3-4 minute yoga routines, perfect for little kids with short attention spans. Yoou can also play it from beginning to end to create a full 35 minute yoga routines.
Focuses of the mini-routines include Sun Salutations, Warrior Series, Balancing Series, Yoga Flow, Core Strengthening, Restorative Series, and more. It's a great introduction to yoga for little yogis in training.
Recommended Age Range: 2.5 years and up
Length: 35 minutes
Pros:
Fun video features adult instructor
Can be used as short 3-4 minute flows or a full routine

Cons:
No children in the DVD
Video is just instructor on plain white background. May be less engaging for younger viewers.

---
Kids World Yoga DVD
If you have older kids or pre-teens you'd like to introduce to yoga, this DVD is a fantastic choice. With beginner, intermediate, and advanced classes, Kids World Yoga covers 100 poses in a fun and playful format. Yogi Bridget Van Block narrates each class while the poses are demonstrated by kids in a way that's easy to follow. All the classes are filmed in gorgeous outdoor settings in Arizona, which helps create a relaxing atmosphere no matter where you are.
This video is more challenging than other DVDs on this list. Start with the beginner level and let your kids work their way up as they learn more poses. The quick pace keeps kids engaged and the background music makes the videos fun. What's great about these videos is the whole family can enjoy them, as many parents will find these yoga routines to be challenging as well.
Recommended Age Range: 6 to 14 years old
Length: 3 classes, 115 minutes total
Pros:
Children are the focus of the video, with no adults on screen.
Three experience levels to choose from.

Cons:
Audio instructions don't mirror the movements on screen, so it can be confusing.
Not good for toddlers or most preschoolers.

---
Yoga for Families DVD
If you have kids of different ages or want to help the whole family start a yoga practice, this DVD is great for kids and families. Ingrid Von Burg and Tom Morley host this yoga DVD that the whole family can enjoy. One thing to note: this is not a beginner level DVD. While kids and teens are often more flexible and can more easily get into poses, adults without yoga experience may struggle with the DVD. The flows go quite quickly as well, so if you and your kids don't have a familiarity with yoga poses and their names, it will be hard to follow the routine.
The video features an entire family going through the poses and helps keep kids engaged with references to animals and instructions to make noises. The 30-minute class is easy to fit in at any time of day and you can choose the background music: relaxing and meditative to calm your children at the end of the day or high energy and silly to help them burn energy. This yoga DVD for kids is perfect for families who already have some yoga experience and want to practice together.
Recommended Age Range: 4+ years
Length: 31 minutes
Pros:
Choice of relaxing or high energy music.
Cons:
Only features one class.
Can be hard to follow for beginners.
Doesn't include beginner instructions for the poses.

---
Expand your child's yoga experience with the best kids yoga videos on Youtube and yoga videos for kids on Amazon Prime. Encourage their practice with these yoga and meditation gifts for kids.
Looking to teach your kids about mindfulness and meditation? Check out these meditation videos for kids.
Motivate your kids to stay active and get exercise with these activity trackers for kids.