15 Meditation & Yoga Gifts for Valentine's Day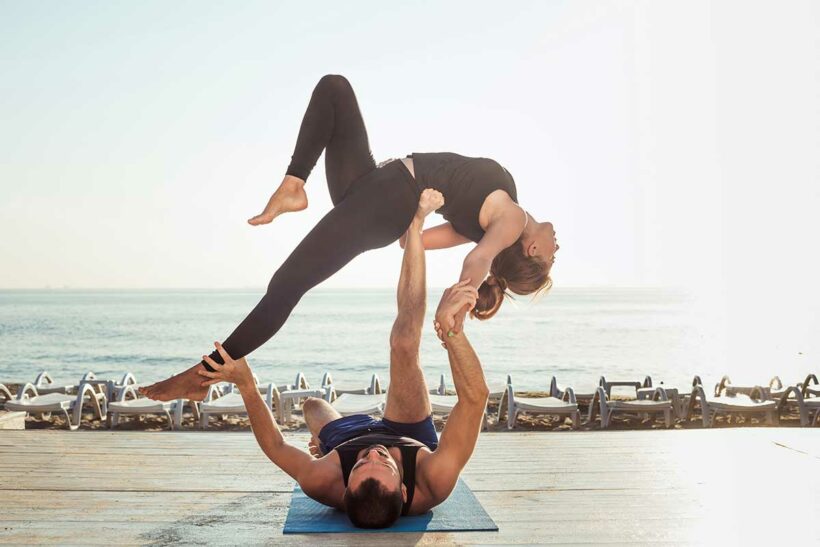 This post contains affiliate links and I may be compensated if you make a purchase after clicking on my links.
Impress the yogi in your life with an unexpected meditation or yoga Valentine's Day gift. Forget flowers and boxes of chocolate with these romantic and practical gifts to help promote mindfulness. These unique and practical gifts will show your love to your partner while supporting their interests in yoga and mindfulness.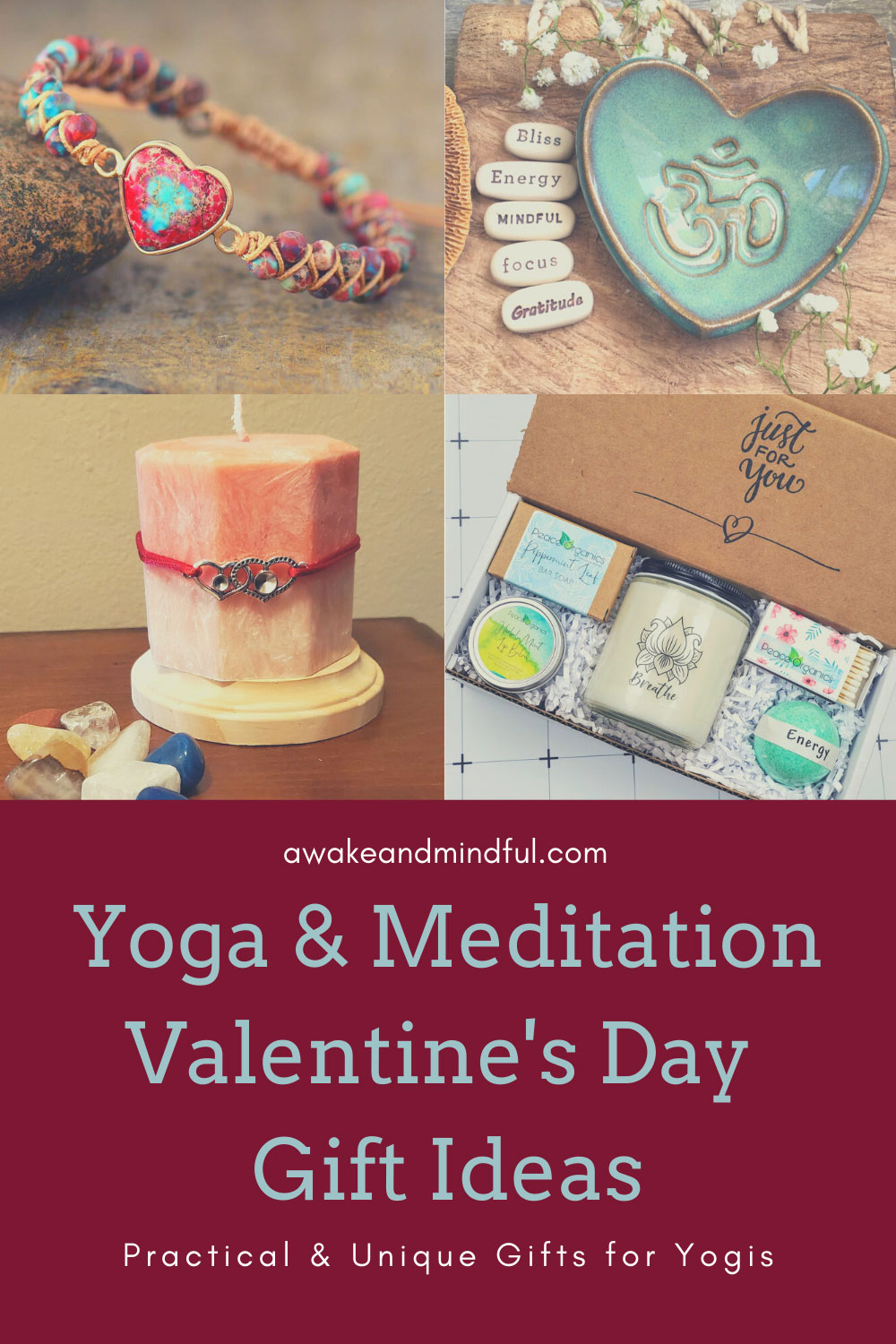 1. Inspirational Stones with Heart Dish
This gift will literally inspire your loved one. Handmade by Spinning Star Studio, this set comes with 3 inspirational stones (you pick the words), and a beautiful heart-shaped dish to display them. The dish is about the size of your palm, so it's perfect to display on a desk or bedside table.
---
2. Intimate Yoga For Couples
Love and intimacy are an important part of the Valentine's Day celebration for many couples, and yoga can be a fun way to explore that sensuality. This book and DVD set comes with sequences and poses for solo practice or enjoying with your partner. Couple's yoga is a great way to connect with your partner physically and spiritually.
---
3. Mindfulness Self Care Gift Box
Help your yogi wind down after a stressful day with this gift set. With the theme of self care and mindfulness this set includes everything you'd need to enjoy an evening of relaxation. It comes with a 4 oz lavender candle, 2 oz smudge spray, loose green tea, tea strainer, lava stone bracelet, lavender sachet, rose quartz crystal, mindfulness activity card, and affirmation cards. This set ships in a cute gift box, ready to give.
Check out the best candles for meditation.
---
4. Heart Yoga Positions Tank Top
This is a cute gift idea to show your yogi you love them! This comfy tank features a heart shape made up of yoga pose figures. It comes in nine different color options, so you can order one in her favorite color. Perfect for yoga class or relaxing around the house.
---
5. Desktop Zen Garden
Work is one of the most stressful places for many people and it's hard to bring mindfulness into that environment. A fun and peaceful way to do that is with a desktop zen garden. This premium set comes with a variety of accessories to let your partner express their creativity and take a break from their hectic day.
Check out more desktop zen gardens.
---
6. Crystals Gift Set
This is a fun twist on a Valentine's Day tradition. While most people give a box of chocolates, you can give a box of crystals! Comes in a heart shaped box to show your love. Each stone comes nestled on a paper wrapper, just like a chocolate.
---
7. Foldable Meditation Bench
Maintaining comfort during a long sitting meditation can be a challenge for some meditators. Utilizing a meditation bench can be a helpful tool to relieve discomfort and deepen focus during meditation. This foldable bamboo meditation bench is a great gift for new meditators. It comes with a cushion for extra comfort and a carrying case for easy storage or meditation on the go.
Check out more folding meditation benches.
---
8. Rhodonite Crystal Heart Bracelet
Jewelry is a common Valentine's Day gift, but instead of diamonds and gold, many yogis are interested in beautiful stones. This bracelet is not only beautiful and romantic, but the heart-shaped rhodonite brings compassion, emotional balance, and activates the heart. The rose quartz promotes love, friendship, and peace.
---
9. Meditation Shawl
More than just a beautiful accessory, meditation shawls are a great way to enhance meditation and yoga practices. Practitioners can wrap themselves with the shawl for extra warmth during sitting meditation or shavasana at the end of a yoga practice.
Check out more meditation shawls.
---
10. Valentine's Day Surprise Candle with Crystals
This beautiful, handmade candle, has a secret surprise. Hidden inside the wax are crystals. This is a fun way to combine two gifts in one. Comes in a personalized box, ready for gifting.
---
11. Seven Chakra Heart Stone
While you may automatically think of the heart chakra when you think of mindful Valentine's Day gifts, this one is even better because it incorporates all of them! This unique stone is made from seven different colored stones, one to represent each of the seven chakras. It comes in the shape of a heart, to give it a romantic twist.
---
12. Stained Glass Lotus Heart Suncatcher
Add beauty and a touch of love to any room with this gorgeous suncatcher. Made by Pixie Dust Glass Studio, this heart shaped suncatcher features stained glass with a lotus flower design. Perfect to hang in a sunny window or a meditation room.
---
13. Meditate Bath Melts
Encourage your beloved to take a little self-care time with this relaxing gift. Lunar and Lux makes these Meditate bath melts which are meant to help relax your body and mind while soaking in the bath. Vegan and natural, they include dried flowers and essential oils to create a relaxing aroma, while coconut oil, shea butter, and cocoa butter moisturize your skin. These bath melts are so nice, you might even want to share a bath to try them.
---
14. Mindfulness & Meditation MasterClass
Help your partner deepen their meditation practice with this amazing class from Jon Kabat-Zinn. With 40 years of experience studying and teaching mindfulness, this MasterClass is perfect for beginners just learning meditation as well as people who want to take their skills to the next level. What you learn from this class will help all corners of your life, reducing stress and helping you live in the moment.
---
15. Magnetic Couples' Mala Bracelets
This is a fun twist on a traditional mala bracelet. This set of bracelets comes with a magnetic heart charm that snaps together when you're with your love. Choose from a variety of stone options for each bracelet. A lovely gift for yogis who are in love.
---
Still stumped for a gift idea? Check out meditation gift ideas and gifts for yogis. Maybe they'd like Valentine's Day gifts for movie lovers, Valentine's Day gifts for readers, and romantic gifts for gardeners. If you loved one enjoys hot sauce, check out these Sriracha Valentine's Day gift ideas.