15 Father's Day Meditation & Yoga Gifts for Dad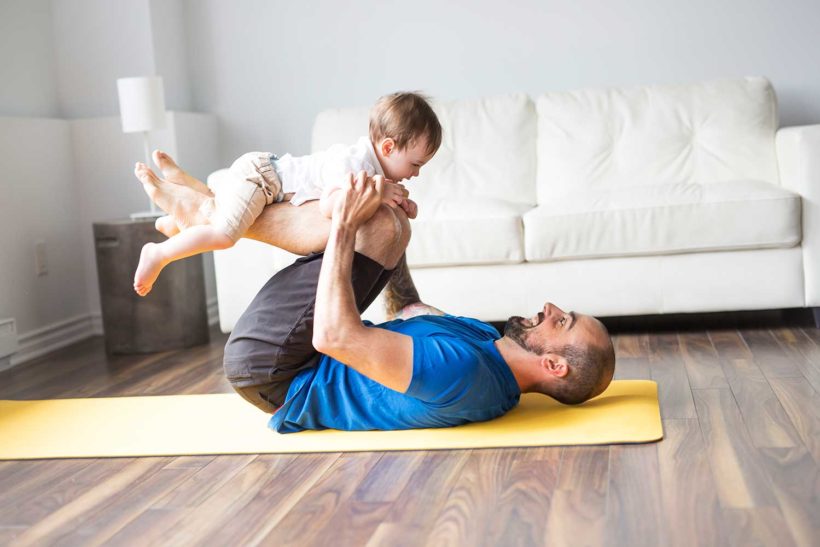 Father's Day is a holiday often dominated with gifts like neckties, power tools, and other "manly" items. Most people don't think to get their dad a gift that promotes mindfulness. If your dad enjoys yoga or uses meditation as a way to relax, there are plenty of cool, fun, and stress relieving gifts that will show him how much you love them. Check them all out below.
15 Cool Meditation & Yoga Gifts for Father's Day
1. ProsourceFit Acupressure Mat and Pillow Set
If you want a Father's Day gift that promotes wellness, an acupressure mat is a great choice. This acupressure mat and pillow set is perfect to help Dad relieve back and neck pain as well as promoting relaxation. It's great to use after a long day at the office to unwind and relieve muscle tension.
Check out more accupressure mats for back pain.
---
2. Namast'ay in Bed Baseball Cap
What better gift for father's day than one with a dad joke? This funny baseball cap says "Namast'ay in bed," a play on "namaste." Perfect for dads who love to sleep in before they hit the yoga mat.
---
3. GAIAM Athletic Dynamat
A lot of guys have problems with regular yoga mats, frequently they aren't large enough to accommodate their taller bodies. GAIAM designed the Athletic Dynamat with that in mind. At 2″ wider and 10″ longer than standard yoga mats, this mat gives plenty of no-slip space for all sorts of yoga poses.
Dimensions: 26″ wide x 78″ long x 5mm
Check out more yoga mats for beginners.
---
4. Meditation Shawl
Handwoven in India, these 100% wool meditation shawls are the perfect way to help your father keep warm and focused during his meditation practice. Measuring 7.5′ long and 3.5′ wide, these shawls are perfectly sized even for tall and big guys. It's also great to use during savasana to stay warm.
Check out more of our favorite meditation shawls.
---
5. Yoga Joes
This fun twist on traditional green army men toys is perfect for yoga-loving fathers. This set of seven figurines are each fully decked out in their army fatigues doing a variety of yoga poses like Happy Baby and Eagle Pose. This set even includes a dog doing down dog. Check out the other sets for more poses.
---
6. Rudraksha Mala Bracelet
While many malas are feminine, this classic rudraksha bracelet is perfect for your #1 dad. Available in three lengths to fit any wrist, the rudraksha is accented with classic silver beads.
Rudraksha beads are actually a seed that is used traditionally for Hindu prayer beads. Wearing a rudraksha mala is said to relieve stress and help improve self-confidence.
Check out mala meditation beads meanings by colors.
---
7. Elevation Meditation Chair
Often men with longer or thicker legs have difficulty using meditation benches or cushions. A meditation chair is a great option that helps support proper posture while taking pressure off the legs and knees.
The Elevation Meditation Chair is a comfortable and attractively designed option for home meditation. Made from bentwood bamboo and rattan, it features 100% cotton cushions on the seat, lower back support, and for the ankles. This chair is the perfect support for any meditation practice.
Check out more of our favorite meditation chairs.
---
8. Hot Yoga Dad Mug
This is a fun and flirty yoga gift for dads that is perfect to give your husband. This mug says "Hot Yoga Dad." Dishwasher and microwave safe, it's available in 11 oz. or 15 oz. sizes. Include some of dad's favorite coffee or tea and he'll really enjoy this gift.
---
9. Sweat Headband
Nothings worse in a hot yoga class than having sweat dripping into your eyes. These fashionable and functional headbands are the perfect sweatband for guys who go hard on the mat. These are really great for bald or short haired guys who have a lot of sweat dripping of their heads.
---
10. Nerdy Fandom Zen Gardens
Miniature zen gardens are a great way to destress and promote mindfulness at work or your home office. 10takumi specialized in zen gardens for nerdy fathers. They have plenty of fandom-themed desktop zen gardens with figures from Marvel, DC, Star Wars, Sailor Moon, and more. This is a fun meditation gift for Father's day.
Check out more desktop zen gardens.
---
11. Yogacise 2-in-1 Yoga and Exercise Bench
Help Dad take his home yoga routine to the next level with this 2 in 1 exercise bench. Not only is this bench perfect for assisting with inversions, but it also has built-in toning straps for even more exercise opportunities. This is a great piece of equipment to build up a "home gym" without taking up a lot of space.
Check out more yoga benches and props.
---
12. Yoga Mat Log Bag
Add a little extra masculinity to dad's yoga class. This 100% cotton yoga mat bag is printed to look like a log. This is the perfect accessory for the burly, bearded guy who enjoys unwinding with a few sun salutations. Perfect for travel or just taking his mat to class.
---
13. GAIAM Balance Ball Chair
Sitting in an office chair eight hours a day can be brutal on your body, but sitting on a balance ball can be a bit of a challenge. The GAIAM balance ball chair strikes a nice balance in the middle. This rolling chair works great at a desk while allowing dad to strengthen his core. Promotes proper spinal alignment for good posture. Perfect for the home office or work.
---
14. Personalized Sandalwood Meditation Balls
Get your dad a meditation gift that is completely unique. Handmade by Teals Prairie, these beautiful sandalwood meditation balls are engraved with the initials of your father or any other important letters.
Meditation balls are rotated in the palm of the hand, providing relaxation and stress relief as well as exercising your joints and muscles. This set comes in a gift box with the fun note: "You've worked your balls off for us, now we're giving them back dad. Happy Father's Day." The storage bag says "Happy Father's Day."
---
15. Zen Dad T-shirt
This is a fun meditation Father's Day gift. This classic t-shirt features the phrase "Zen Dad" and a lotus flower. Perfect to wear around the house or to yoga class. Available in black, white, navy, and dark heather.
---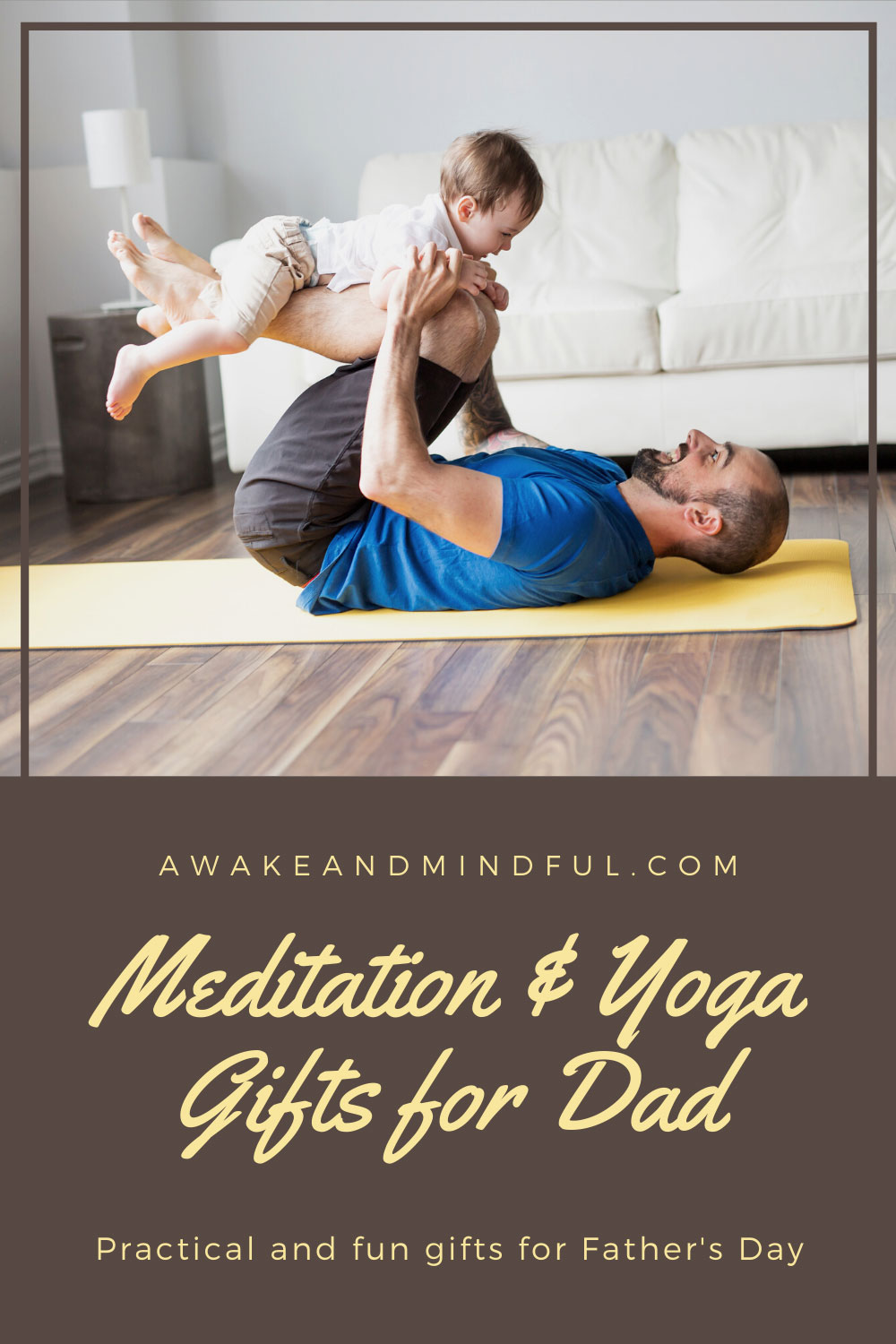 Need more gift ideas for dad? Here are our favorite meditation gifts and yoga gifts. Check out some Father's Day gardening gifts, movies gifts for Father's Day, and Father's Day gifts for readers.